13th December 2016, Reinach
Archroma receives Eco-Innovation Award from WWF Pakistan
Archroma, a leader in colour and specialty chemicals, has received the Award for Eco-innovation from WWF Pakistan at the organisation's Annual Green Office Network Meeting in Karachi.
The Eco-innovation Award is a recognition of Archroma's continuous efforts to foster sustainable innovations aimed at preserving dwindling ground water reserves, and developing eco-efficient processes that reduce energy, process time and resource consumption.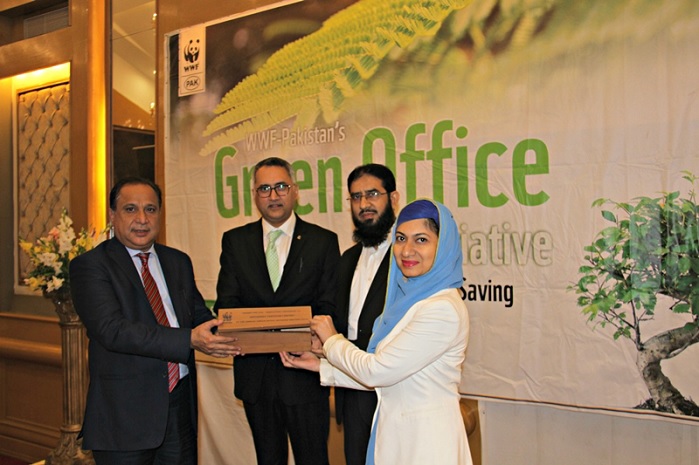 The Award was presented by Naeem Mughal, Director General, Sindh Environmental Protection Agency, Government of Pakistan.
New processes and products
Earlier this year, the WWF granted Green Office labelling rights to Archroma's offices in Landhi, Pakistan. "We are continuously creating powerful new processes and products that support our and our customers' sustainability ambitions," commented Mujtaba Rahim, CEO of Archroma Pakistan.
"Our innovative teams are raising the bar on environmental standards and production cycles in our industries. For instance, our EarthColors sulfur dyes are developed from natural waste such as walnut and almond husks and agricultural crop waste, replacing the oil-based raw materials to create warm shades of brown on cotton fabrics. Our Sustainable Effluent Treatment plant at Jamshoro, Pakistan, operates at zero liquid discharge in our production processes saving enormous amounts of water."
Archroma
Archroma is a colour and specialty chemicals company committed to innovation, high quality standards, high service levels, cost-efficiency and sustainability. Archroma is headquartered in Reinach near Basel, Switzerland, and operates with approximately 3000 employees over 35 countries.
Through its three businesses: Textile Specialties, Paper Solutions and Emulsion Products, Archroma delivers specialised performance and colour solutions to meet customer needs in their local markets.
This article is also appears in...