12th February 2014, Los Angeles
Are you ready for 4D knitting? Exploring new dimensions in advanced textiles
Just months after re-launching its advanced textiles engineering lab, Fabdesigns Inc. took delivery of one of the first new technology Stoll ADF3 machines in the U.S. In the last year, the flow of both domestic and international clients to its' private textile laboratory has grown substantially, the company reports.
The company has been engineering complex textiles since 1988, and currently develops confidential intellectual property in the USA for prominent international clients in outdoor sports, medical, aerospace, home furnishings, entertainment, and footwear.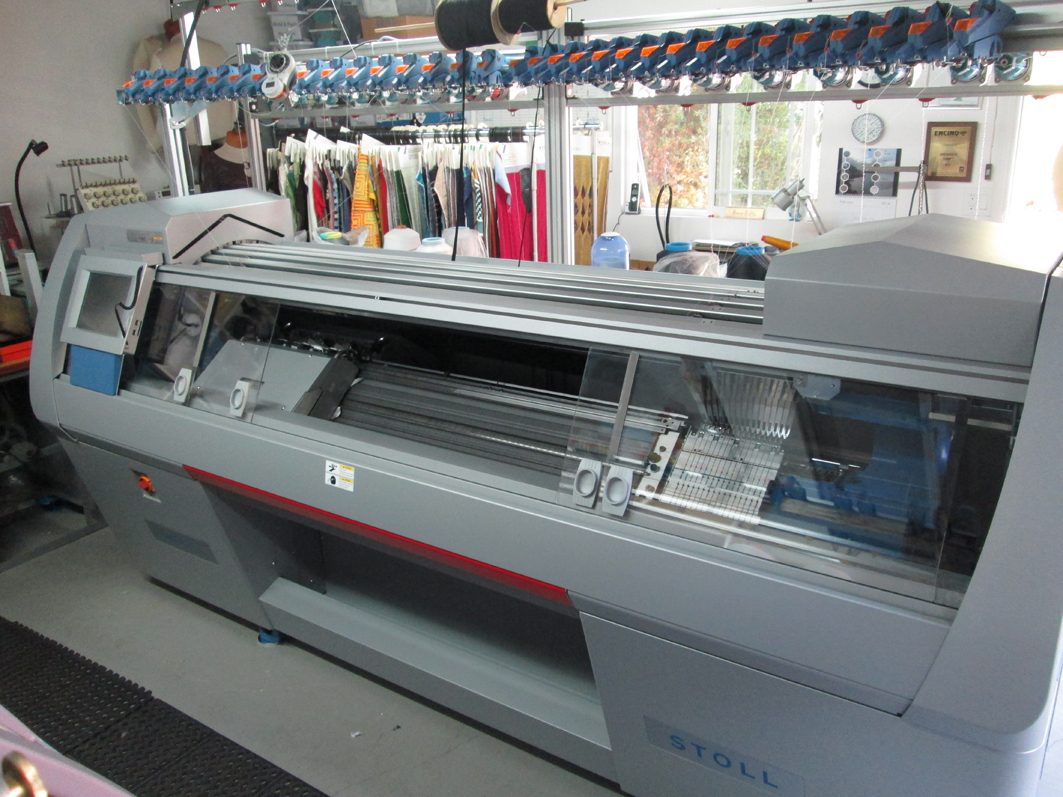 "Companies are requesting development and proof of concepts in wearable technology, interactive textiles, and fully integrated materials. We are exploring new aesthetics and at the same time solving their practical matters of function. They are leaders in their own respective industries and demand cutting edge technology, but are also at the same time very conscious of waste and sustainability. We needed to take them to the next level," says Connie Huffa, company president and textile engineer.
Complimenting her fellow director Bruce Huffa, Connie said: "Bruce has set the bar extremely high in pushing these machines of past generations to do things no one expects. And, although there is still plenty that the other machines have not tapped yet, innovation drives these markets. It was time to embrace new challenges."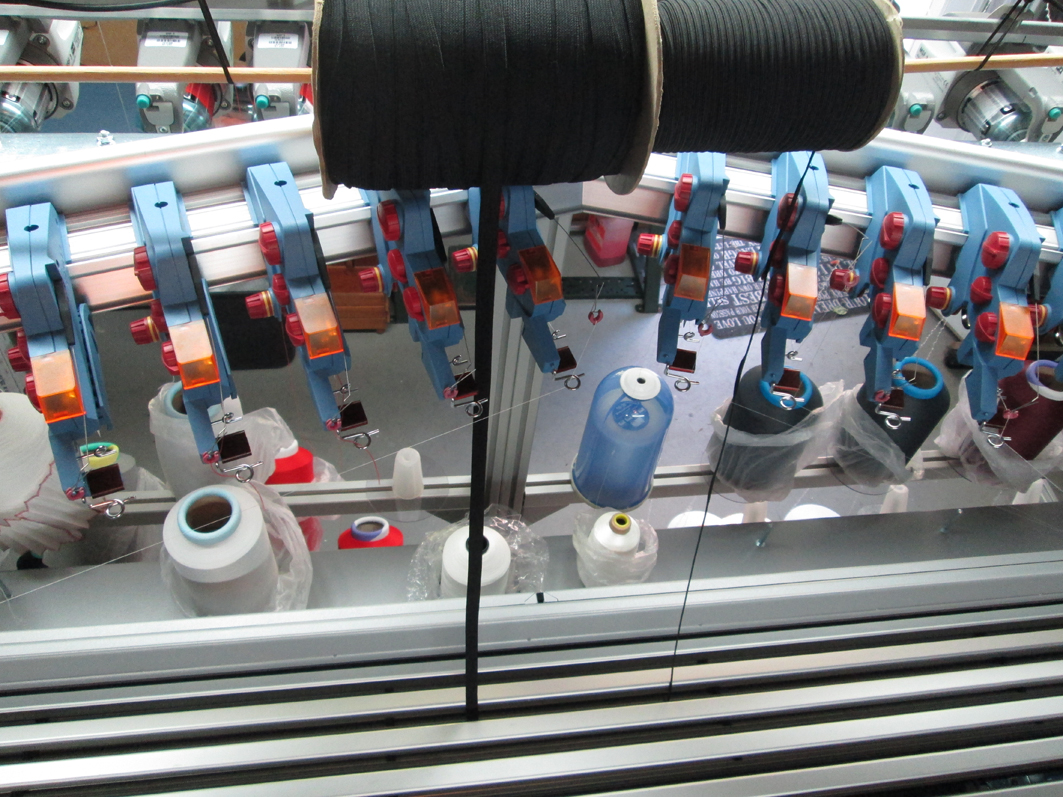 In their quest for driving innovation in textiles for their clients, Fabdesigns, Inc. now has what they and many consider the latest in state-of-the-art knit equipment available, the Stoll ADF3. They say they have already been engineering and prototyping some of the most advance integrated textiles they've ever done using: conductive fibres, vertical and horizontal inlay combinations, advanced spacer technology, integrated wiring, digitally distributed UHMWPE (ultra high modulus yarns) for protective gear, and much more.
Access to the lab is by appointment basis and restricted for clients that need to be there, the company stresses.
"With the direct yarn feed, we can now more easily embed components, integrate sensors, and create suspension supports. The vertical inlays are just the beginning of the world this machine opens to us, our clients, and eventually the world of consumers.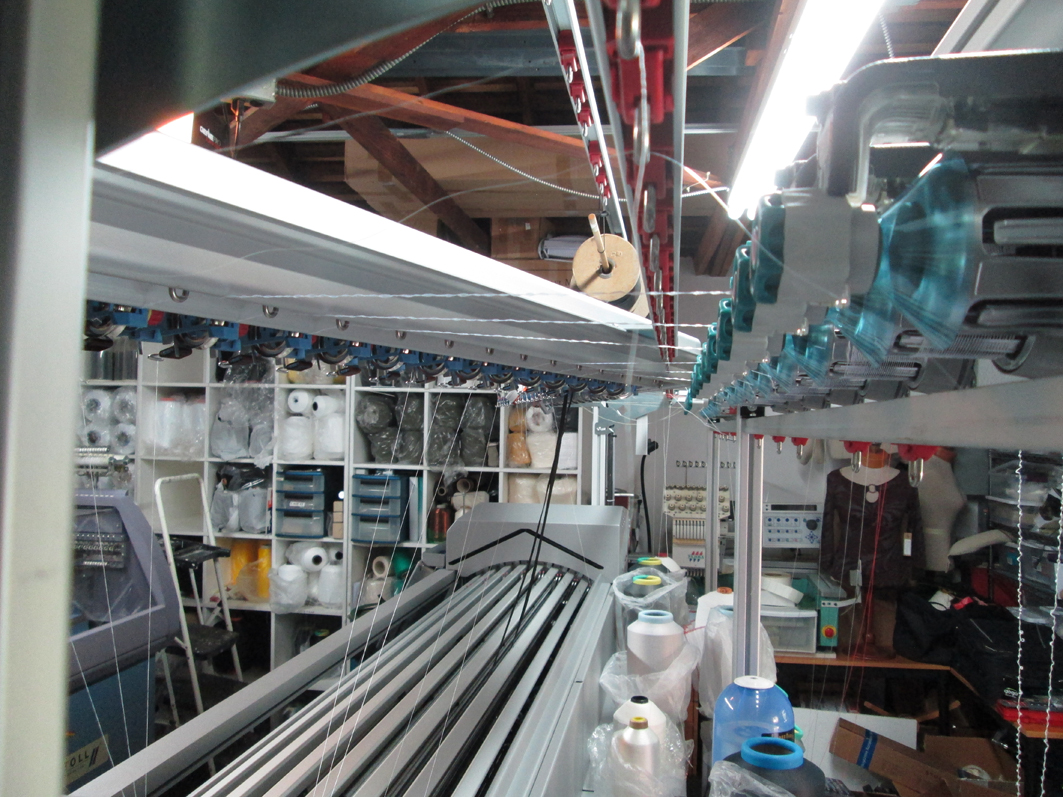 Not everything needs to be yarns on this machine technology. It allows us to get creative with what we have. This is truly creating smart textiles," Bruce Huffa, owner and executive engineer, says, threading up yarn through feeder tubes; a complex network he's already busy modifying for performance materials on this machine.
"Simply put, this machine gives us vertical, horizontal, thickness, and diagonal controls of fabrics. The industry has just started to embrace 3D knitting, but this machine gives us many more dimensions. The new yarn distribution systems allow the ability to digitally control tensions on every row, and we're working on controlling every needle. It's still early, but this will be incredible technology for medical compression products and our aerospace clients who use interesting fibres. Imagine digitally controlling compression for diabetics, and functional healing of wound care."
"Flat knitting to shape, gives production facility the ultimate control of it's' resources. We've already heard from our clients that by eliminating cutting, reducing materials used, minimizing waste and a lot of the sewing, the factories have little place for hiding costs," Connie adds.
"Optimizing efficiency with our specialized technology creates products that make both an environmental and social difference. We always try to use as little of the planets resources, regardless of who the client is or where they manufacture. We feel that with the ability to make so many things, comes an even greater responsibility to make them responsibly."
This article is also appears in...