30th April 2013, Buenos Aires
Argentina: Vertical textiles producer modernizes
Algodonera del Valle is a vertically-integrated textiles operation with headquarters in Buenos Aires, which has developed into one of the largest textile companies in Argentina by continual investment in spinning, knitting and finishing, over the past few decades. The family-run enterprise is specialized in the manufacture of soft knitting yarns for the domestic market and a good cooperation with textile machinery manufacturer Rieter is an important component for its success.
According to Rieter, Algodonera del Valle is defying the political and economic turbulences which the eighth largest country in the world is currently experiencing and is modernizing its spinning preparation activities with cutting edge Rieter C 70 cards.
Yarn production in the north
The modern spinning installation consists of a worsted spinning mill with G 33 ring spinning machines as well as a rotor spinning mill with fully automated R 40 and R 60 rotor spinning machines. It is located in Catamarca, a town at the foot of the towering Andes mountain range in the north of Argentina. There, super-soft cotton, viscose and polyester yarn blends for the company's own circular knitting facility are produced on Rieter machines.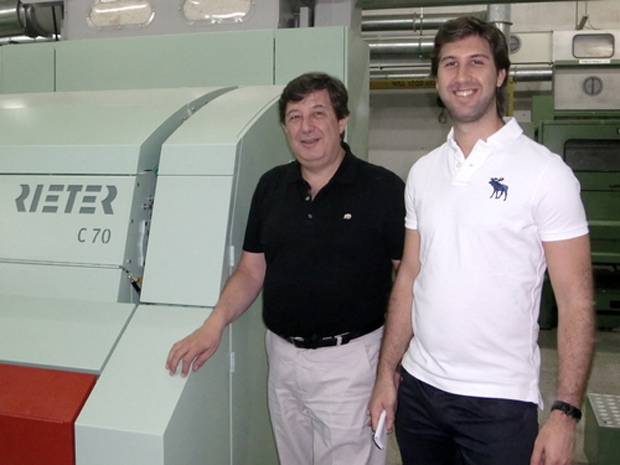 Knitting and finishing in the south
The yarn produced in the north is subsequently sent on a 2000 km long journey to Patagonia and in the knitting and finishing plant located there, downstream processing through to the textile fabric takes place. The main sales outlet is the area of Buenos Aires, a region in which more than one third of the approximately 40 million strong population of Argentina is resident.
Rieter - an important component for success
Some months ago, a Rieter symposium on the topics of the C 70 card and the R 60 rotor spinning machine was held in Catamarca, which Luis Tendlarz, owner of Algodonera del Valle attended:
"We have been cooperating with Rieter very successfully for more than 30 years and we are entirely satisfied with the service and technology support provided. Our spinning mill consists almost exclusively of Rieter machines which produce the required soft knitting yarns that we require for our end products. The new C 70 cards have exceeded our expectations in terms of productivity and quality, "Mr Tendlarz says.
Rieter is a leading global supplier of textile machinery and components used in short staple fibre spinning. Based in Winterthur (Switzerland), the company develops and manufactures systems, machinery and technology components used to convert natural and manmade fibres and their blends into yarns.
Rieter claims to be the only supplier worldwide to cover spinning preparation processes as well as all four final spinning processes currently established in the market. With 18 manufacturing locations in 10 countries, the company employs a global workforce of some 4700, about 27 % of whom are based in Switzerland.
This article is also appears in...