3rd August 2015, New York
Athleisure and the Future of Fashion
By Lindsay Mann
Comfort and functionality have not always been high priorities in fashion. Yes, comfort is important to the general consumer market, but it has often been sacrificed in the name of following seasonal trends. However, as our culture becomes more active and more mobile, the need to go farther more easily takes priority. Fashion, comfort, and functionality are finally combining and the term for it is called, "Athleisure".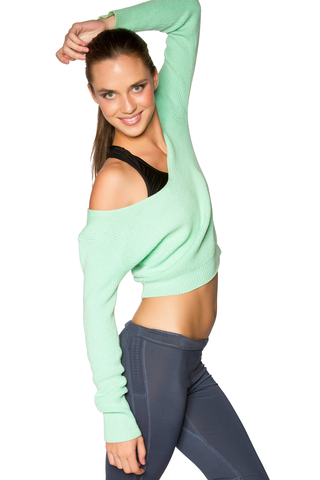 Over the past few months, more and more design companies scramble to incorporate activewear inspired pieces into their collections and hundreds of new brands emerged into this market practically overnight. For weeks, article after article in Women's Wear Daily referenced the emergence of Athleisure, from mass market to Chanel. A new tradeshow, Shape, even took place in Los Angeles representing some of these brands. The impact of Athleisure in the industry, and the high consumer demand for it, quickly made it evident that this isn't about a trend, but a lifestyle shift in our culture.
As we become more inspired to maintain healthier lives, explore the outdoors for exercise and adventure, and travel the world, our clothing reflects how we are evolving as a culture. Clothing can function for us, and it should. We already have accessories and gadgets that can track our physical activity. What about yarns and fabrics with properties that are sweat wicking, temperature controlling, skin clearing, stain resistant, anti-microbial, UV protectant, etc. etc.? Imagine that your clothing can work for you just by wearing it. Wouldn't that be incredible? Lucky for all of us, it's a blossoming reality.
With all of the innovation taking place in manufacturing and fiber technology this is much closer than you might think. Now with 3D knitting, like Shima Seiki's WholeGarment technology, clothing has the capability of feeling more like a second skin, being without any seams at all and allowing for engineered design and zoning. No seams for a wider range of motion and more comfort? Breathable stitch design strategically zoned where you sweat? More tension zoned in areas for improved posture? All possible. All happening.
As a designer myself, I envision the ultimate outfit being one that allows me the freedom to not have to think about my clothing at all. To know that I look and feel good in what I'm wearing and then forget all about it. To go farther, longer, more easily, and with less. It's currently Summer in New York City and if I didn't feel the need to have to shower or change my clothes multiple times on one of these hot, miserably humid days, that would be wonderful.
From taking a flight across the country, to running to a business meeting, to socializing with friends after work, to going for a run or to the gym; wouldn't it be convenient to not have to change your clothes? Can you imagine? Not only to have clothing look sophisticated and office appropriate but to also endure the pace, wear and tear, and temperature changes throughout your day.
If I were to describe an Athleisure outfit, it might look like a lightweight shirt made from the latest fiber technology, jogger pants, and a pair of Nike FlyKnits. In many cases, this look has become completely acceptable in the workplace. No more poking fun at the business woman rushing to work in her power suit and sneakers. She may not even decide to change into her heels when she gets to the office. Athleisure is about comfort. Designs are lighter, simpler, more functional, well designed and higher quality.
Fashion, like technology, is changing constantly and being motivated by innovation is the most inspiring aspect of the industry today. Fashion will always be fashion but what if the industry shifted from being stereotypically superficial to having a much deeper impact on our daily lives? As a designer of anything, the goal is always to find a way to make the world a better place and it looks like the fashion industry is stepping up to the plate. And don't forget that comfort is confidence and confidence is always in fashion.
Brief bio:
Lindsay Mann is a connector in the New York fashion industry specializing in the WholeGarment, 3D knitwear, market. A strong supporter of domestic manufacturing and innovation, she contributed to the brand and design development for KOTOBA, a brand of Shima Seiki USA.
Intro Blog Post:
Hello there, my fellow knitwear enthusiasts! My name is Lindsay Mann and I'm a knitwear designer in New York, specializing in WholeGarment design and the 3D knitwear U.S. market. Welcome to my blog page on KnittingIndustry.com!
I've launched my own cut & sew knitwear brand, as well as, developed and designed a WholeGarment brand for Shima Seiki USA. Currently, I'm independently pursuing the exciting world of 3D knit design and brand consulting; two things I love very much. I'm also a big supporter of domestic manufacturing.
Periodically, I'll be discussing industry trends I observe in the U.S. market as well as my experiences as I delve into projects to better connect the 3D knitting community. I hope you find my posts insightful!
Here's a link to my portfolio:
This article is also appears in...