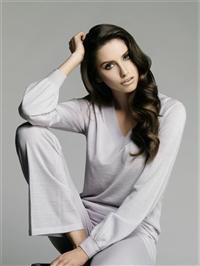 Australian Wool Innovation (AWI) has unveiled its new fall/winter 2010/11 Woolmark knitwear innovation collections – Merino Touch and Merino Casual. The two collections will be on show at the Spin Expo trade show in New York this week, targeting designers and buyers from the Americas region.
AWI CEO Brenda McGahan says Merino Touch and Merino Casual are key platforms for the company's push to increase wool's share of the global knitwear market. "We have developed these collections, together with our Woolmark supply chain partners, to address today's consumers' demand for affordable luxury on the one hand and the global trend toward the casualisation of fashion on the other." Ms McGahan says, adding: "They continue our work of educating the market about wool and its attributes and help position Merino as the natural fibre for every occasion."
The demand for lasting luxury at an affordable price is the inspiration for the 2010/11 Merino Touch collection. Highly versatile, the yarns and fabric range are suitable for evening wear, business attire, casual wear and intimates, AWI says.
The Merino Touch yarns and knits are based on the Woolmark Merino Soft Classics technology and the Mercerised Merino process. Mercerisation is carried out just prior to yarn spinning and delivers modern features to a classic natural fibre.
The innovative features of the Merino Touch collection include:
• Improved next-to-skin comfort – Merino with a smoother surface
• Easy care and machine washability
• Lustre and softness – symbols of fine quality
• Suitability for blending with other noble fibres such as cashmere or silk to offer consumers a luxury garment, which is both practical and affordable.
Apparel manufacturers and designers can source the yarns and knitted fabrics from Woolmark licensees in Italy, Germany, India, China, Korea and Hong Kong.
Merino Casual is a collection of distinctive knitted and woven fabrics and garments that combine casual comfort with style, functionality and performance. The collection has been designed to meet consumer demand for high quality garments in a modern, multi-purpose wardrobe.
Advances in technology are the secret to creating the casual finishes with Merino wool that feature in the new Merino Casual collection. Technical breakthroughs have resolved the issues of poor hand-feel and poor colour fastness traditionally associated with wool and casual finishes.
The innovative fabric treatments in the Merino Casual collection include:
3-D Merino – Capitalising on wool's unique ability to shrink on laundering, designers can work with the fabric to create specific areas of shrinkage, building up the texture and giving garments a new look and feel.
Vintage Merino – This technology allows the colours to fade to a predetermined degree and then stay the same for the life of the garment, to give it a comfortable, lived-in look.
Devoré Merino – This is a technique that allows 'burn out' see-through effects in fabric which, while not being destructive to the fibres, can add a spirited and stylish element to Merino wool knitwear.
Pleated Merino – Creased and crinkled are two key looks in casual dressing and developments in fabric manufacture mean crease and wrinkle effects in specific parts of a garment can be retained even after machine washing.
The Merino Casual collection brings together Woolmark-certified suppliers, garment makers and finishers from Italy, Japan, China, India, Korea and Turkey.
Brenda McGahan says AWI chose Spin Expo in New York to launch Merino Touch and Merino Casual because the event is a mecca for leading knitwear designers, textile executives, retailers and merchandisers from across the USA, Canada, and Central and South America. "Trade shows such as Spin Expo are golden opportunities to develop business-to-business relationships with the world's leading textile manufacturers and apparel brands and retailers," Ms McGahan said.
Download Merino Touch brochure
This article is also appears in...