Janet Prescott reports from Milan
Filo, held in Milan March 5-6th showed its paces in distilling trends directions for AW 2015/16 and SS 2015, reflecting the blurring of seasons with the gradual transition of colours and textures from one to another.
Fabric designers and mills come to Filo to source particular effects and fibres and to talk about business.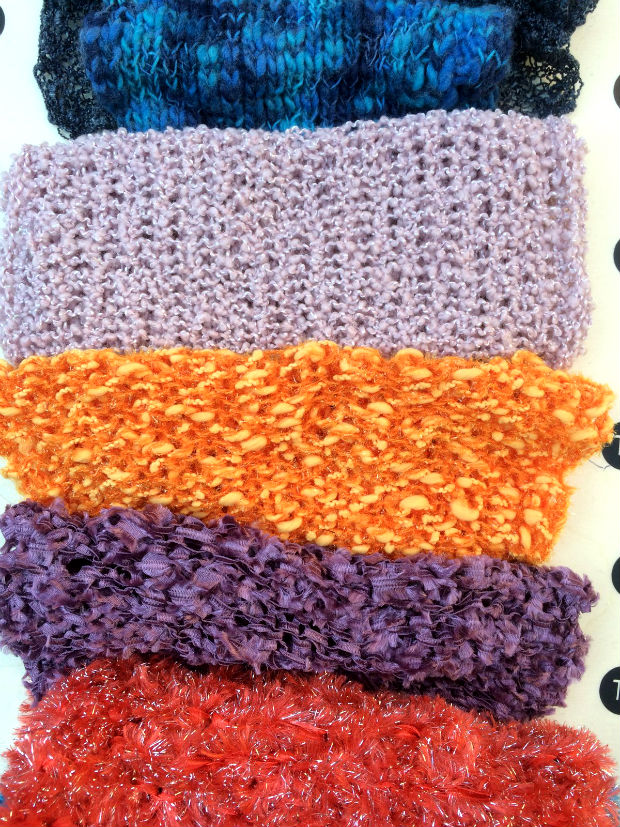 The bulk of Filo visitors are European and the first day was quieter than usual, not helped by a Milan public transport strike. The second was rather more busy and exhibitors explained they had seen their regular customers and also others coming to source particular yarns or novelties.
The official opening talked of a much more positive environment in Italy and many European countries.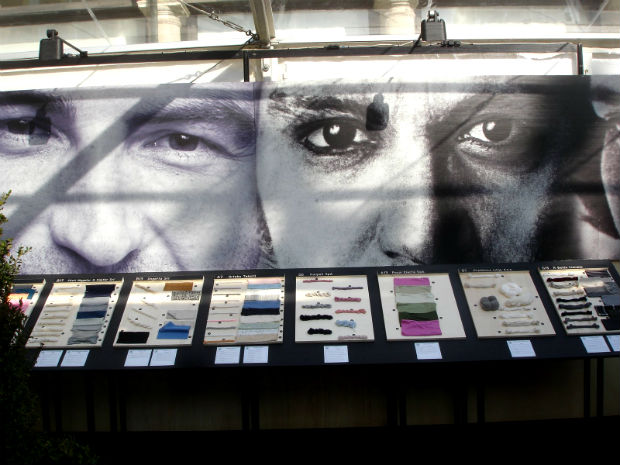 Filo used to be seen as a yarn show for wovens, but the balance has tipped more towards knit as well, as the fashion emphasis changes. Filo's admired trend section took as its theme User Name – a clever and apt individual concept identified by Gianni Bologna its creator, as consumers look for style and identity. Even more mills showed yarns for knit this time demonstrating new constructions and blends in knitted fabrics like Filatura Lacfimi.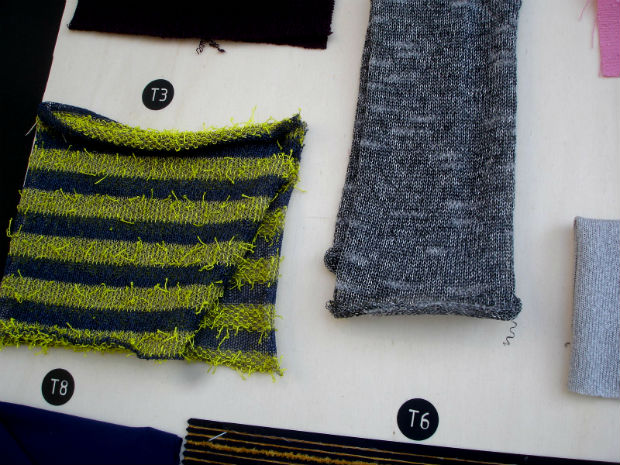 Yarns and fabrics showed unusual colour combos and fancy designs, with a Missoni-like lead with 1930s geometrics. Inventive fibres mixed cashmere and Merino, for example, mixed with polyamide, viscose and polyester.
Winter woollens trended deep, rich colours - Knoll Yarns with brightly coloured flecks, in dark lambswool or mohair for authentic looks, in Geelong and cashmere, and a soft genuine Irish Donegal. Marls, flecks and knops had texture built up through the yarn, as in Monticolor's wool and wool blends in knitted fabrics.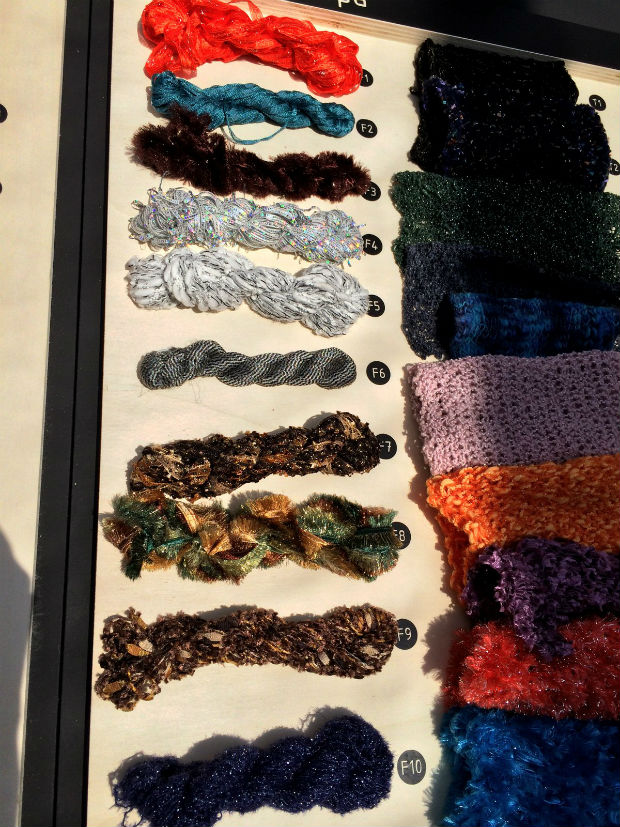 There were surprising fibre mixtures: Knitwear with sparkle came from Linsieme Filati with points of light in soft blended cashmere/wool with polyamide and Elastane. Other mixes included felted knit looks in pure cashmere or cashmere/angora, viscose/ micro acrylic and polyamide, and for SS 2015 linen, viscose and lamé.
Sofila group showed ribbon yarns and textured effects knitted up in lime and black – graffiti inspired. Ilaria combined manmade fibre: nylon/ acrylic /mohair and alpaca in almost equal quantities for an airy, fluffy soft grey yarn. Pozzi Electa knitted soft jersey from yak and viscose, polyester and viscose, cotton/cashmere and linen/cashmere.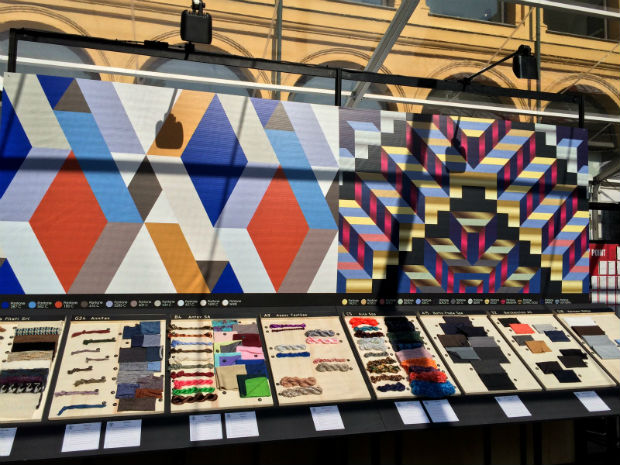 Shine and glistening with deep dyed colours looked more regal than showbiz. The new Lurex colours featured deep purple, sea green and copper in malleable and soft yarns which will be used by couturiers and big Fashion Week designers first.
Handknit yarns in thicker gauge were knitted loosely – the continuing trend for handknitting is anything but homespun and crafty. Very fancy stitches, mixes of dark blue and ginger, lace looks, net shapes and simple sampler stitches showed the possible variations.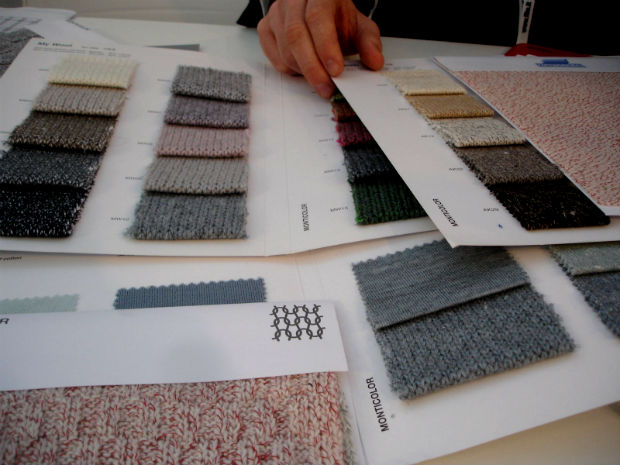 Floral shades were presented in cotton by Cotonificio Olcese with a bouquet of soft fibre dyed in bright blue, green, lilac and rose pink. Smooth jerseys in extra long staple cotton from Hermann Buhler or Lenzing's ecological Edelweiss in turquoise, pink or blue combined softness with colour.
This article is also appears in...