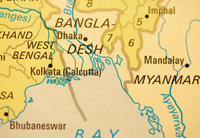 Bangladesh has become the world's second largest exporter of knitted goods, beating Turkey in terms of volume last year, a report in the country's Financial Express said on Sunday.
According to the Bangladesh Knitwear Manufacturers and Exporters Association (BKMEA), the country exported 7.78 billion pieces of knitted items such as T-shirts and sweaters in 2010 compared with Turkey's 7.74 billion pieces.
"We overtook Turkey as the world's second largest knitwear manufacturer last year. Volume-wise, we are now only second to China," BKMEA first vice-president Md Habibur Rahman told the Financial Express.
Mr. Rahman said Turkey was still ahead of Bangladesh in terms of value as it exported knitted goods worth $6.92 billion last year, compared with Bangladesh's $6.19 billion.
"Our apparel export has been growing at an impressive 40% rate in the current fiscal year. If the growth continues at this rate, we can beat Turkey in values by next fiscal year," he said.
Mr. Rahman also said that Turkish knitted goods manufacturers produced high-value added products such as sportswear, catering to western fashion retailers, while Bangladesh mainly operated in low value products such as T-shirts.
"We are in the knitwear business since the 1990s. By contrast, Turkey has been a major garment maker since the Second World War. They don't take cheap orders because of high labour cost," he added.
According to the report, Turkey has also emerged as an important apparel market for Bangladesh in recent years with shipments peaking at 65% in 2009 to $108 million.
The report goes on to say that, despite steady erosion of its competitive advantages, China remains the world's largest knitwear (knit goods) and woven garment manufacturer, accounting for around half of the world's $500 billion apparel market.
This article is also appears in...