22nd December 2010, Dhaka
Bangladesh set for knitwear export boom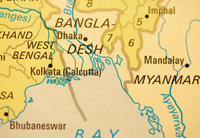 According to the news site Asia Times Online, exports of knitwear from Bangladesh are set to surge by as much as 25% annually over the next three years as the sector benefits from lower tariff barriers in Europe and probable removal of Japanese duties, which will help the country to boost sales and win market share from China.
In a report published this morning, Asia Tmes Online said: "A relaxed tariff structure for knitted goods entering the 27-member European Union from Bangladesh begins from January 1, while zero tariffs for knitted exports are likely to be introduced by Japan next year. The combined impact could lead to a US$4.8 billion increase in exports by 2013."
"The knitwear industry, led by companies such as Interstoff, Fakir Apparels and Viyellatex Group, employs more than 1.5 million people in Bangladesh and contributes just over 40% of the country's exports," the report said.
According to the report, if imported yarn is used to manufacture knitted goods to be exported to Japan, a tariff of between 8% and 11% is levied on the product. "This arrangement is likely to change from this year, as the Japanese government is considering promoting Bangladesh from the existing three-stage structure to a two-stage structure that would mean Bangladeshi knitwear exports would get duty-free access to Japan under the Generalized System of Preferences (GSP) - a system of exemptions from general World Trade Organization rules," the report said.
"The change will mean Bangladeshi factories will be able to produce better-quality knit products, using yarn and man-made fiber imported from India, China, Taiwan and other countries and sell it to the Japanese market duty-free," Asia Times reported.
"While the knitwear exporters had discussed such situations earlier with some of the Japanese organizations, headway in the talks was made during the visit to Japan by [Bangladeshi] Prime Minister Sheikh Hasina in November, when she met her Japanese counterpart and discussed the issue," Takashi Suzuki, representative in Dhaka of the Japan External Trade Organization (JETRO), is said to have told Asia Times Online last week.
Today's report said Suzuki was 'highly optimistic' that the relaxation in Rules of Origin for Bangladeshi knitwear products may come into effect this year, although "as the fiscal year in Japan is from March-April, there is a chance that the topic will be raised in the parliament before April. However, chances are high that the decision could be in favor of the LDCs as there has been no change in these rules over the past decade," Suzuki is reported to have said.
The report also states that Suzuki said the change will definitely make Bangladeshi knit products more competitive in the Japanese market, while also giving the Bangladeshi knitwear industry the opportunity to export advanced knitted products, as more sophisticated yarn and man-made fibre could then be used to manufacture and export items such as overcoats, hats, lingerie and socks without the tariff burden.
"Knit products exported to Japan to date have been mostly very basic like sweaters, T-shirts, polo shirts, ladies garments and so on. However, if and when the new structure becomes effective, higher ended products can also be exported," Suzuki told Asia Times.
The report goes on to say that Japanese importers may also start looking to Bangladesh for goods like socks, underwear and similar items, whose manufacture requires some imported raw materials, leading until now to the imposition of Japanese tariffs. Habibur Rahman, vice-president of the 1,650 member Bangladesh Knitwear Manufacturers and Exporters Association (BKMEA), who with other businessmen accompanied the prime minister to Japan, told Asia Times Online that association members were are already receiving responses from Japanese importers.
"Some of the biggest Japanese importers of socks and undergarments are already talking to us about the most viable options of importing from Bangladesh including setting up industries locally. Earlier, these importers were dependent mostly on China," Rahman is reported to have said.
The report continues to talk about how Japan's China+1 business policy is helping Bangladesh, export potential to Japan and the potential export growth arising from changes in the EU's tariff structure for knit products.
This article is also appears in...