To attract more Malaysian buyers and to explore new destinations for RMG products, Bangladesh is holding a three-day fair, organised by Bangladesh Knitwear Manufacturers and Exporters Association (BKMEA), and Head Master Events, at the Putra World Trade Centre in Malaysia from August 15.
"To retain the export growth in the upcoming fiscal year, we should search new destinations and Malaysia could be a good choice," said a BGMEA director.
The recent figures from the Bangladesh Garment Manufacturers and Exporters Association (BGMEA) show that Bangladesh earned US $69m from Malaysia through exporting readymade garments in 2012-13 fiscal year, which is 127% higher as compared to the previous fiscal's exports which were worth over $30m.
Malaysian market
Among the South Asian countries, Bangladesh is the third largest exporter in Malaysia while India holds the top position, followed by Pakistan.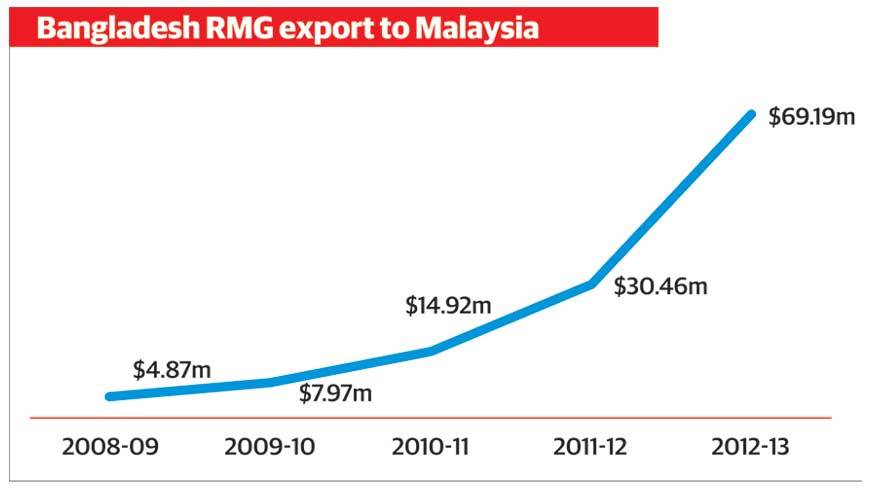 Bangladesh exported knitwear products to Malaysia worth about $45m while wovens earned over $24.5m in recently concluded fiscal year. The country exported products worth $100m to Malaysia, including $69m from RMG exports, while Malaysia exported products worth about $1.6bn to Bangladesh.
In fiscal 2012-13, export of Bangladesh's readymade garment products marked nearly 13% growth to $21.5bn, according to Export Promotion Bureau data released recently. Both kinds of products, knitwear and wovens, saw a rise in exports.
Growth potential
"We always have to explore new destination for our RMG products to reach the peak of development and to be world leader in exporting," said SM Mannan Kochi, second vice president of the BGMEA.
"The government is very keen to improve bilateral trade with Malaysia," said Shubhashish Bose, Vice Chairman of Export Promotion Bureau, adding that necessary initiatives would be taken to enhance the export growth.
This article is also appears in...