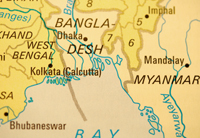 According to local newspaper reports, Bangaldesh's export earnings from readymade garments such as knitwear and other apparel items are now vulnerable in the post recession global economy and knitwear exports have been hit in the first half of the current fiscal year.
The manufacturing sector and its relevant trade bodies are said to be lobbying the government for solutions. Bangladesh's Financial Express reports that according to data revealed by the state run Export Promotion Bureau (EPB), the country's trade at present remains heavily dependent on readymade garments (RMG).
Bangladeshi apparel makers have taken advantage of the country's cheap labour and have successfully penetrated international markets, particularly in Europe and the US, in recent years. However, the recent global financial crisis has changed things dramatically and is said to be pushing annual export performance into negative territories for RMG products. Knitwear, the largest export item earned US$6429.26 million in fiscal year 2008-09, a 16.2% increase on the previous year.
However, according to the EPB data, in the first six months of current fiscal year (2009-10) knitwear exports dropped by 7.18% against the corresponding period last year, earning US$ 3007.95 million. Similarly, exports of woven garments also saw a negative reaction at the end of July-December period of fiscal year 2009-10, registering a 7.95% fall to US$ 2582.66 million. In FY 2008-09, woven garments were worth US$ 5918.51 million, a 14.5% growth from earning of FY 2007-08, the EPB data revealed.
The report said there is now a very compelling need for diversification of the country's export activities as well as the need to search for new markets for non-conventional products.
Source: Financial Express
This article is also appears in...