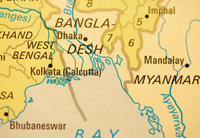 According to a report this morning in Bangladesh's Daily Star, the country's export earnings crossed the $8.27 billion mark in the July-November period, registering nearly 36% growth over the same period last year. The report was based on the latest Export Promotion Bureau (EPB) data. Exports of the country's main foreign-exchange earner knitwear grew nearly 37% to $3.53 billion, while woven exports grew nearly 36% to $2.88 billion, from the previous year.
In November alone, exports are said to have grown nearly 30% to $1.55 billion, compared with November 2009, the report said.
Salim Osman, president of Bangladesh Knitwear Manufacturers and Exporters Association, told The Daily Star that apparel exports had increased mainly because of the shift of international buyers to Bangladesh from China, the world's largest apparel supplier.
"China is losing its competitiveness for higher costs of production," Osman said. "We will grow more when the doors in some new destinations, like South Africa, will widen further."
Osman also said that recent demand for jeans and denim products and for T-shirts has soared because China is losing market to Bangladesh.
Anwar-ul-Alam Chowdhury Parvez, former president of Bangladesh Garment Manufacturers and Exporters Association, said the value of apparel exports is also increasing due to the higher prices of raw materials. Echoing Osman, the former chief of BGMEA also said China is losing business to Bangladesh due to its higher costs of production and shortages of workers in the garment factories.
"Such higher growth will continue for a long time," he said. "We have to increase our both capacity and efficiency for sustainability of the export.
"We have a bright future. We need to address infrastructure and energy problems as soon as possible, and increase the efficiency of ports."
Source: The Daily Star
This article is also appears in...