11th November 2009, Dhaka
Bangladesh's knitwear exports suffer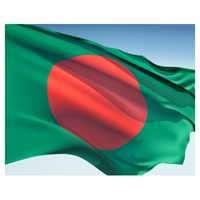 According to The Daily Star, data released by Bangladesh's Export Promotion Bureau (EPB) this week showed that the country's knitwear sector earned $1.7 billion in the July-September quarter, a 9.74% decline compared to the same period last year. All of the country's major export earners, including home textiles and raw jute, also witnessed sharp drops in export earnings, the report said.
The EMB said that the country achieved $3.9 billion in revenues in the July-September period of the current fiscal year, compared with $4.4 billion in the same period last year. However, an EPB official said it was very unlikely that the country's export earnings were on a declining trend when the whole world was beginning to recover from the economic crisis. Exports plummeted by 11.66 percent in the first quarter of the current fiscal year, dealing a heavy blow to the country's economic lifeline and calling for a government response.
Export earnings in September dropped to $1.3 billion from $1.5 billion in September last year. Fazlul Hoque, president of Bangladesh Knitwear Manufacturers and Exporters Association, which represents about 1300 manufacturers, said that it was the country's poorest export performance in recent times and blamed it on the government's incompetence.
"Till date the government has not given any assistance to the RMG sector to combat the crisis, while many countries have so far disbursed the third and even the fourth round of stimulus package to their export sector," he added.
Hoque said the country probably experienced the biggest single-month-decline in the garment sector in September, and added that the possibility of a strong rebound in the next few months is slim as export orders are on the downturn. "But exports in the next few months will not be as bad as was in September," he added.
Source: The Daily Star
This article is also appears in...