In this two part feature, Debra Cobb takes an in depth look at the world of textiles which deliver cosmetic benefits and concludes that there is potential for cosmétotextiles to go beyond beauty and deliver wellness, therapeutic, and medical benefits.
Cosmetic textiles, an industry that has grown along with consumer interest in wellness and well-being, currently includes a wide range of microencapsulated ingredients such as aloe vera, vitamin E, retinol, and caffeine, said to offer moisturising, firming, or slimming benefits. The next generation of cosmétotextiles could potentially go beyond beauty, utilising innovative new methods to deliver medical, anti-aging, and stress-relieving benefits through apparel textiles and other products.
Beginning with Cognis' 2001 introduction of Skintex®, the idea of "wearable skin care" has found particular acceptance in the areas of intimate apparel and clothing for wellness-inspired activities such as yoga, Pilates, and spa visits. Invista's 2003 launch of LYCRA® Body Care, in conjunction with Celessence™, a UK company specializing in microencapsulation, established a firm link between cosmétotextiles and stretch fabrics for intimates, bodywear, and activewear.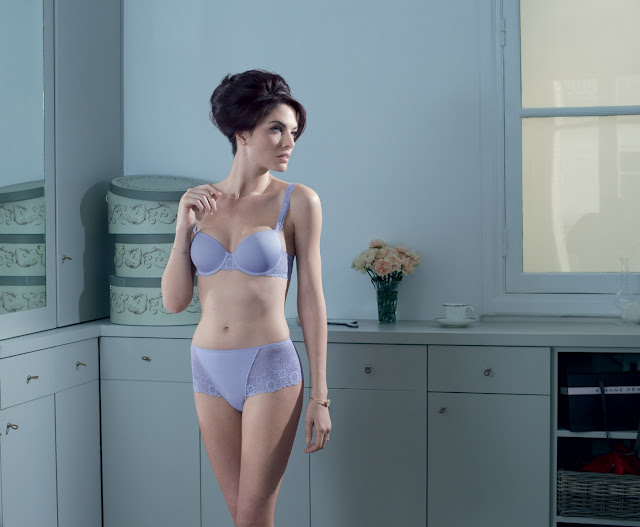 In 2006, fibre maker Nurel took microencapsulation to the next level with its Novorel® nylon microfibre, enabling the production of a wide range of shapewear fabrics with "permanent" (withstanding 100 washings) cosmetic benefits; and propelling cosmétotextiles into upmarket brands such as Wacoal, Maidenform, and Simone Pérèle. While cosmétotextiles are expected to represent a market of some €500 million by 2013, behind these success stories is a network of laboratories, chemical manufacturers, and marketing companies collaborating and competing to develop and test new ingredients, new systems of delivery, and new end uses.
Encapsulation to order
Robert Blondel Group, a French company established in 1887 to provide textile finishes, focus on "encapsulation to order" of ingredients ranging from scents and cosmetics to biocides and repellents, used in cosmetic textiles as well as in papers, carpets, fabric conditioners, and skin and hair care. The company produces microcapsules, where a protective exterior membrane surrounds an active cosmetic ingredient; and microspheres, where the active cosmetic ingredient is suspended in a polymer matrix.

Through its subsidiary, CosmeticWear®, the company integrates its encapsulation know-how with cosmetic formulations, fixing processes, and carefully-designed textile substrates to create a range of cosmetic textile products for the consumer. New products, including scented towels, venotonic tights (which help drain and relieve heavy legs) and "plumping" bras, serve to underline the potential of "customisable" cosmetic benefits.
Higher skin affinity
Global specialist in chemicals for the textile industry, Clariant also believe in the future potential of cosmetic textiles. The company is marketing a new technology called Quiospheres® recently developed by Lipotec, the creator of cosmetic ingredients. Quiospheres® are said to have higher affinity for the skin as the cosmetic ingredients are encapsulated in a fully cosmetic and biocompatible shell. This compatibility is the key to the effective transference of Quiospheres® to the skin, where the capsules react with natural skin enzymes to release and deliver their ingredients. Lipotec's active ingredients include a series of new peptides which emulate the skin's molecules and improve the product's functionality.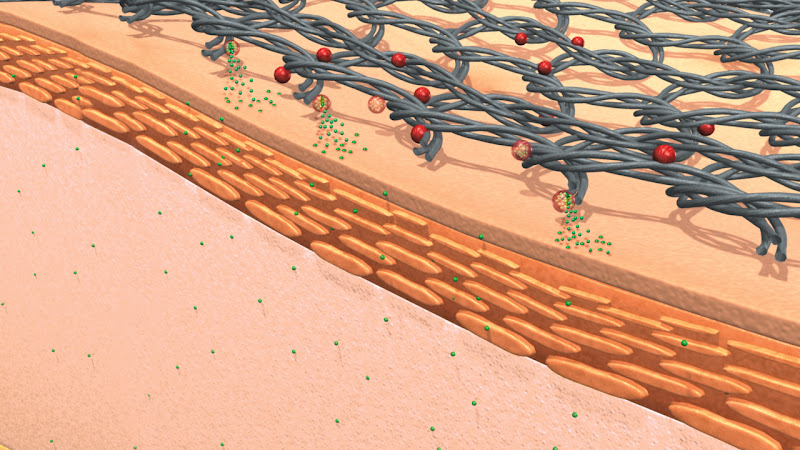 Available in two formulas, Quiospheres® Slim and Quiospheres® Moist, the high-efficiency cosmetic ingredients from Lipotec are those used in premium cosmetics. The Slim formulation includes Liporeductyl®, a pro-liposomal combination of slimming ingredients that fight cellulite with a lipolytic effect and venotonic action, along with Relistase®, a novel peptide enhancing body skin elasticity and tightness. The Moist product contains Antarcticine®, a glycoprotein from the Antarctic sea that increases collagen synthesis and helps to regenerate the skin, as well as Xpertmoist®, a molecular film which provides a high moisturising effect.
Clariant's expertise in textile finishing creates a homogenous, durable application of the capsules to knitted, woven, and non-woven textiles. The capsules are linked to the fibre structure of the fabric in a manner that maintains the release of the cosmetic ingredients over multiple wash cycles. Quiospheres® can be expected to withstand around 20 or more washes, depending on the how the textile is worn and laundered.
Clariant is currently working globally to promote the product with mills and brands, marketing it as "wearable wellness without effort."
Read Part 2 of Beyond Beauty: The Future of Cosmétotextiles tomorrow