22nd June 2013, Migdal Haemek
Black Diamond shines at Interfilière 2013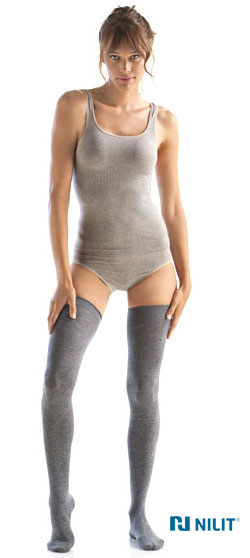 Nilit, a leader in the production of nylon 6.6, has announced the launch of Nilit Black Diamond, its newest fashion fibre, at the upcoming Interfilière 2013 show in Paris, where the company will also present its BodyFashion Trendbook for Spring/Summer 2015.
Interfilière, the international trade fair for intimates and beachwear fabrics will take place in the Paris Expo, Port de Versailles, from 6-8 July 2013.
Nilit Black Diamond
"It is so exciting to be launching yet another new fibre at Interfilière," commented Michal Ron Gavish, Global Marketing manager at Nilit. "Our R&D department is constantly working to find ways to bring cutting-edge fashion to high-functioning fabrics. With Nilit Black Diamond, we've succeeded in creating a yarn that gives wearers an extra sparkle, combining all-day glamour, with maximal comfort and performance."
Designed to be suitable for 3-D hosiery and knitted fashion garments and to add refined shimmer to high-fashion products, new Black Diamond can be dyed with different colours and sewn 'inside-out' to create colourful, bright effects in the final product.
Cool Nilit Breeze
In addition to the new Nilit Black Diamond yarn, the company will be showcasing the Nilit Breeze nylon 6.6, as well as many other yarns.
Nilit Breeze is a cooling yarn that keeps the wearer feeling refreshed and comfortable, even when temperatures rise. Fabrics made with Nilit Breeze have been proven to lower body temperature by almost 1°C in comparison to fabrics knitted with standard fibres under similar conditions, according to Nilit.
This enables the wearer to feel cooler and more comfortable, even in hot weather or during and after physical exertion. Nilit Breeze can be used for sportswear, shapewear, lingerie, hosiery, socks and outwear.
Latest fashions
At the show the company will also be unveiling its new trend book for Spring/Summer 2015, inspired by the growing power of social networks, which focuses on Nilit's newest collection of body wear, shapers, sportswear, casual lingerie and hosiery, inspired by contemporary virtual artwork by young artists.
In addition to the new Nilit Black Diamond yarn, the trend book features new looks using well-known Nilit nylon 6.6 fibres, including Breeze , Aquarius, Bodyfresh, Britex, Colorwise, Pastelle and Arafelle.
Nilit
Nilit produces nylon 6.6 and microfibre yarns in a broad selection of dtex and filament counts, lustre levels, and types of cross-sections.
Its high-quality yarns are used for both knitwear, woven wear and spandex covering applications for the production of fashionable and functional leg wear, body wear, intimate apparel, and active wear.
The company works closely with its international customer base from offices in Italy, the United States, Germany, France, Latin America, Asia Pacific, and Suzhou, China.
This article is also appears in...