Opinion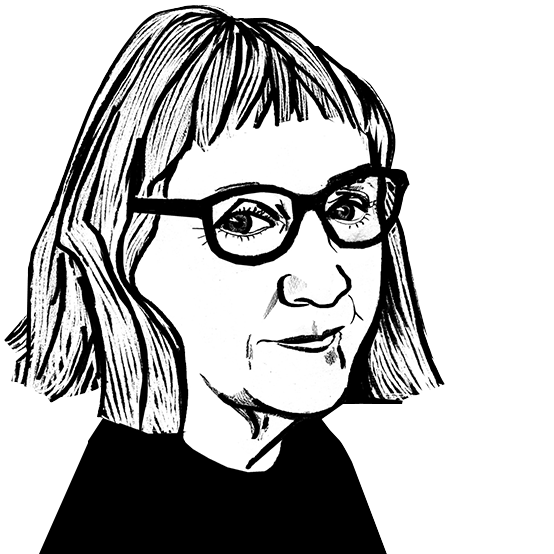 Bright designs and 3D knits at Premiere Vision
Janet Prescott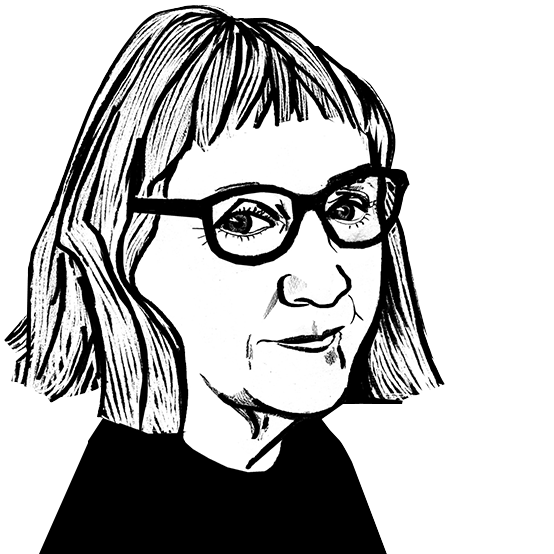 Premiere Vision, which took place from 13-15 January, in Paris, saw an industry tempting the market with new developments and looking confident.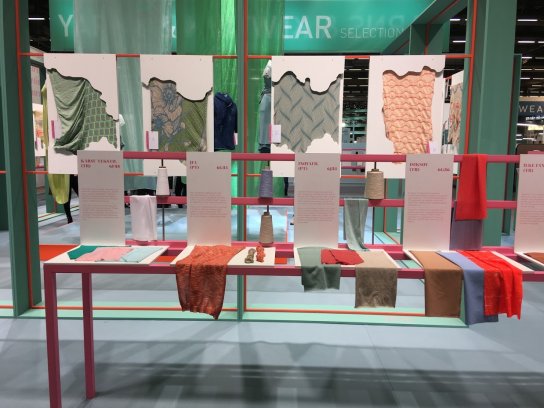 26th February 2018
Janet Prescott
| Paris
Premiere Vision, which took place from 13-15 January, in Paris, saw an industry tempting the market with new developments and looking confident. Bright designs and colourful constructions with a lot of 3D knitting were major themes.
There is a definite focus on jersey as a canvas with images expressed in bright colours and a lot of disruptive patterns in stripes and hand drawn shapes, as if drawn by a shaky hand. Printed flowers – large and small – occur on summer jersey, with large artistic motifs printed on dress weights.
Cotton, viscose, blends with linen, and some with surface interest from extra fine wool, cashmere or alpaca, joined synthetic yarns with many different performance features, some for easy care, some for appearance, which could be read on the PV performance stickers, which proliferate on swatches more and more each season.
Sustainability message
But the most notable development was the growing momentum for sustainability, a common theme in all areas, from small enterprises to large scale fibre companies. Responsible manufacturing messages were underlined in discussions, labelling and slogans.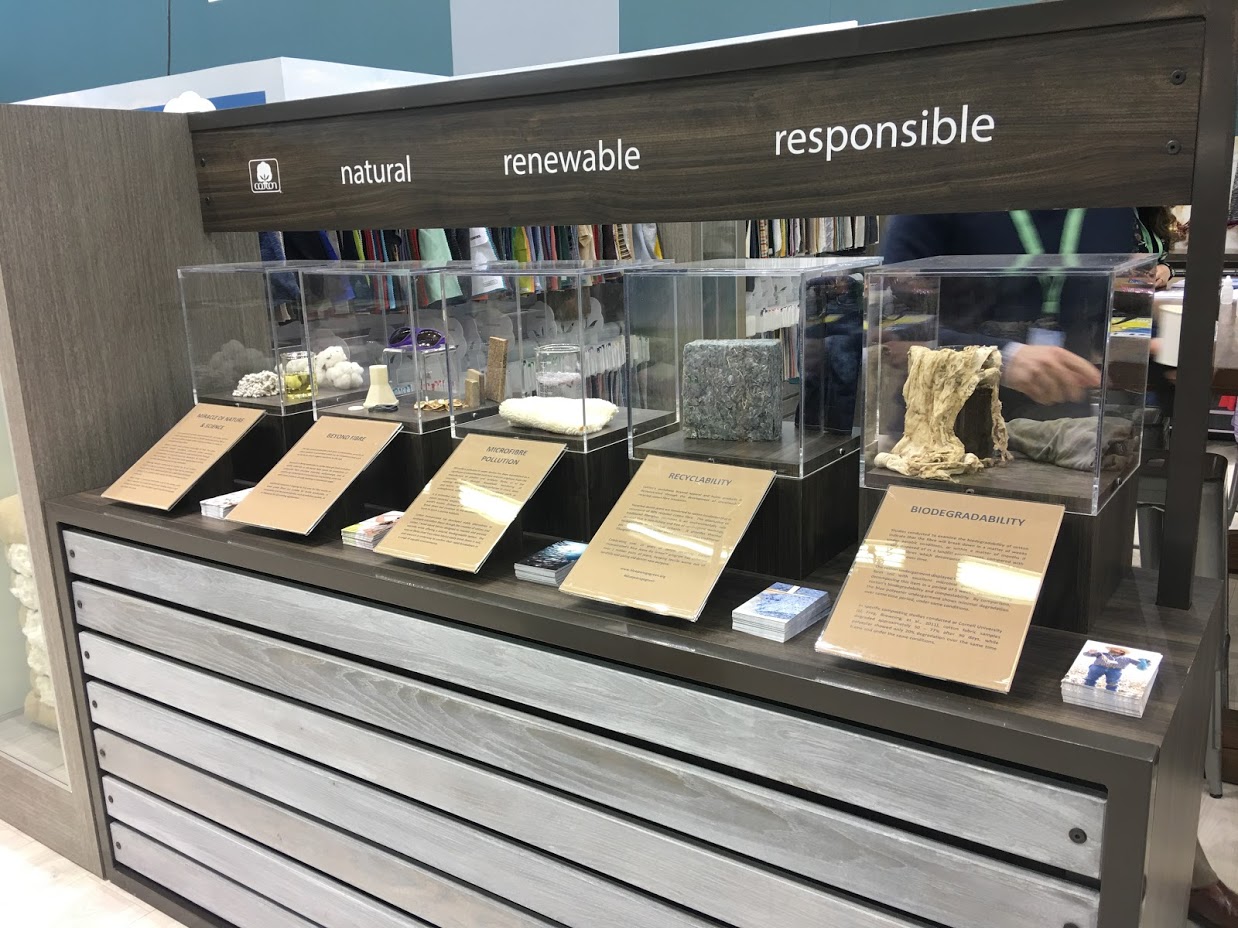 A talk given by the CEO of Bluesign called Fashion's Future – Lessons to learn from the outdoor industry by Jill Dumain, formerly responsible for Sustainability at outdoor brand Patagonia. The message was that verifiable systems designed to minimise environmental impact of textiles can be transferred and shared from high tech sportswear, in which it was developed with great potential for fashion apparel.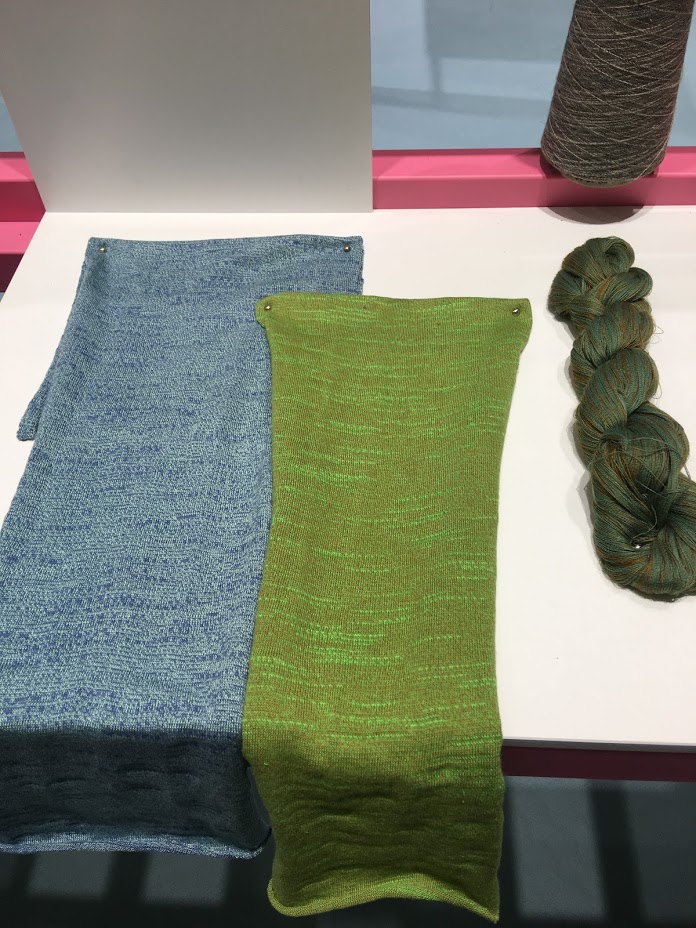 Messages on social media such as the powerful Who made my clothes lobby, looking at workers' rights, have chimed with consumers worldwide and were reiterated here. The Better Cotton Initiative too was cited frequently. References to plastic recycling and re-use of materials, served as a demonstration that eco and repurposing ideas are becoming large enough to make an impact. Yarn exhibitors made much of their eco credentials; these were written large on the outside of several booths of Chinese, Korean, Portuguese and Turkish companies.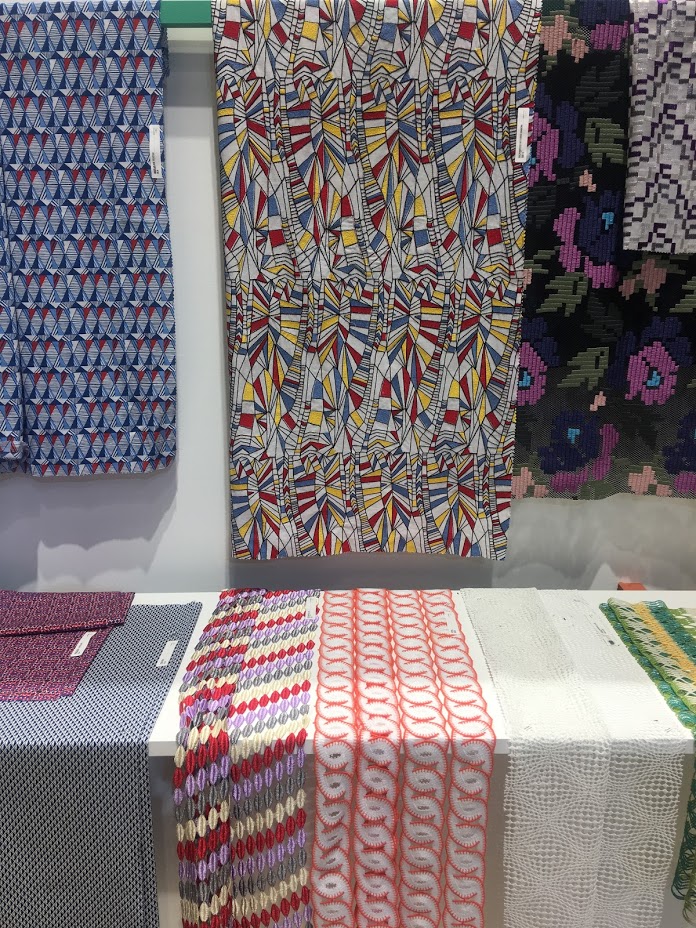 Fibre companies are also geared up to disseminate the sustainability message. Lenzing, with its new overarching emphasis on Tencel in their offer, fully sustainable and accountable and facing out to the consumer; the natural and ecologically sound benefits of wool production and innate properties promulgated by The Woolmark Company; while the Cotton stand was fashion focused and modish, proclaiming cotton's eco credentials as Natural, Renewable, Responsible. CELC Linen is riding high on the Love Linen initiative about to be launched in London including prestige events at the V&A Museum, following on from success in Milan and Paris. Knitted cotton is one of the growth areas for the fibre, in all sorts of gauges from gauzy looks to blends for summer knitwear.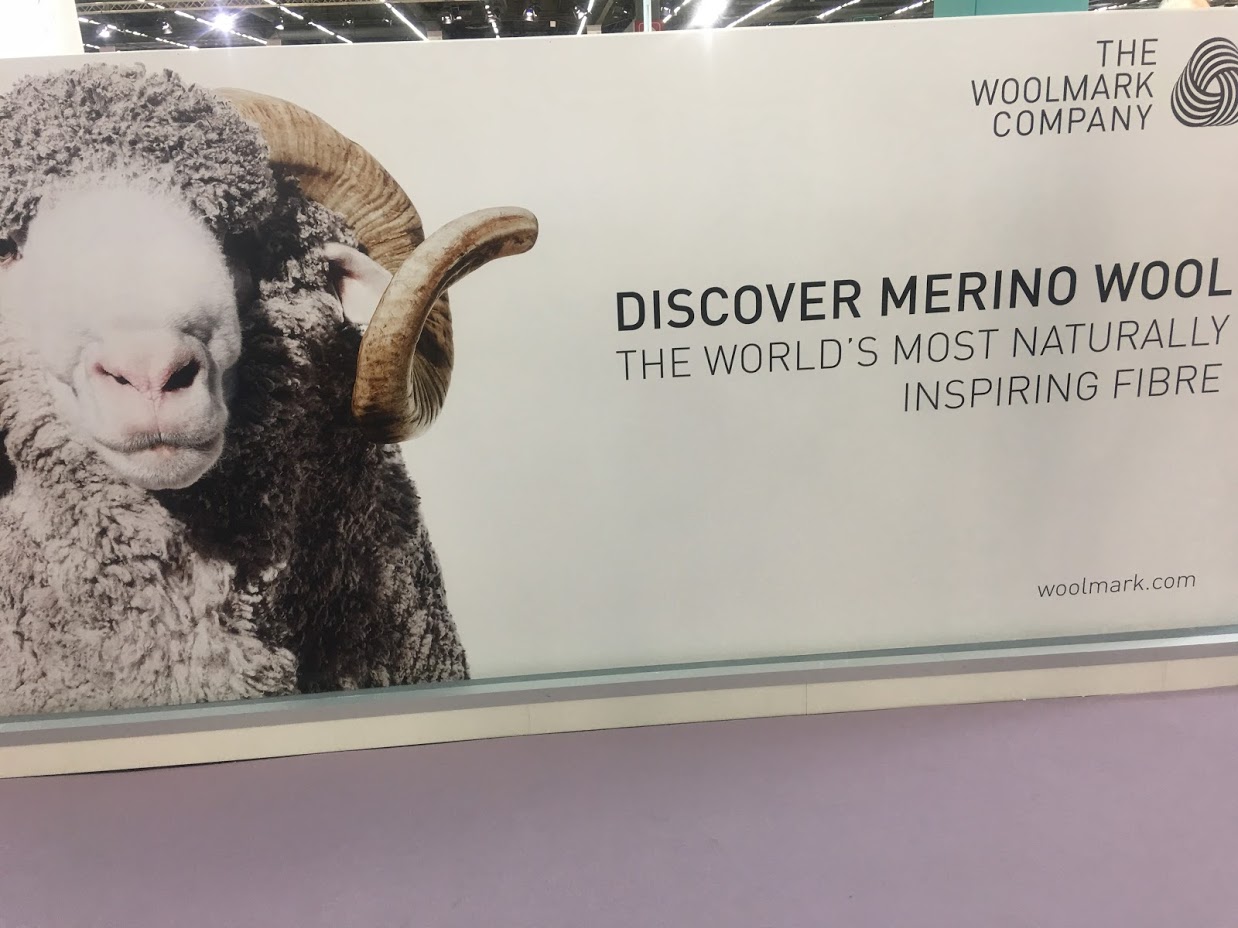 Schoeller developments used work by Maria Corneio, a New York based Chilean designer, combining it with Schoeller prestige fabrics and e3knits, shape-retaining bi-elastic fabrics originally developed for equestrian sports comfort and fit. e-3 soft shell knits in double face, with a fleece or jersey on the inside, with windproof and water repellent finishes. All these are compliant with the Bluesign system.
Knitwear Solutions showcased high class production ranges in garments, from children's wear to sock makers, accessories to fully fashioned garments, including cashmere specialists. Premiere Vision Yarns prototypes made stitch interest paramount as a pivotal theme, through 3D effects with raised areas with an organic touch, sometimes imitating lava flows, or mountainous terrain, using different tension stitches and asymmetrical patterning. Fabric examples of ring spun yarns for flatbed and circular knitwear included Shandong Rui and Safilin.
Movement in construction
Trends in the exhibitors' collections showed a great sense of movement in construction, with even straight lines bent to convey displacement. Colours were fresh and followed the floral themes of green and pink, sometimes with water colour, washed out effects, many melanges with white, and different shades of the green designs, which marked this green edition, with darker versions of colours mixed with black yarn. Also, unexpected irregularities, straight lines suddenly bending, bisecting lines over perpendicular designs suggesting movement. Fantasy stitching and asymmetry mimic movement.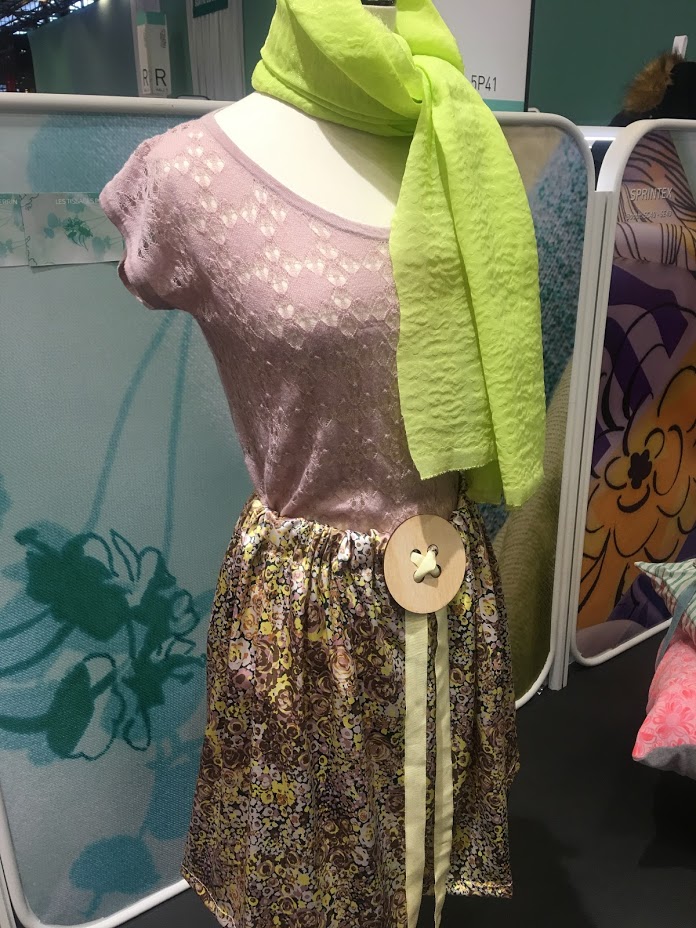 Soft, fine yarns make for soft fabrics and there are many of these, but mixtures of three different fibres, silk, cotton, viscose, for instance, give more substance, and mixes with linen end up with a crunchy drier handle. In general, fabrics are becoming more ornate both in colour and design, including transparency, interpreted in many different knitted designs, including stripes in silver and grey.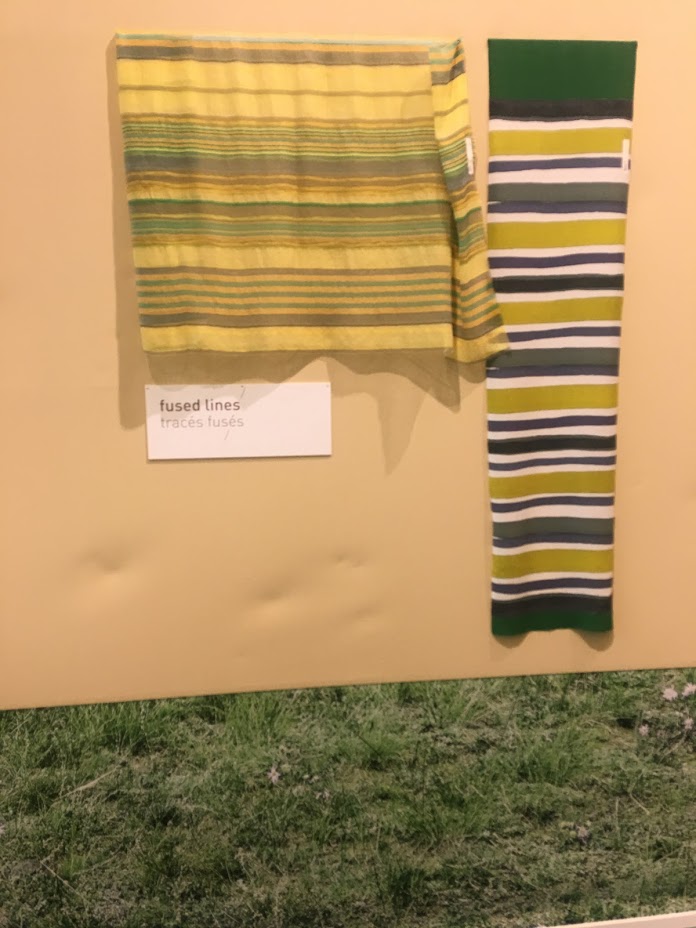 Shima Seiki showed a machinery for knit accessories, noting the huge growth in woven and knitted textiles for bags, having developed programmes with partners in Italy to be flexible enough to speed up and streamline the production of fabrics for accessories.
French knitters in the group France Tissu Maille presented eclectic collections of bright colours, pink, yellow, turquoise and designs in colour stripes with white and flower motifs echoed in knitted accessories and interior design pieces also exhibited on their stand this year.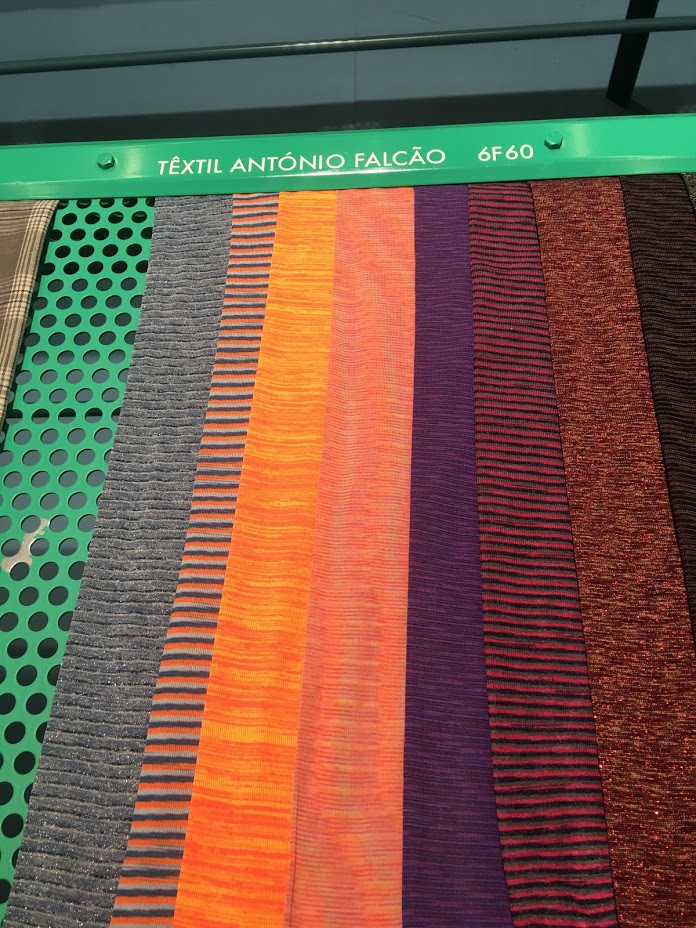 Fabrics from Portugal included intriguing colourways including brights and hand drawn patterns, to darker, sophisticated summer colours with intricate geometric designs.
The City Runner Eurojersey's latest innovative range seeks to mix contemporary themes of decoration and graphics with performing technology functionality and versatility for specific purpose. It is in reaction to the great and still growing popularity of urban cycling. Sensitive Fabrics with Graphene Plus transfer body heat, are crease-free and easy care, and allow great ease of body movement, heat sealed seams becoming a decorative aspect. Developments with Reda Active using Merino also revealed the synergy between wool and technology.
Ecotec by Marchi & Fildi is a real success story for sustainability and aesthetics technology and has become the most well-known of the repurposed cottons, using pre-consumer clippings, which save almost 80% of water during manufacturing; Tintex of Portugal is making a complete switch from conventional cotton and is also using Ecotec.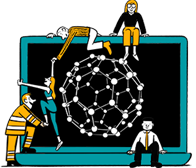 Business intelligence for the fibre, textiles and apparel industries: technologies, innovations, markets, investments, trade policy, sourcing, strategy...
Find out more