Editor's View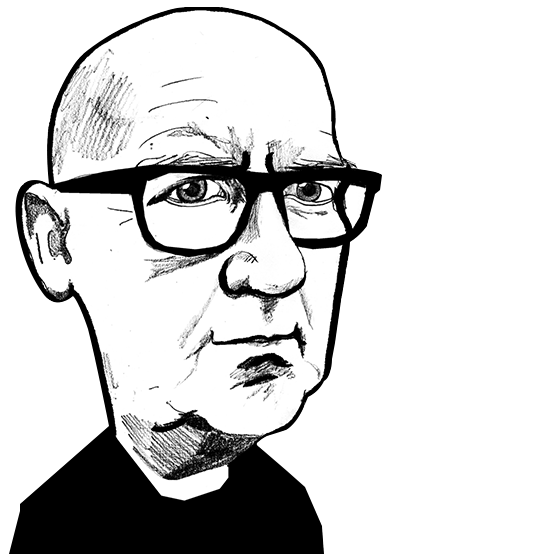 Bringing the UK supply chain together again
Billy Hunter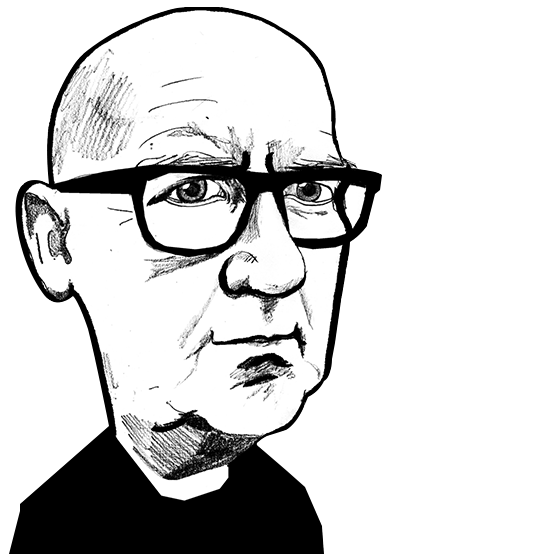 This year's Make it British Live! event hosted around 200 exhibitors, attracting the biggest number of visitors so far, according to Kate Hills.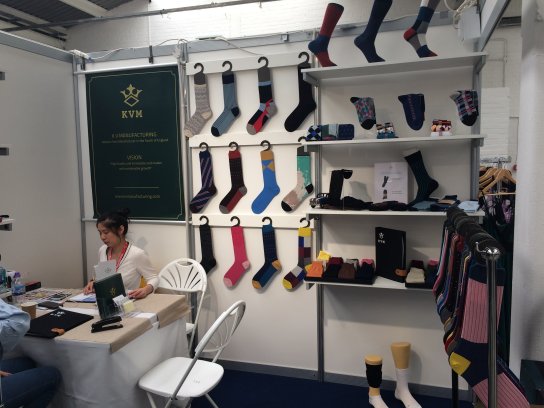 4th June 2018
Billy Hunter
| London
This year's Make it British Live! event hosted around 200 exhibitors at the Old Truman Brewery, in East London, from 23-24 May, attracting the biggest number of visitors so far, according to Kate Hills, founder of Make it British. "The 2018 show was definitely our busiest yet," she said. "By 3pm on the first day we had already had more people through the doors than we had for the whole first day the previous year."
Formerly known as Meet the Manufacturer, for its fifth edition, the show was curated by the UK Fashion & Textile Association (UKFT) and focused specifically on bringing the fragmented supply chain back together after years of decline through connecting brands with manufacturers and providing the needed support to the young talents in the industry.
"We've got more mills this year, and for the first time, we have a dyer exhibiting at the show, and knitwear is always popular," said Kate. "We've tried to make sure we've covered the whole supply chain, so if you are developing a product in the UK, you could come here and find spinners, weavers, knitters, dyers, as well as suppliers of trims, labels, buttons, etc."
Among visitors, who were mostly from the UK, but also representing countries like Malaysia, USA, Japan and Russia, were businesses who look to the UK for luxury products. There has also been a good turnout of buyers from UK high street names, with teams from Boden, Jack Wills, John Lewis, Oasis, Top Shop and Urban Outfitters amongst those at the show, as well as online retailers ASOS and Finery.
Supporting new generation
UK manufacturing is enjoying a great renaissance, helped by the growth in the cost benefits of re-shoring and the sustainability agenda, according to UKFT, the government appointed sector skills body for fashion and textiles. The latest government statistics show manufacturing employment in the UK is rising.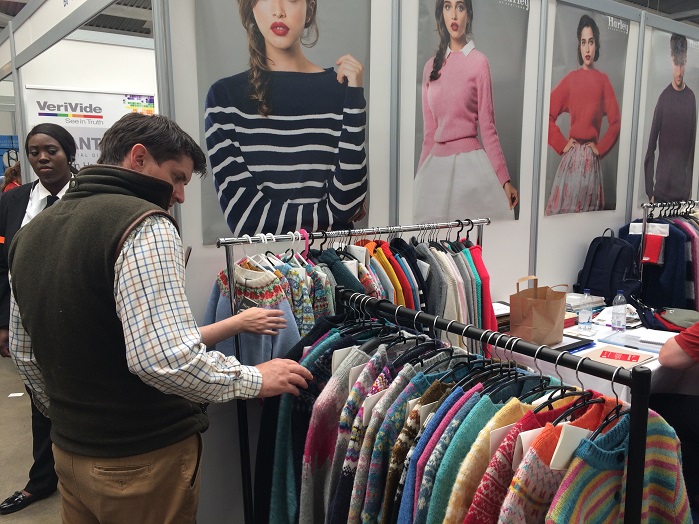 Across the UK, fashion manufacturing employs over 43,000 people within nearly 3,900 companies. Textiles manufacturing in the UK is also constantly developing, with the textiles innovation in the UK ranked number three in the world. There are around 4,200 textiles manufacturing companies in the UK, who employ 65,000 people. The majority of these are SME in size but the scale of production is still significant, with total UK production value close to £6 billion annually.
In order retain this edge and exploit current opportunities, the infrastructure and workforce must expand accordingly, says UKFT. "The apparel manufacturing industry relies on skilled individuals, trained to a high level and research indicated there is a need for thousands of new entrants."
Investment in training and finding enough skilled staff to keep up with the demand, therefore, became the main theme of the event. "The industry has recently come together to ensure that training on offer is up to date and fit for purpose for some key roles in the apparel manufacturing industry. These new apprenticeships standards have been developed to make it easier and more effective to bring people into these roles," said UKFT.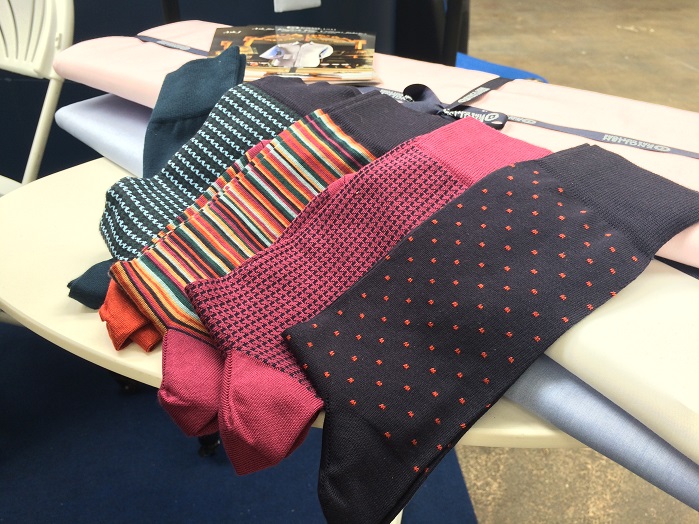 "There has to be a big focus on skills, because one of the main things that our exhibitors are saying at the moment is that they are very busy and getting so many orders, but they can't keep up with the demand because they can't find the staff, which is sad because they could be growing so much more rapidly if there was a skilled workforce," explained Kate. "UKFT is doing a very important thing by showing students in design colleges that there's more to the industry than just design. More young people will get to understand all the different facets of the industry."
Discussing skills and training
The same theme was dominating the agenda of the Symposium, which was held over the two days of the show and hosted 25 speakers from across the UK fashion and textile industry, curated by Eric Musgrave, an industry commentator. "It is important for us to focus on bringing new people into the industry and creating a new generation of skilled labour force," he said in the opening of the Apprenticeships & Skills Panel on the second day of the Symposium. "It is well-known that it is a big problem to get new, young people to regard the clothing and textiles manufacturing business as a viable career, but, nevertheless, there are some success stories to share."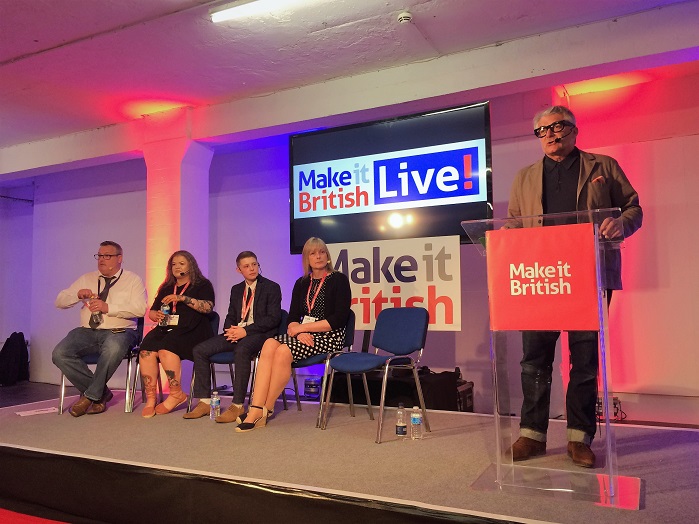 The panel featured Vanessa Ayres, Director of Operations of WT Johnson, a Huddersfield based textile dyeing and finishing company, and John West, Skills and Training Manager at UKFT, joined by the company's two young apprentices Elena and Courtney. "We have around 102 employees on the site in Huddersfield, a lot of them are related, so we carry the family tradition throughout the company, and we have a very little job turnover – people who come and join us usually stay. We have people now working in their 60s, 70s and 80s, and the challenge is for succession planning," said Vanessa.
"What is important is that employers are really enthusiastic to teach, however, the challenge is that not so many people know much about the textiles industry, so our job is to promote the industry as best as we can," said John.
Evolving with times
The panel discussion was followed by a conversation with Simon Cotton, CEO, and Alan Scott, Creative Director, Johnstons of Elgin, who discussed the challenge of staying relevant in the modern age, whilst telling a heritage story. Johnstons of Elgin is a 200-year-old woollens and cashmere knitwear business based in Scotland. "The situation when I joined the company four years ago was that Johnstons was already a great company delivering high quality products, but there were some significant issues. One of them was that we were not making any money, and the second was that we were not delivering to our customers on time," explained Simon. Some reasons behind that were a complicated small batch production and no planning systems, added Alan, who joined the company in 2016.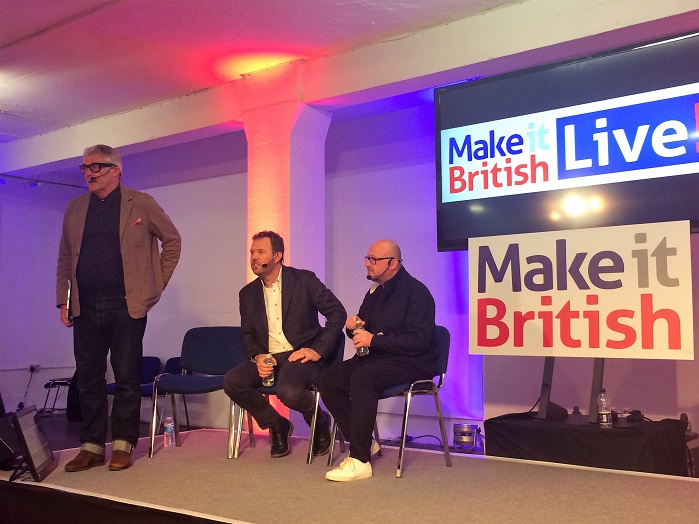 Under Alan's creative direction, the company has re-developed its own brand identity, placing the emphasis on the high-quality, stylish fabrics interpreted through new shapes and silhouettes, creating a distinguishable character for Johnstons of Elgin, and addressed other existing problems. The speakers also pointed to the importance of training. "We have over 200 jobs and we are involved heavily in continually developing the skills of our employees, through the in-house training centres, as well as through annual development plan reviews," said Simon.
Knitwear under spotlight
At the show this year, the knitwear segment was represented by many British factories and brands. Euro-Rose knitwear, a Leicester based knitwear manufacturer supplying its products to brands like ASOS and Urban Outfitters, was exhibiting for the fourth year at the show. A third-time exhibitor Dee Kay Knitwear, another Leicester based manufacturer supplying the UK high street stores, said the show this year was particularly busy. "The theme this year is brilliant," said Arun Bagga, Director. "More training and support of the younger generation of labour force is what needed now to drive the UK manufacturing industry."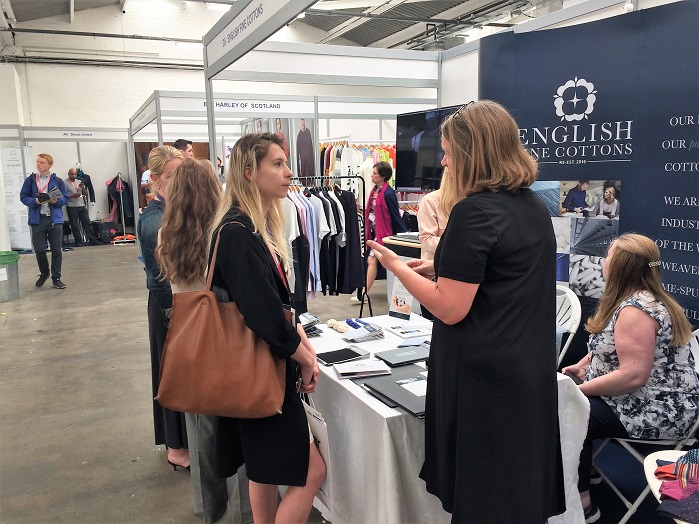 English Fine Cottons, which re-established cotton spinning in Britain by opening a restored mill on the outskirts of Manchester in 2016, was exhibiting its latest additions to the range, including socks, jersey fabric and casual shirts. According to Tracy Hawkins, Vice President, Sales and Marketing, it can be seen at the show how a national value chain has grown in the last several years. "In the previous years, there has been an interest in the story – now there's an actual product that we can produce here, in the UK. A single item of clothing like our shirt can be produced and touched by five exhibitors here at the show. It is about the sense of community, establishing a relationship-based supply chain, keeping the control and being accessible and transparent," she noted.
Technical skills
Susannah Murray, Sales Director of Harley of Scotland, a seam-free design knitwear specialist from Scotland, also emphasised the need to build the skill base, encouraging more young people to take on jobs like programming of knitting machines. She added that Make it British Live! is a good sourcing platform. "We are at this time when we are working on the 2018/2019 season orders, and this is a good time of year for us to do some forward sourcing," she said.
Another company to highlight the need for support of developing technical skills in the industry was a leading flat knitting manufacturer Stoll GB. The company exhibited its CMS 202 HP B machine at the show, targeting a variety of industries, such as fashion, and sportswear. "Supporting young talent is the way to go. If young people don't get into this business, there might be no business in few years' time. Programmers, mechanics – industry needs these kinds of people," said Julio Costa Simoes, Senior Technician, Stoll GB.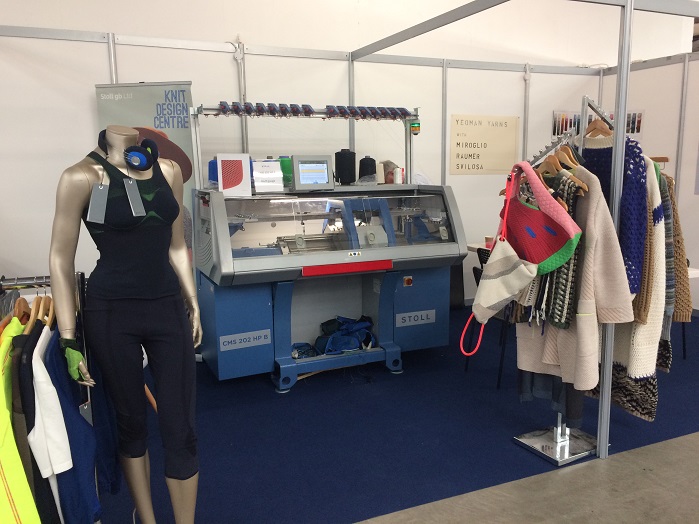 "It is also crucial to make the industry more attractive to the younger generation. Knitting is not like knitting 20-30 years ago, it is totally different now. You have a computerised flat knitting machine, which you have to program – you need to think digitally to do knitting. We have to get young people to see what kind of possibilities knitting can offer. A knitting machine now is like a 3D printer, which can produce almost anything, from medical and automotive, to fashion and sportswear items," said Matthias Knecht, Sales Manager, Stoll.
"That is why at Stoll we have a Knit Design Centre, because we want to help new talents to get attached with the technologt and to learn about it and use it, otherwise we cannot succeed," concluded Matthias.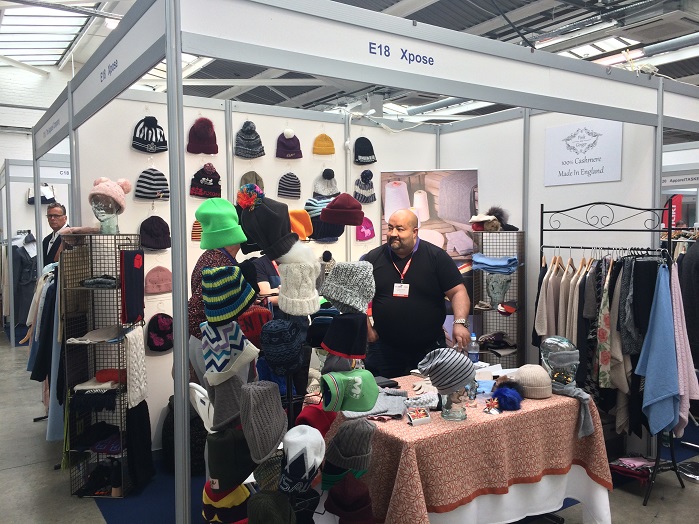 Finally, Saqib S. Ahmed, Managing Director of Xpose, a Manchester based manufacturer of knitted accessories, also noted that there is a "massive shortage" of skilled labour force in the industry. Working with brands like ASOS, Pink & Ginger and French Connection, as well as start-up companies, the manufacturer is specialised in beanies, gloves, scarves, snoods and other knitted products. The company also works with technical and smart yarns. For example, the company is currently looking forward to purchasing a Shima Seiki flat knitting machine with a 12-gauge capability, to produce medical items for children suffering from eczema, to prevent the cream from being wiped off or absorbed by clothes.
More to follow...
Further reading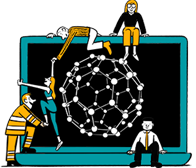 Business intelligence for the fibre, textiles and apparel industries: technologies, innovations, markets, investments, trade policy, sourcing, strategy...
Find out more