3rd June 2015, Botticino Sera, Italy
Busi develops heel patterning for J TERRY machine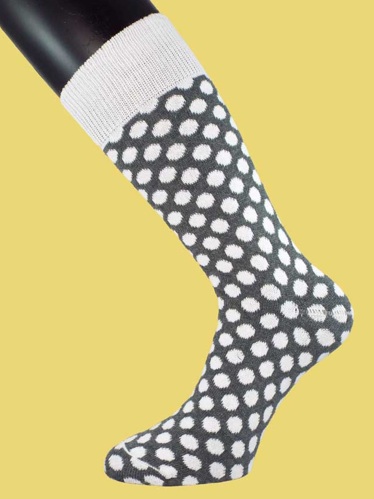 Italian sock knitting machine builder Busi Giovanni reports that it has developed a way of applying patterning in the heel area of socks using its BUSI J Terry single cylinder sock machine.
Michele Castagna, Marketing & Export Manager at Busi said: " We have recently developed the possibility, only with reference to our model J-TERRY, to obtain a pattern also covering the whole heel area of a sock and coherently extending until the gore-lines."
"Such pattern in the heel can be carried out up to four colours plus the ground and knitted either on a terry base, or on a flat-stitch base," Mr Castagna added.
BUSI J TERRY is a high production single cylinder sock machine with latch needles in the dial and with a device for the selection of the terry loops to enable it to produce socks for men and children with true rib and selected terry.
The machine has full electronic control and the terry device enables fully automatic switching from plain stitch to half terry and to full terry.
Optionally available is a terry device that enables the machine to knit sandwich terry and normal terry in the same sock without any mechanical change.
The machine is available in two versions, BUSI J TERRY and BUSI J TERRY S.
About Busi Giovanni
Since 1958 Busi Giovanni Srl has specialized in the design and construction of single-cylinder machines with rib needles in the dial for the production of high-quality stockings, socks and tights. Today, Busi is recognized worldwide as one of the most inventive producers of machines for high-performance and high-tech socks.
The company is a supplier to the most important producers of stockings, socks and tights, for the men's, women's and children's markets - classic, patterned, sports, technical-sports, as well as medical, with special solutions for graduated compression.
Busi sells in more than 50 countries around the world (90% export) through a network of partners that provide distribution and service.
This article is also appears in...