2nd February 2016, Botticino Sera
Busi Giovanni completes revision of its website
Leading Italian socks knitting machines producer Busi Giovanni has completed the revision of its website, which aimed at optimising its technical contents.
In particular, the two revised sections include the Solution Range area and the Select Your Machine area, which aim at helping visitors of the website to navigate through the manufacturer's latest products and offerings.
Updates
The Select Your Machine section of the website now features a table, where customers can find the various textile possibilities of each model for the quicker selection process of the machine that is most suitable solution for your requirements.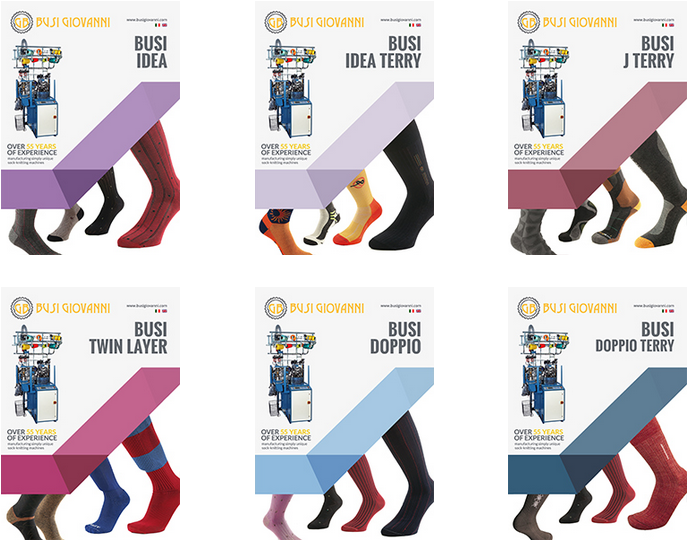 It categorises the machines by application areas and the types of socks they can produce, including men's, women's and children's socks made with the plain fabric, plain fabric and terry, true rib, true rib and terry, true rib and selected terry, heavy sports socks in true rib and terry, technical sport socks with double layer, Broad Rib, Broad Rib and terry, and certified medical classes in true rib and five colours.
The Solution Range area include a full knitting machine range that allows website visitors to explore the possibility of each of the company's machines. The machines include Busi Idea, Busi Idea Terry, Busi J Terry, Busi Twin Layer, Busi Doppio, Busi Doppio Terry, Busi 500, Busi Medical, Busi Medical Terry, Busi Medical Pantyhose, Busi Medical Terry Pantyhose, Busi Light MP, Busi Basic, and Busi Rimaglio 3.0.
Busi Giovanni
Since 1958 Busi Giovanni has specialized in the design and construction of single-cylinder machines with rib needles in the dial for the production of high-quality stockings, socks and tights. Today, Busi is recognized worldwide as one of the most inventive producers of machines for high-performance and high-tech socks.
The company is a supplier to the most important producers of stockings, socks and tights, for the men's, women's and children's markets - classic, patterned, sports, technical-sports, as well as medical, with special solutions for graduated compression.
Busi sells in more than 50 countries around the world (90% export) through a network of partners that provide distribution and service.
This article is also appears in...