20th March 2012, Albstadt
Business booming for Mayer & Cie.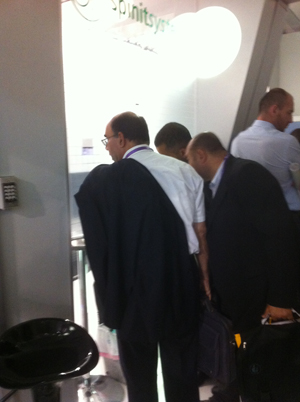 Leading German circular knitting machine builder Mayer & Cie has reported that its business is currently 'overwhelmingly good' and says that although 2012 is not being considered as a great year by other players in the market, it is in fact having its best year since 2007 which was a boom year for European textile machine builders.
Speaking to Knitting Industry this week, a delighted Sales Director Wolfgang Mueller said that Mayer's order book was already tightly filled until at least August when the German textile machinery builders close their factories for the annual vacation.
For some models Mayer has to quote deliveries of six months or more and for one large contract still under negotiation in Asia it is quoting staged deliveries starting in September 2012 and ending in January 2013.
Increasing capacity
Consequently, Mayer is increasing its capacity by employing additional staff at both its Albstadt headquarters and at its Amtek Knitting Technology (formerly Amtek Machinery s.r.o.) subsidiary at Vsetín in the Czech Republic. Mayer utilises the Czech site as a lower cost production centre particularly for the assembly of high labour content items such as selection magnets and yarn carriers and for complete machine assembly for certain models.
Mayer both strengthened its Albstadt production location and increased its world market share through the strategic acquisition of Amtek Machinery last summer. Amtek has a 50 year history of building quality circular knitting machines in the former Czechoslovakia and was known globally for its innovative and reliable knitting technology. In recent years Amtek has been successful particularly in the key markets of Turkey and India as well as in the former CIS states in the upper medium price segment.
"With the acquisition of the Czech manufacturer of circular knitting machines, Amtek Machinery s.r.o. on 25 July 2011, Mayer & Cie. GmbH & Co. KG succeeded in making another strategically important step in securing the production location Albstadt and its staff," Managing Partner, Rainer Mayer said at the time.
Mayer anticipated new synergies in both the market and the cost side through the acquisition and these now seem to have been realised. On the one hand, Amtek's product line has opened up a further market segment and on the other hand procurement and manufacturing synergies have lead to a further strengthening of the company's competitive position.
Explaining the current upturn in business
According to Wolfgang Mueller the current good turn in the company's fortunes is difficult to pin to any one particular factor. In fact sales increases are being experienced over a wide range of models and especially on high end products such as jacquard machines and the company's Relanit technology.
Clearly the weak Euro makes Mayer more competitive in its exports against Asian competitors but Mueller does not think that the company's European competitors are doing anywhere near as well as Mayer is and so currency alone cannot explain the boom.
Mayer says it has benefited from leading European retailers pulling out of China as orders have moved to Bangladesh, Turkey and Indonesia, markets where Mayer is traditionally strong.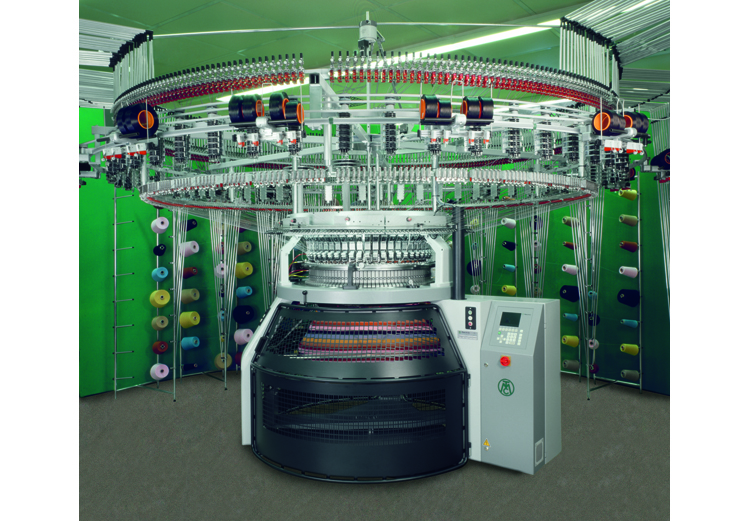 Another factor affecting Mayer's current good fortunes could be, Mueller thinks, the ITMA effect. The German company introduced a whole new raft of innovations in Barcelona including the revolutionary Mayer Spinit system which combines spinning and knitting and aims to eliminate the ring spinning and yarn twisting processes. The first Spinit machine will be installed at a customer site in late 2012.
Mueller thinks ITMA actually helped to open customer's eyes to the level of innovation coming out of Mayer's Albstadt headquarters in Germany. Customers in India are said to have been particularly impressed and are said to have since taken the strategic decision to go with the most innovative supplier rather than the supplier with the cheapest machines.
"Also our after sales service record will impresses our prospective customers. Last year feedback provided by customers via feedback forms on the handling of service requests scored 1,3 on a scale from 1 (excellent) to 4 (lousy). And that is pretty convincing when considering how most of our competitors are doing in this area and how important it is to keep operating downtime to a minimum," Mueller says.
Mueller reports that the company has lost business to some cheaper suppliers quoting 8-12 weeks deliveries when compared to its 5-6 month deliveries but says that many customers are prepared to wait when they can. Mayer is currently lifting its weekly production to 26 machines from pre ITMA levels of 18 machines per week to somewhat shorten the delivery times. Mayer is aiming to produce around 1000 machines this year in total.
In terms of new products Mayer has quietly launched a new single jersey machine designated the MS 3.2, with the MS signifying 'Mayer Single'. "The MS 3.2 is in effect a Mayer S4 3.2 with some modifications," says Mueller.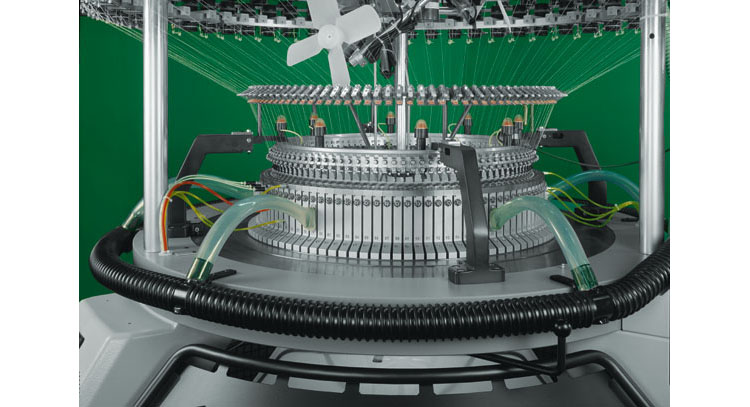 New low cost single jersey option
Mayer launched the MS 3.2 machine earlier this year in countries where it has competition from Asian machine manufacturers and from Asian built European machines. These include China, Korea, Taiwan, Brazil and Turkey. In order to be competitive price wise this has of course meant focussing on the most common gauges and diameters - 24 and 28 gauge and 30", 32" and 34" diameters.
The complete MS 3.2 knitting head, which is the same as the S4 knitting head, and the main frame are completely manufactured in Germany and the upper part of the machine is both sourced and manufactured by Amtek in the Czech Republic. Machine assembly also takes place there.
Wolfgang Mueller says that because the MS 3.2 employs the same cams, needles and sinkers as the S4 3.2 it can also be of interest to existing S4 users. Mueller says that Mayer wants "to give customers the choice between a completely 'Made in Germany' option with all possible bells and whistles and a lower priced more standardized version with the same 'Made in Germany knitting head, made in the Czech Republic."
This article is also appears in...