Billy Hunter reports from Brescia
One of the busiest stands at last month's FIMAST (International Textile Machinery and Accessories Trade Show) in Brescia was that of local sock machine builder Busi Giovanni. The family owned company is known for its innovations and machines which allow its customers to enter niche markets, and it did not disappoint at FIMAST.
Busi's most important innovation on show was the recently introduced Rimaglio 2.0 toe closing device incorporating true point to point linking which was fitted to a number of exhibited models. The company says this is the redesigned and improved version of its well known Rimaglio toe closing device which is simpler than the original incorporating modifications derived from 7 years of experience with the technology.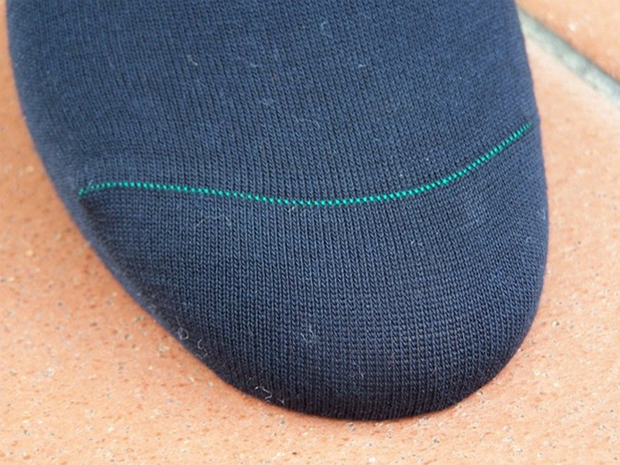 "Generally speaking, this device has enhanced and more reliable performance compared with the previous version," the company's Catina Busi said.
IDEA medical
New from Busi at FIMAST on the compression hosiery front was the IDEA Medical in a 312 needles, 26 gauge, 4" diameter format - a machine designed to produce knee high compression socks in classes 1, 2 and 3. A 26 gauge machine on show was fitted with the optional Rimaglio 2.0 toe closing device – this is thought to be the finest true linking toe closing solution on the market.
IDEA Medical is a high production single cylinder sock machine with latch needles in the dial which enable it to produce all three classes of medical compression socks in true rib or plain with elastic via electronic control and two knitting feeds.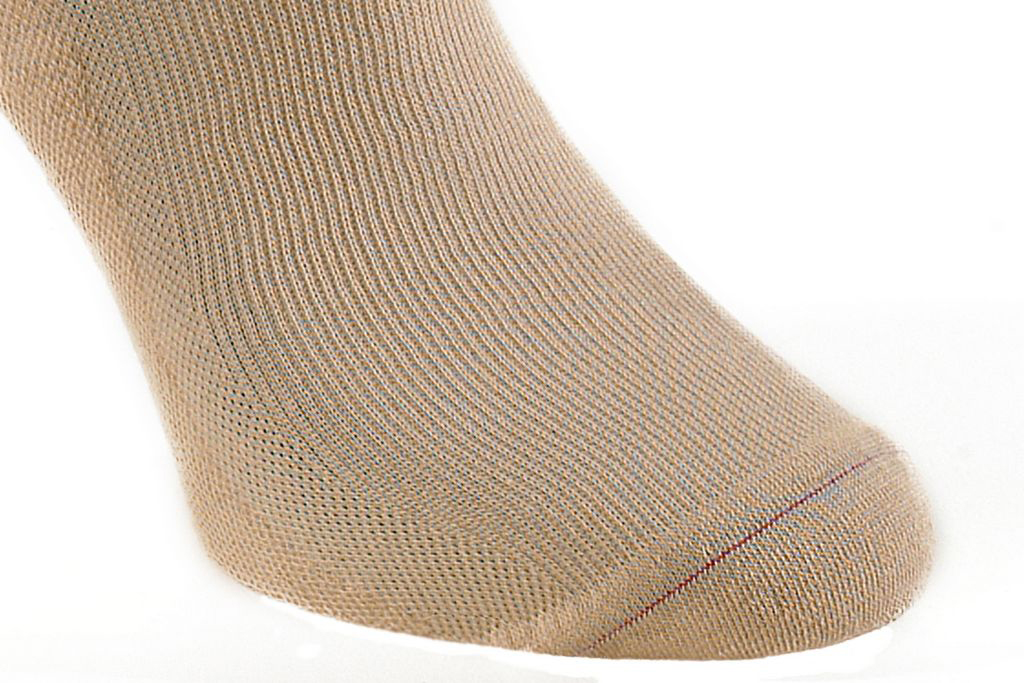 Graduated compression is achievable through the multi-stiffening that can be activated at the same time in all the step motors and through the graduation of the feeding of the covered elastic yarn. Needle selection is made by 8 electromechanical actuators.
Additionally the IDEA Medical can produce socks with double welt and mock rib with elastic using its dial needles. Another possibility is adding mesh patterns in two feeds on a base of flat stitch and mock rib. 'Embroidery' patterns can also be added in up to 5 colours per course on the same base structures.
Different machine diameters and needle counts allow the user to achieve the desired stocking sizes whilst meeting the required constant compression values.
Rimaglio 2.0 is a mechanically 'cleaner' or simpler system than its predecessor which has been designed to minimise downtime and facilitate easier maintenance. Two versions of the IDEA medical were shown in different needle counts, each of which were fitted with Rimaglio 2.0. One model was producing a diabetic sock with terry sole and the toe closing on both models was very impressive.
IDEA Doppio Terry
Another Busi innovation on show was the IDEA Doppio Terry, a terry version of its IDEA Doppio model in 200 needles, 3 ¾" format, which is said to be the only single cylinder machine on the market enabling the production of double cylinder like broad rib (6x2, 10x2 etc.) socks.
The machine also has the possibility to make 'embroidery' patterns and sandwich terry and the model on show was also equipped with Rimaglio 2.0 toe closing device.
Dial needles are again the key here and two IDEA Doppio Terry machines were shown at FIMAST. A 200 needle machine on show was knitting a ribbed sock with micro terry in the foot, achieved by employing low profile terry sinkers. A 240 needle machine was also shown.
Double Layer socks
Busi also showed its IDEA Twin Layer cylinder and dial machine which can knit a football sock with integrally knitted pocket for housing shin guards. As it is based on the 404 Idea Terry machine, the 404 Twin Layer has all the same knitting possibilities as the original machine. In addition to this, using the dial needles and a special patented device which is integrated in the dial itself, the machine can produce double layer socks.
It is possible to knit two fabrics at the same time on the Twin Layer, one inside the other. The external sock is produced in the conventional way on the cylinder needles while the internal sock is knitted by the dial needles.
It is also possible to knit socks with the double layer in a selected part of the sock, for example only in the sole and/or in the heel. An interesting application is the possibility to create pouches inside the socks, like for example the shin-pad holding pouch attached inside a football sock as produced at the show.
Busi's IDEA Twin Layer is sold mainly in Italy and certain South American countries like Brazil where the machine is used to produce football socks. Busi was given approval by the Italian Federation of Football for the use of its football sock with integrally knitted pocket for housing shin guards in 2009.
IDEA J Terry
Also exhibited at FIMAST was Busi's IDEA J Terry, a high production single cylinder sock machine with latch needles in the dial to enable it to produce true rib socks for men and children via full electronic control. The IDEA J Terry is capable of knitting with two feed terry fabric and two feed rib fabric, and is fitted with a device that can select the terry on both feeds, thus allowing the production of selected terry in two colours.
Needle selection is made by 9 electromechanical actuators and the machine can also be fitted the Rimaglio 2.0 device for automatic toe linking.
The machine's terry device uses two independent butts to select the terry thus allowing the machine to produce socks with terry only in the front part, then terry only in the sole and finally all round terry.
Another feature of the terry device is that it can switch automatically from sandwich terry to normal terry. It is also possible to have normal terry and sandwich terry in the same course (e.g. sole with normal terry and foot top with sandwich terry).
The terry selection device allows the production of socks with sculptured terry in addition to 5 colour patterns and socks with selected terry (up to 5 colours) with areas in flat knit and mesh patterns.
IDEA 500
Also on show was the well established coarse gauge jacquard IDEA 500, available in 5" diameter and gauge 3.3. The machine sells in Norway, Finland, Lithuania, Sweden and other Northern European countries and is used to produce socks, scarves and mittens in traditional Scandinavian styles and designs.
IDEA 500 is a single cylinder sock knitting machine with latch needles in the dial to enable it to produce heavy gauge socks with rib and terry and it is provided with full electronic control. Needle selection is made by 6 electromechanical actuators. The machine can also be supplied with Rimaglio 2.0 device for the automatic toe linking.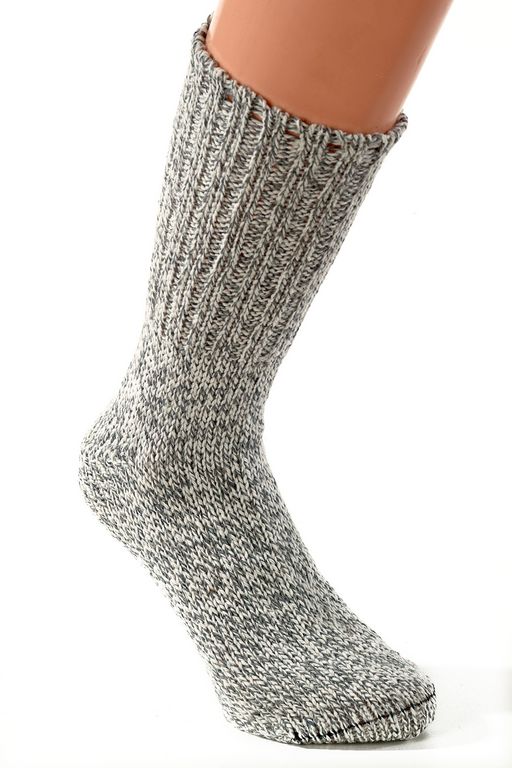 Since the 500 IDEA machines is equipped with dial needles it will knit sock with true rib with conventional selections of the single cylinder dial needle machines, i.e. 1x1, 3x1, 5x1 etc. In addition to this, using a modified dial the machine can knit 2x1 or 2x2 ribs. All ribs can be knitted in one feed (in case of pattern insertion in the rib) or in two feeds. Using a special cam at the second feed on the dial the machine can produce o called 'Pearl rib' on a 2x1 or 3x1 rib base.
Constant innovation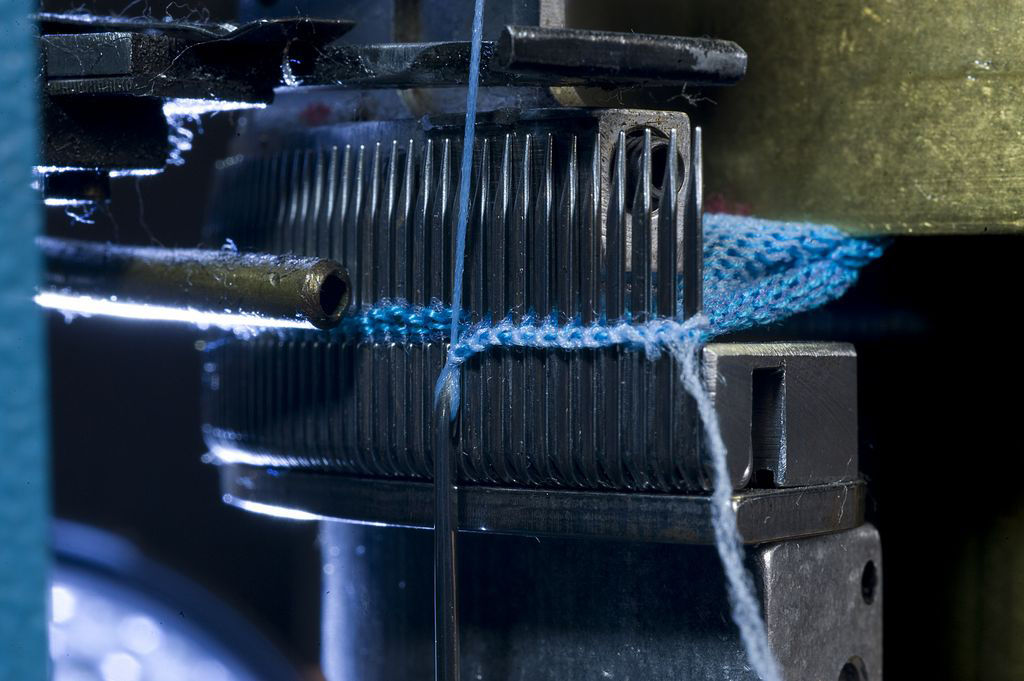 Busi is a really good example of an innovative family owned business with just 35 employees, which understands the need to operate in niche markets, has excellent engineering standards and knows the importance of constant innovation. As our article title 'Busi shines at FIMAST with Rimaglio 2.0' suggests, Busi Giovanni is one of the shining stars of the Italian hosiery machine building industry.
Further information is available at the company's brand new website at www.busigiovanni.com.