Cariaggi, an Italian knitwear yarn spinner specialising in cashmere, vicuña and super-fine wools, has posted first-semester results that show a 1% growth in sales compared to the same period last year.
Current performance points to a year-end result of 103 million Euros, an increase of 2% on last year. The markets which recorded the highest growth over the first half of 2013 were the US (+ 6%) and France, with an increase of 16%.

The company is continuing to invest in its Fantasia yarn range, that constitutes the brand's Autumn/Winter collection 2014-15.
Further growth
In order to promote its growth, Cariaggi plans to invest 1.8 million Euros in 2013 in targeted innovation projects for its various business areas. Investment is already underway in the technology area, with the launch of two key projects: Digital Yarn and eBiz.
The aim of the Digital Yarn project developed in collaboration with Shima Seiki Italia is to make digital colour charts available to Cariaggi clients who use the Shima system. eBiz, on the other hand, is a European initiative aimed at creating a common digital language for companies in the textile and clothing supply chain, so that communications can be optimally integrated and the quantity of data exchanged with suppliers and clients can be increased.
Autumn/Winter 2014-15
Fantasia range, launched last Winter, includes a variety of innovative yarns. Nuage, 74% cashmere, 26% silk, a specially structured yarn which blends together silk and cashmere, with a brushed finish for multi-layered softness, features the new collection in original versions using sequins and lurex.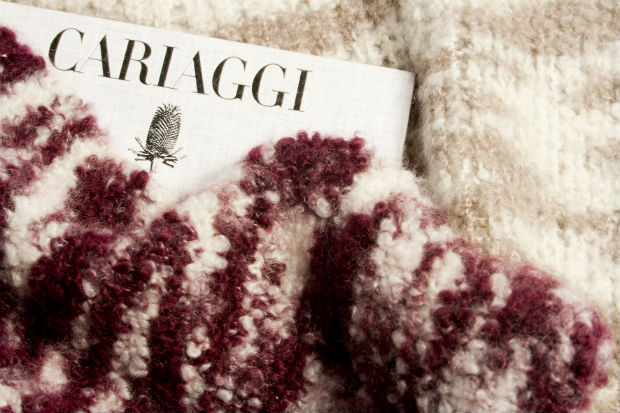 Bouclé, 93% cashmere, 7% silk, the Persian-effect cashmere bouclé yarn which debuted in a two-colour version for Autumn/Winter 13-14, is now available in plain colours and a much wider range of different tones.
New this season are Wave, 87% cashmere, 13% silk, a yarn produced using a special technique which joins the two fibres together to create unusual printed effects, and Alps, 54% silk – 36% cashmere – 10% polyamide, a yarn which is specially treated so that the cashmere fibre is revealed, creating a unique brushed knitwear effect.
This article is also appears in...