15th February 2016, Tilburg
Carvico and Jersey Lomellina join Healthy Seas initiative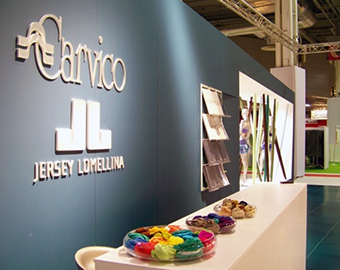 Carvico and Jersey Lomellina, leading Italy based manufacturers of high-tech knitted fabrics for swimwear, sportswear, underwear and outerwear, have announced their participation in Healthy Seas, a Journey from Waste to Wear initiative.
Healthy Seas aims to recover discarded fishing nets from the seas and to regenerate them into high-quality Econyl yarn, which is subsequently turned into brand-new products such as socks, swimwear and carpets. The initiative aims to provide a showcase for the circular economy at the European level for while highlighting that waste is too valuable to be wasted.
Both Italian companies are focused on preserving the environment and are aware of the need to be implementing a sustainable production policy. As a result of this approach, the companies are using the 100% regenerated Econyl yarn, made from pre- and post-consumer waste.
Social role
"We have come to this decision over time, being fully aware of the social role that any business, operating in whichever market, must necessarily take on, with the objective of effectively and tangibly making a contribution to spreading a culture of sustainability," said Stefano Eretti, General Manager of Carvico. "This is the only way we have today to protect the planet that our children will be living on, tomorrow."
Fiorella Angeloni, General Manager of Jersey Lomellina, added: "The search for innovative products with high eco-friendly content is definitely a challenging but necessary undertaking. This is what keeps us on this path."
Responsible choice of products
All waste material made from nylon 6 has a potentially infinite life, because thanks to its chemical properties it can be regenerated and returned to its original form. This procedure can be repeated a never-ending number of times without any loss of quality or performance, according to the project leaders.
Healthy Seas wants to give consumers a responsible choice of products that tell the powerful story of the journey from waste to wear. With the cooperation with Carvico and Jersey Lomellina, Healthy Seas hopes to spread the word to a new market of consumers.
"Carvico and Jersey Lomellina represent global excellence in fabric performance and quality. Their decision to join and support Healthy Seas is in line with their commitment to the use of sustainable materials, and of industrial practises with reduced environmental impact. We are extremely proud to have them on board," commented Fabrizio Calenti, member of the Healthy Seas Steering Committee.
This article is also appears in...

Good initiative and good to see two world class knitted fabric manufacturers getting involved.