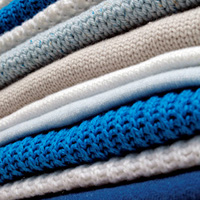 23 June 2009, Kinross - Dawson International's announcement last week that it had sold its cashmere spinning division to Chinese cashmere business Ningxia Zhongyin Cashmere Company has been warmly welcomed by Todd & Duncan, the 140 year old cashmere spinning business based on the banks of Loch Leven, Kinross, Scotland.
The move is a first for a Chinese cashmere company to see potential growth in manufacturing in Scotland and is timely reinforcement of the cachet that 'Cashmere Made in Scotland' represents in times of economic downturn. Zhongyin recognises the heritage and integrity that the Todd & Duncan cashmere brand represents and its potential opportunity to accelerate market share both within its home market and throughout Europe when economic confidence returns. Zhongyin has supplied Todd & Duncan with cashmere fibre for over five years. This move now takes the partnership to the next level.
"Zhongyin is a highly profitable and visionary business," said James McArdle, managing director of Todd & Duncan. "It is looking way beyond the difficulties of the current economic climate to a picture of how the future global cashmere industry will look in a few years time. It is making this investment now to acquire a business with an unrivalled heritage in the cashmere industry and making plans to exploit the full potential of the Todd & Duncan brand as a key element of its future growth strategy. This also secures our continued access to the Zhongyin cashmere fibre, the finest in the world, and enables further investment for the future."
Zhongyin is the largest cashmere dehairing and combing operation in China and has been ranked number one in the Chinese cashmere industry since 2004. Founded in 1994 it is a vertically integrated cashmere business, which has experienced rapid growth. Zhongyin has guaranteed access to the world's finest cashmere fibre and has been a supplier to Todd & Duncan for over five years. It is committed to manufacturing cashmere yarn from a Scottish manufacturing base and maintaining the traditions and craftsmanship embodied in the Scottish workforce.
Todd & Duncan will continue to be run by the existing European management team who were responsible for returning the business to profit in 2008. This was achieved through a number of strategic actions including increased sales, stronger margins, improved customer service levels, product quality and performance and manufacturing efficiency.
Todd & Duncan is Europe's leading cashmere yarn spinner. It manufactures on the banks of Loch Leven, Kinross, Scotland and employs approximately 200 people. It is a world leader in directional colour and product quality. The company exports cashmere yarn on a global basis to the world's top fashion and couture houses as well as top contemporary designers.
Completion, which is expected within ten weeks, is conditional, inter alia, upon approval of the Kinross site lease by the landlord's lender and Zhongyin receiving regulatory approval for the transaction in China.
This article is also appears in...