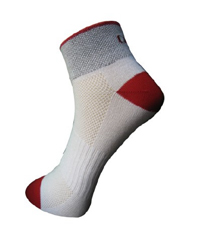 Chinese sports socks manufacturer China Access Marketing Ltd. (CAML) has introduced a new range of engineered performance socks for cyclists and runners based on Advansa's ThermoCool polyester fibres. CAML is known for its winter sports and trekking socks.
CAML says has chosen to bring Advansa's ThermoCool innovation to its sock lines for the coming season in order to provide high quality, dual functionality and ultimate comfort, designed to fit the needs of outdoors users. The socks are said to keep the feet comfortable through the longest activity.
CAML's new range incorporates ThermoCool fibres which have a hollow core and a channelled surface. The sock aims to help prevent moisture build-up in demanding conditions and regulate the temperature whilst managing moisture to keep feet dry and comfortable all day long. ThermoCool is designed to provide enhanced air circulation coupled with moisture management during physical exertion without any chemical treatments.
The new sock line is already available on the Asian Market, as CAML's Kawin Lui explains: "We are always looking for ways to create distinctive performance socks that provide a broad range of benefits that wearers require," explained Kawin Lui of CAML. "We strive to give full support to customers through continuous material innovation and product development, tailor-making solutions for customers. Therefore, is a new material we want to promote for our customers."
"We are very pleased that CAML chose for these exceptional performance socks," said Elke Lamberts-Steffes of Advansa. "The right footwear becomes more and more important in our daily life; today's athlete demands a sock that is specifically designed to enhance his or her lifestyle. Considering this, CAML have done an outstanding job of designing a product that will truly guarantee unparalleled comfort."
Hangzhou based CAML has been in the socks business for 6 years and has an annual turnover of around US$2 million with functional socks for trekking and skiing being the company's core products. Major markets for CAML are Europe and Australia and customers are Ronhill, XTM, Fatpipe, Munich Sport, Solo and Blackhawk. In addition, the company also produces casual socks for brands and chain stores including Jell, Bata, Migros, C&A and NKD.
This article is also appears in...