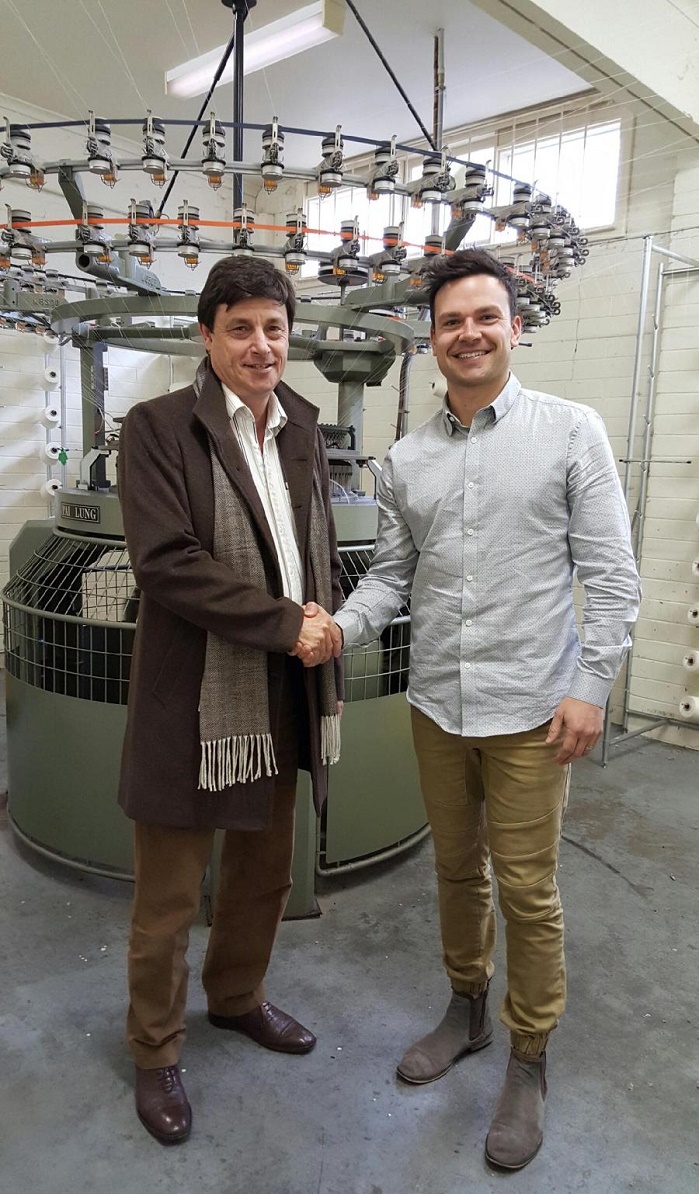 Australian Wool Network, an Australian company, specialising in wool marketing, has acquired Victorian business Hedrena, a transaction that aims to contribute to strengthening the country's wool knitwear industry, the company reports.
The purchase of the Geelong based company gives the leading independent wool broker two Australian based manufacturing companies, three retail fashion brands and retail outlets across three states.
The acquisition comes on the back of the opening of Australian Wool Network's new Hysport factory at Carrum Downs in March. Hysport manufactures garments made from pure wool and wool blends, which are marketed under the brands MerinoSnug, Only Merino and OM.
Hedrena products and expertise
Hedrena staff and the company's specialised circular knitting machinery will be relocated to Carrum Downs this month. Hedrena was originally established in 1992 by Hedley and Irena Earl to value add to their superfine Merino flock at Ocean Grove. A pioneer of the next-to-skin base layer market, the company uses non-mulesed Australian wool, which is spun overseas and knitted, cut and sewn at the Geelong West factory.
Australian Wool Network (AWN) managing director John Colley said the acquisition would create job growth, with new roles to be created at Carrum Downs. Mr Colley said production capacity would be increased on top of a strategy to open new retail stores later in the year.
A Woolmark licencee, Hedrena has retail stores in Melbourne's Collins Street, Glenferrie Road in Malvern, Geelong, Sydney CBD, St Ives and Adelaide. "All of Hedrena's retail outlets will be retained and we are in negotiations to expand the outlets right across Australia,'' Mr Colley said. "Hedrena's sustainable lifestyle wear is a totally different product to the MerinoSnug range but is complementary. It is a natural Merino product and will appeal to the same customer base.''
Strategic synergy
Hedrana CEO Ben Earl said the strategic synergy between Hedrena and AWN would unlock a wealth of specialised Australian wool industry knowledge, marking a significant milestone in the company's 24-year history. "AWN has provided Hedrena an incredible opportunity to grow its retail network domestically with longer term plans to expand internationally,'' he said.
The Earl family established a goal four years ago to dispel the myths and misconceptions around wool. "We wanted to have more people around Australia in their 40s and beyond discover the benefits of modern and innovative Merino wool apparel,'' Mr Earl said. "Today a new chapter commences and we can take a significant step forward to realising this vision.''
Mr Earl said customers would have more choice combined with greater product innovation. He said a lack of capital had inhibited Hedrena's expansion in the past.
New export markets
John Colley confirmed MerinoSnug garments would be introduced to the Hedrena retail outlets to increase exposure and sales. He said a new model would outsource the cut measure and trim stage of garment creation internationally, with more than 70% of the garment cost born in Australia.
Mr Colley anticipates new export markets opening for the Hedrena product by the end of the year. This is expected to create further opportunities to drive premiums for woolgrowers.
"This is a great opportunity for the growers and supporters of AWN to be involved in a process which genuinely links growers to the retail end, and to know their wool is going into an Australian made article produced by an Australian company,'' Mr Colley said. "Sheep to shop, fibre to fashion, it's always been part of the charter so now we can really expand and deliver it."
This article is also appears in...