Leading Italian producer of electronic yarn feeders for knitting machinery LGL Electronics will be showcasing a range of advanced sustainable yarn feeding solutions at ITMA Asia + CITME in Shanghai this June. The show will take place at SNIEC (Shanghai New International Exhibition Center) from 16th-20th June, where LGL can be found in Hall E5 at Booth D02.
LGL produces a complete and innovative range of electronic yarn feeders for knitting machines from circular seamless to socks, as well as for large diameter circular and flat knitting machines, many of which can be seen on the company's booth in Shanghai.
Since 2011 LGL has been committed to the development and manufacturing of electronic yarn feeders, which help promote sustainable management of resources, and have been attributed a Green Label for high energy efficiency and low environmental impact. Included in LGL's line-up in Shanghai will be its SPIN 1, COMPACT and brand new ECOPOWER yarn feeding solutions:
ECOPOWER
ECOPOWER is LGL's latest development and is being introduced at ITMA Asia + CITME for the first time. ECOPOWER has been designed to provide maximum motor torque even at low speed and average power consumption reduction of 30% is claimed.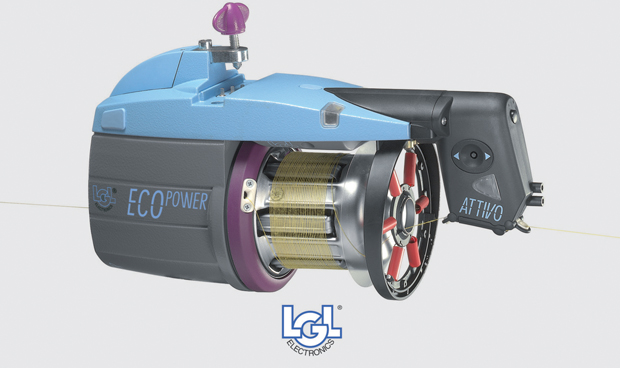 Features include:
Maximum motor torque also at low speeds
Average Power consumption reduction 30%
Ergonomic solutions for a simple and easy use
Alarm light visible from anywhere
Electronic brake ATTIVO (optional), LGL patent
SPIN 1
With SPIN 1, for bare and covered elastomeric yarns, LGL has further enlarged its range of advanced solutions for yarn feeding of knitting machines, offering a new device conceived to control yarn tension up to 100g at any speed.
Main features are:
Reacts quickly to speed changes without producing tension peaks
Maximum torque available over a large speed range (in particular at low speeds)
Low power consumption
Yarn measurement system
Ease of installation and use
Serial and CAN BUS communication
Connections: with flat or single cable
Ceramic tension sensor: grants precision, accuracy and quick response
COMPACT
LGL's Compact, which will also be on show in Shanghai combines reduced dimensions with user-friendliness and reduced power consumption. COMPACT was designed with reduced dimensions, user-friendliness and all of the company' important recent technical innovations in mind. In 2011 COMPACT was awarded the Green Label for its energy efficiency and low environmental impact.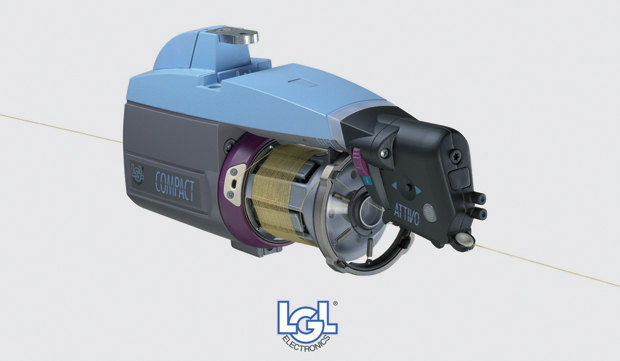 COMPACT offers:
Very compact dimensions
Reduced weight
Considerable power reduction
ATTIVO electronic brake, which automatically keeps the programmed tension on the yarn: an LGL exclusive (optional)
Tension detectors and electronic brakes
The above feeders are equipped with tension detectors that enable programmable constant yarn tension. The range also incorporates a complete range of innovative electronic brakes to reduce significantly the stress on the yarn and to increase performance:
TWM (LGL patent) - now available in a new wear-resistant material
ATTIVO (LGL patent) - enables programming to keep the desired tension constant
New systems for detection and control of yarn consumption
YCC (Yarn Consumption Control) - stops the machine if the yarn consumption doesn't meet the values entered by the end-user
YCM (Yarn Consumption Meter) - enables to calculate the yarn consumption and consequently the final product cost
About LGL Electronics
L.G.L. Electronics S.p.A. was established in 1982 in Bergamo, Italy. The company is prolific in generating intellectual property and has been granted over 150 patents over the past thirty years. LGL is recognized all over the world as specialist in the research, development and manufacture of yarn feeders for knitting and weaving machinery, offering highly innovative solutions.
LGL's daughter company, LGL Hangzhou in China is celebrating the 10th Anniversary at this year's ITMA ASIA + CITME which takes place from 16-20 June in Shanghai. LGL's China plant consists of manufacturing and sales and after sales divisions, which together with two branches in Shantou and Foshan, provide full service in China and other countries in the Far East.
Further information
L.G.L. Electronics S.p.A.
Via Ugo Foscolo, 156, Bergamo, Italy
Phone: +39 035 733408
Email: [email protected]
This article is also appears in...