12th March 2018, Albstadt
Mayer & Cie. expects positive 2018
The Albstadt-based circular knitting machine manufacturer Mayer & Cie. (MCT) has generated sales of around EUR 105 million in 2017 – on a par with the previous year. The family-owned company also sold around the same number of machines as in 2016.
The reason for the result, which fell short of the company's expectations, was a complex in-house ERP-system changeover, according to the manufacturer. For the current year, Mayer & Cie.'s target is a significant increase in Group sales once more. Preparations are also scheduled to start this year for the integration of a sister company and its products.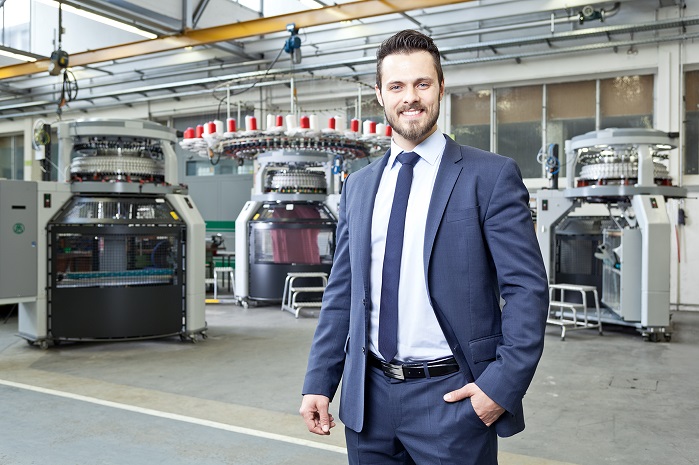 ERP-system update
Last year, the Mayer Group – the Albstadt headquarters and the Czech and Chinese subsidiaries – generated sales totalling around EUR 105 million, which was almost identical to the 2016 result. That this figure fell short the company's expectations was due to an ERP-system changeover that went into operation in summer 2017 after several years of preparation. That led to problems in the production flow, and almost completed machines could not be delivered to the customer because parts were not available at the required time.
"We are dozens of machines behindhand," explained Benjamin Mayer, Managing Director of Mayer & Cie. "That naturally has an effect on the result, which would otherwise have been significantly better. We did, after all, have the capacities and the orders. Fortunately, system changeovers of this kind are not a daily occurrence and we are confident that we have now largely put the initial difficulties behind us. We are sure that we will be able to work better and more efficiently than with our old system."
Modernisation projects
In addition to its ERP-system update, Mayer & Cie. invested millions last year in other modernisation projects, especially at the headquarters location in Albstadt. The company regularly upgrades its machinery, last year including, for example, ten new production machines.
Work on the automated storage system has also progressed and is nearing completion. Mayer & Cie. has also done some refurbishment outside the factory gates.
Braiding machines
Benjamin Mayer has now set himself last year's EUR 110 million sales target for 2018 and is confident that it can be achieved. "2018 has got off to a good start. Our order intake is stable, and we expect to be back in calmer waters after our system changeover and to be able slowly but surely to work off our backlog of machines," he said.
Mayer & Cie. is planning to tackle a number of new challenges in 2018. One of them is braiding machines, a successful product of the US sister company Mayer Industries in Orangeburg, SC. Founded in the early 1970s as a Mayer & Cie. subsidiary and a circular knitting machine production site, the company is to be wound up in the medium term. Mayer Industries' products are braiding machines for the manufacture of hose tubing. They are to be made from about 2019 in Albstadt-Tailfingen. Preparations are under way for integrating this new product.
"For us the integration of this technically related product is a good opportunity to develop an additional mainstay that is independent of our core business," commented Benjamin Mayer. "We have repeatedly opted for diversification in past decades and had good experiences with it."
This article is also appears in...