10th April 2018, Albstadt
Mayer & Cie. faces challenges at Egystitch + Tex
Mayer & Cie. could not exhibit its Relanit 3.2 HS, the company's Relanit range's current flagship model, at last month's Egystitch + Tex trade fair, which took place in Cairo. The company was going to exhibit three circular knitting machines at this year's show, namely a D4 2.2 II, a flexible rib and interlock machine, an MBF 3.2, also known as a "three-thread-fleece machine," and a Relanit 3.2 HS. However, the Relanit 3.2 HS was held up in customs.
"Two days before the trade fair began, it was clear that the Relanit 3.2 HS would not be released in time. Luckily, Nabil Oulabi of our local representatives Outatex is a gifted improviser and was able to organise a replacement overnight, as it were," commented Stefan Bühler, Mayer & Cie. Regional Sales Manager for Egypt.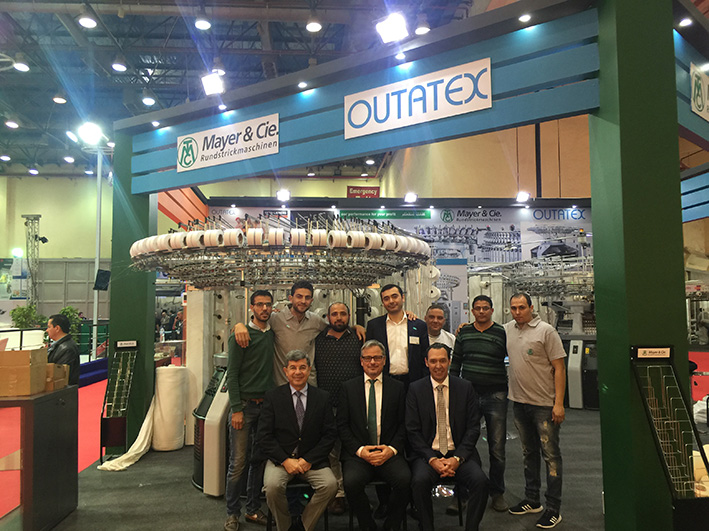 A local knitting company provided its Relanit 3.2 S for the event. Mayer & Cie. was thereby able only to present a sister model of the current high-production Relanit machine. "Quite a number of customers felt that was a shame and we too were expecting the Relanit 3.2 HS to attract the most visitors. But we were able to make use of the space and exhibit a current Relanit model, and the performance of the fitters, who dismantled and reassembled the machine in 36 hours, was in any case more than impressive," said Mr Bühler.
At the Egystitch + Tex trade fair, Mr Bühler officially took over responsibility for the Egyptian market from his long-serving predecessor Timo Schramm, who is now in charge of other sales regions for Mayer & Cie.
The show features very highly on Mayer & Cie.'s trade fair calendar in alternate years. Egypt, in addition to the high-grade cotton it has long been famous for producing, has a strong textiles industry. It accounts for over 5% of the country's gross domestic product and nearly 30% of its industrial production. The Egyptian government has also set itself the target of further promoting the industry and increasing textiles exports by one tenth.
Despite this slightly shaky start, the team of Mayer & Cie. and Outatex was satisfied with the trade fair performance. On the second and third day, in particular, many customers and trade visitors were there, making use of the opportunity to visit from further afield, such as Alexandria. Mr Bühler said he anticipates positive overall development in the Egyptian textiles market.
"Production of single jersey fabrics, such as for night- and underwear or outdoor clothing, is constantly high in Egypt, in view of the projected government support it is likely to increase further in the months ahead," he said.
Prepared by MCT's local representatives from Outatex, the stand covered a correspondingly generous area of more than 110 square metres and was over a third larger than the MCT stand in 2016.
This article is also appears in...