5th August 2016, Albstadt
Mayer & Cie increases capacity as orders rise
With sales up by more than 10% in 2015, a record order level in the first half of 2016 and a market share of around 20%, there are no longer any signs of the difficulties that forced Mayer & Cie. to file for scheduled insolvency in 2009.
This year the circular knitting machine manufacturer is likely to make 200 more machines than last year and to further increase its sales revenue. Capacities are being increased at all production sites. The new factory in Vsetín, Czech Republic, is nearly finished and the Czech subsidiary is about to move into the 5,000m2 production building.
Market position
Over the past ten years the circular knitting machine market has reached a volume of about 300,000 machines. Mayer & Cie.'s share of the global circular knitting machine market, which is highly fragmented, is between 15-20% in value terms.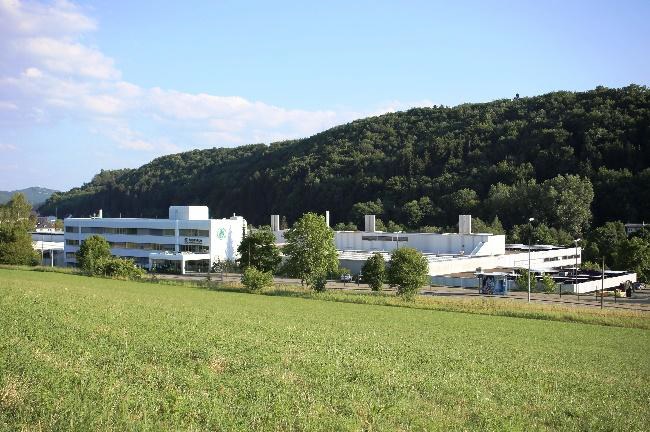 The company now intends to strengthen its position by increasing the number of machines sold. Benjamin Mayer, Managing Director of Mayer & Cie., said that "we have good preconditions for increasing the number of machines sold with our Double Jersey and Jacquard machines and with the S and the D line." This year the company expects to sell a total of 1,500 machines, compared to 1,300 machines it manufactured and sold in 2015.
The company has achieved EUR 91 million in previous year's sales at the main factory in Albstadt-Tailfingen alone. Group sales in 2015 totalled around EUR 100 million. In Tailfingen, 330 people help make circular knitting machines and around 450 employees are on the Group's global payroll. The Mayer sales network consists of about 80 representatives globally.
Demand situation in 2016
For Mayer & Cie. the demand situation is currently outstanding, according to the company's Sales Director Wolfgang Müller. He adds that the trend to high-quality machines was apparent at last year's ITMA industry fair: "The trend runs through the entire market, from Bangladesh to the United States, and the quality segment, such as Double Jersey or Jacquard machines, has always been our strong point."
In addition, the company is responding to the trend toward sustainability that is helping attract more customers. More goods are being produced locally to local standards and requirements. In procurement the trend is toward closer to home, which eliminates long shipping routes and gives buyers greater flexibility. According to Wolfgang Müller, this, along with the increasing importance attached to quality, means that "more goods are being produced in the traditional textile markets, where Mayer & Cie. is very well established."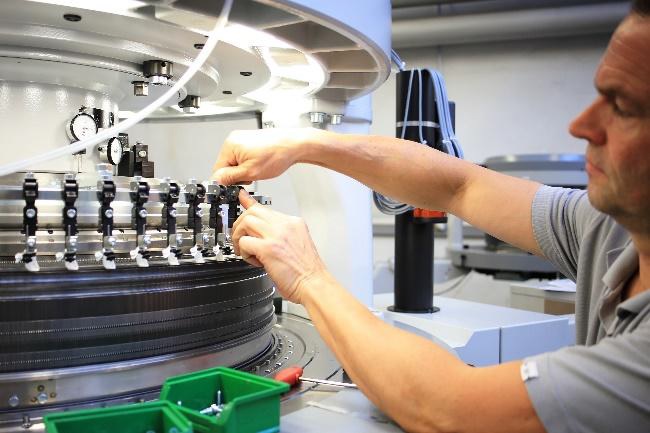 Among the traditional markets for Mayer & Cie. is Turkey, where customers are ordering many high-quality Jacquard and Double Jersey machines. More distant regions with a long textile industry tradition, especially in Central and South America, are also placing more orders. Economic circumstances, including exchange rates, are also responsible for the increase in demand from countries like China, Mexico, Argentina and Brazil.
Customers
Worldwide the company has an estimated 2,000 to 3,000 customers who regularly buy Mayer & Cie. machines and whose machine park consists largely of MCT machines. They include a fair number of customers who have stood by Mayer & Cie. since the mid-twentieth century, according to the manufacturer.
Hans-Jürgen Speidel, General Manager of the lingerie manufacturer Speidel in Bodelshausen, has relied on Mayer machines for years. Speidel knits its own fabrics and last year took delivery of the 70,000th Mayer & Cie. circular knitting machine.
"We appreciate the constantly high quality, the high level of machine know-how and the continuity of Mayer & Cie. Special requirements that we have of our new machines for production reasons are reliably taken into account and implemented in the course of development," commented Speidel.
This article is also appears in...