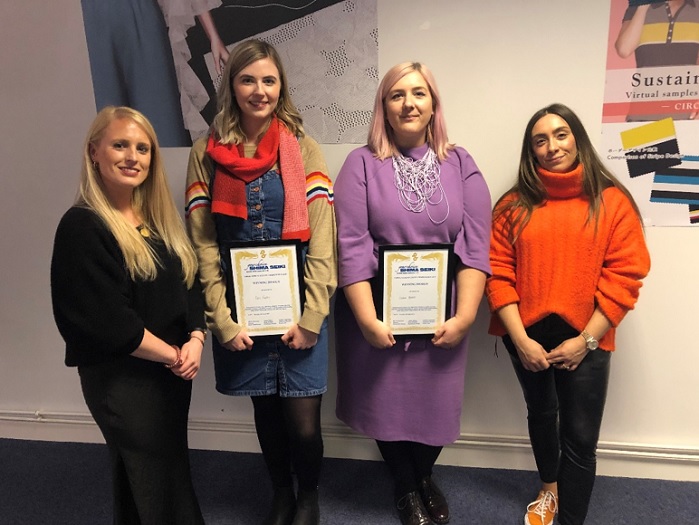 Pictured with Cara (second left) and Chelsea are guest judges Natalie (far right) and Aimee. © Shima Seiki
This year's Student Apex Competition for students based at UK Universities, organised by leading computerised flat knitting machinery manufacturer Shima Seiki Europe, awards two winners with a visit to the company's head office in Wakayama, Japan, where they will receive training on the latest Shima Seiki Apex programming systems and knitting technology, as well as Design to Knit training at Shima Seiki Europe head office.
"This year we had students enter the competition from six different universities, lecturers set a brief that related to the current commercial market and could connect to a project currently being worked on by each student. Using the Shima Seiki Apex Apparel Design System each student developed their ideas and created mood boards, 2D and/or 3D simulations, mapped images, colour work and yarn developments so they could illustrate their designs to communicate their ideas effectively," the company explains.
The jury then selected eight students for the final's day that was held at Shima Seiki's Office in Castle Donington, Derbyshire, on 2 April 2019. Aimee Wilson, Head Designer, Boardman Bros, and Natalie Capostagno, Poetic Gem, Menswear Product Designer, were guest judges and reviewed each student's submitted work before holding an interview process.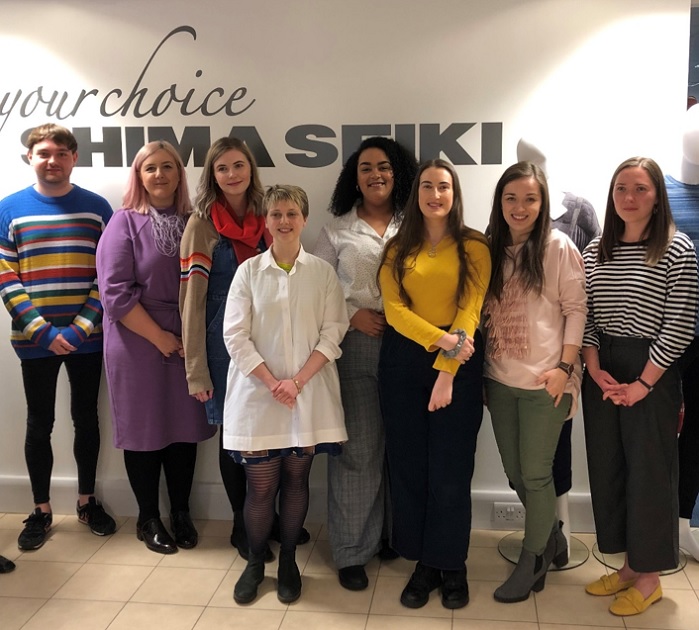 From left to right: competition finalists Liam Seacombe, Huddersfield, Chelsea Bodell, Huddersfield, Cara Fowles, Herriot Watt, Nikki James, RCA, Lauren Brooks, Nottingham Trent, Emma Guthrie, Nottingham Trent, Klaudia Holubecka, Nottingham Trent, and Rachel Graham, Brighton. © Shima Seiki
The winners were Chelsea Bodell from Huddersfield University and Cara Fowles from Heriot Watt University, who are both in the final year of their Textile Design degrees.
Shima Seiki Apex apparel design system
The Shima Seiki Apex apparel design system is now the market leader for the development of virtually simulated knitted structures and is used as a stand-alone design and development tool by manufacturers, design companies, sourcing offices and retailers throughout the world. Many retailers, both high street and internet based, are already using or are looking to use the system to improve and reduce front end design/development costs through improved presentation quality and reduced issues before/during and after the sampling process. Using integrated applications for the development of yarns, colourways, knit structures and body templates to create 2D and 3D images though mesh mapping and 3D fit.
Data can be saved in different file formats, so the information can be issued as part of a specification or tech pack which enable details to be easily interpreted by any end user, regardless of the knitting machine type being used, so reducing costly mistakes at either the initial sampling stage or at bulk manufacture. In addition, the system has applications for weave, yarn development, print, embroidery, pattern creation and 3D fitting, making it a multi-use system.
Part of Cara's submitted work. © Shima Seiki
"Universities are now providing time within their syllabus for students to learn how to use the Shima Seiki Apex apparel design system. Our competition generates a positive distraction from the degree course and encourages the use of the Apex apparel design system meaning more students will have the necessary skills to use the system in the workplace," the manufacturer adds.
Winning projects
Cara's project is mainly influenced by children stories and translating the imagination and playful nature of childhood into knitwear. Taking inspiration from retro patterns and her love for colour, Cara has developed fun and interesting shapes within her jacquard designs using the Apex colourway function to show many variations beyond her physical fabrics. The judges said they loved how it felt like a collection clearly showing strong development on the Apex to help translate detailed jacquard patterns into both real and virtual swatches.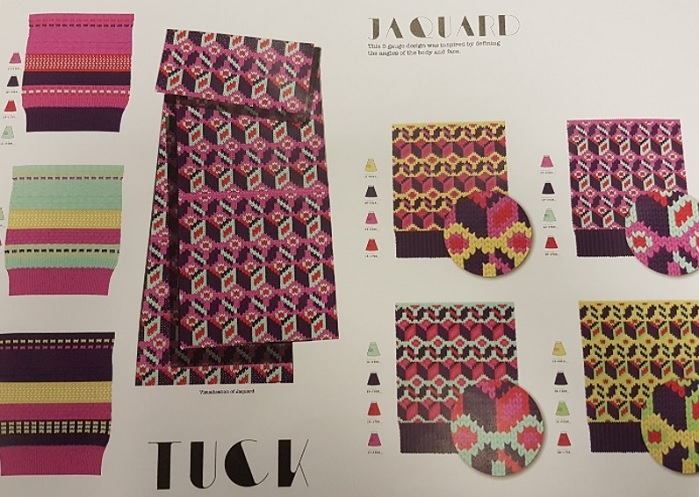 Part of Chelsea's submitted work. © Shima Seiki
Chelsea's project is inspired by associating colours with personalities. Chelsea attended a life drawing class, where she spoke to the models, as well as drawing them; choosing colours for their character accordingly to the colours she associated with personalities of life drawing models. From this inspiration she produced jacquards from her drawings in the Apex and began to translate features of skin into structural swatches. The judges were impressed with the cohesive nature of her collection and how the colour palette and designs could be adapted for various market levels within knitwear.
This article is also appears in...