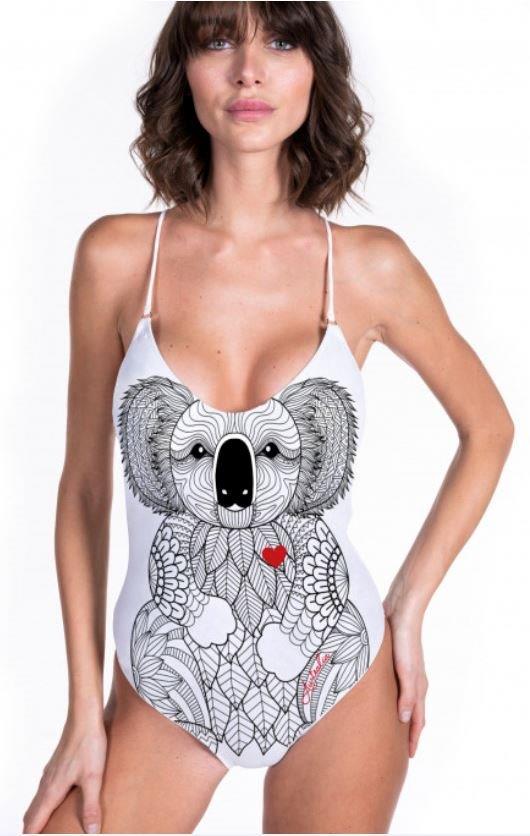 © Jersey Lomellina.
Italian fashion and swimwear brand Pin Up Stars has partnered with knitted fabrics manufacturer Jersey Lomellina in a project designed to contribute to the recovery and protection of Australia's ecosystem, which has been hard hit by fires in recent months. Two other companies – Logostil (packaging) and Euroservice (printing) are also involved in the project.
The Pin Up Stars Bikini for Australia capsule collection consists of a one-piece swimsuit and a bikini depicting koalas and kangaroos made with Jersey Lomellina's Renew Action fabric, which is made from polyester yarn regenerated from pre and post-consumer waste such as plastic bottles (PET) and food packaging.
The proceeds from sales of the swimwear will be donated to Australian associations to help support and maintain the country's flora and fauna.
"Pin-Up Stars has always been sensitive to social and animal protection, faces the disastrous moment that is seriously damaging Australia with a beneficial and entirely ecological project to contribute to the survival of endangered animals, and recover the flora and fauna of the continent," the Bologna, Italy based fashion and swimwear brand Pin-Up Stars says on its website.
"The support project is the creation of a special one-piece swimsuit and a bikini featuring a koala and kangaroos, emblematic symbols of the Australian state. The profit obtained from the sale of the products will be entirely donated to local associations to help raise funds in support and maintenance of these wonderful creatures."
The products, totally Made in Italy, are available for pre-order online and will be delivered in April.
www.pinup-stars.com/it/bikini-for-australia
This article is also appears in...