Terrot, a leading manufacturer of electronically and mechanically controlled circular knitting machines, has exhibited at the DTG Dhaka Int'l Textile & Garment Machinery Exhibition 2017, which took place in Bangladesh last month, presenting a single jersey machine S296-1 with 3-way technique.
The exhibition machine model S296-1, one of the company's most successful machines on the Bangladeshi market, features a large variety of different stitch structures. Up to four needle tracks are said to enable a flexible and efficient production of knitted fabrics for several applications.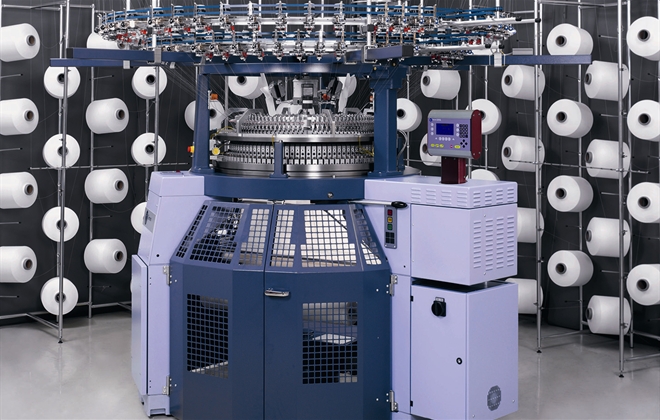 Positive needle guidance in combination with enclosed needle tracks are said to provide an even knitted structure whilst at the same time working with a simultaneously high operation speed. Another advantage is the ideal distribution of 109 feeds over a 34-inch diameter and an engine power of 4.0 kW. This enables machine operation with maximum energy efficiency and low running costs, the company explains.
Greater process reliability
Monitoring every stage of the stitch-forming process will ensure a greater process reliability, the manufacturer reports. The exhibition model reaches a speed factor of SF 1050. The system density of 3.2 feeders per inch diameter is designed to allow a high production standard with an increased manufacturing efficiency.
More flexibility with conversion kits
Powerful argument for this machine is the increased performance with possibility of conversion to a 3-thread fleece machine that aims to offer much more production flexibility for customers. Within a machine diameter of 26 to 36, the machine can be quickly changed into SBF 296-1. "The resulting knitted fabrics are highly inquired on the global market," the company says.
Possible applications
The predestined scope of application of the S-296-1 is the production off all kinds of single jersey knits from gauge E12 to E54: 2-thread yarn fleece, elastane plating, tuck structure, crepe structure, eyelet stitch pattern, mesh, needle set-out, piqué, and plain single jersey.
The S296-1 from Terrot is available with an open width frame and also with a tubular frame and can be configured in various machine diameters from 26 to 44 inches on customer demand.
This article is also appears in...