Terrot, a leading manufacturer of electronically and mechanically controlled circular knitting machines, has introduced the new UCC572TR, a computer controlled circular knitting machine, which was developed to produce high quality patterned fabric for outer wear.
The UCC572TR offers an additional dimension and greater versatility to Terrot´s bestseller machines UCC572 and UCC572T, the manufacturer explains. It was developed for knitting electronic-jacquard transfer relief for fashion textiles with three-way technology. This allows various pattern styles on both sides of the fabric, making the UCC572TR extremely flexible with regard to different fashion applications and bonds, the company suggests.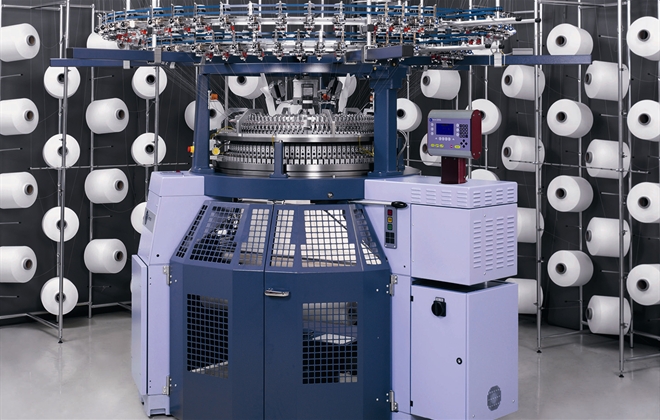 "Usual knitting structures, either one or more colours, are possible. The high-grade knitting structures as double face, jacquard and relief represent the real strength of Terrot´s UCC572TR. Through special transfer technology demanding hole and structure patterns can be realized quickly and without any major effort," the company reports.
Creative patterning
Using the three-way technology, Terrot´s UCC572TR is said to be extremely efficient and reliable. The model has 72 feeds over a 30-inch diameter. Similar machines hold only 48 systems at the same diameter. The machine reaches a speed factor of SF 540 and delivers a substantial production performance. Pattern changeovers can be made in seconds via USB or LAN port.
With its enormous pattern possibilities, the electronically controlled knitting machine is said to offer its users greatest possible flexibility to respond quickly and flexible to changes in fashion market conditions and therefore adapt quickly to the changing customer requirements.
Flexible application possibilities
Terrot´s UCC572TR is particularly suitable for double jersey fabrics in gauge E14 to E18. At the moment, the machine model is offered with a 30- or 34-inch diameter. Powerful argument for this machine is the possible conversion to a UCC572T by changing the cylinder, cam box segments and needles.
Terrot
The company looks back on more than 150 years of innovation and market leadership. Its customers can choose between different machine types for producing single and double jersey fabrics. Textile manufacturers use Terrot´s circular knitting machines to produce high-quality fabrics for different applications, including under- and outerwear as well as technical or home textiles.
For several years the German knitting machine builder has been concentrating on customer requirements such as production performance, individuality and fabric quality. Through close customer collaboration and creating a strategic focus Terrot has extended its product portfolio consistently.
This article is also appears in...