12th July 2016, Raleigh, NC
Terrot's Corizon technology to be demonstrated at North Carolina State University
A Demo-Focus group for circular knitting machine builder Terrot's Corizon technology, which combines air jet spinning and knitting into one process, is to be held at North Carolina State University (NCSU) from 18-22 July 2016. The Corizon machinery has been installed at NCSU to promote R & D for product development.
Senior Management from Terrot will be at NCSU to answer any questions and demonstrate the technology. The limited number of companies large and small, that attend the event will be invited to join phase two of the focus group, which will allow them to use the machine at no cost for R&D on any project of their choice. Terrot will provide all rovings and core yarn.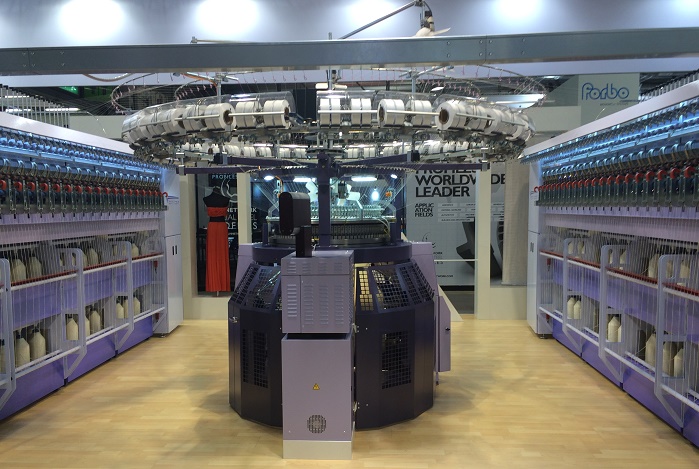 According to the company, the game changing technology is also green and has a smaller carbon footprint. In addition to quality improvements such as a softer, lighter hand and more opaque textiles, Corizon is also said to offer the producer a significant cost advantage in comparison with conventional production methods.
The savings come in many phases of the production process, the company reports. Because Corizon eliminates a large part of the spinning process and the Corizon machines are very compact the space requirement is significantly reduced.
Furthermore, Terrot says, there is a large saving in energy as the energy consumption of Corizon compares very favorably with that of ring and rotor spinning. Also significant is the savings in fibre used, given the fact that the cover of Corizon is greater than conventional knit, thus opening the possibility to manufacturing lighter fabrics with very good cover.
Combining spinning and knitting in one machine offers the possibility to operate with less staff. Finally, much of yarn warehousing is eliminated given the benefit of manufacturing specifically to order in different yarn counts. The overall saving can be up to 20%, Terrot says.
The list of companies that will be participating at the NCSU event so far are Under Armour, Lenzing, Patagonia, Contempora Fabrics and several other leading textile and garment manufacturing industry leaders.
This article is also appears in...