16th September 2010, Hawick
Clan Douglas Cashmere introduces linen in spring-summer collection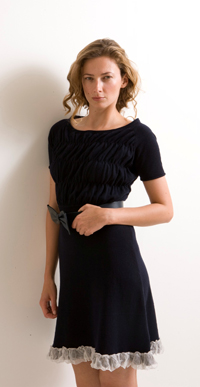 Clan Douglas Cashmere says its new collection is hot on the trail of the brand's beautiful line which launched in September 2010 and re-established Hawick, the original home of cashmere, as a leader in the luxury knitwear market. Clan Douglas Cashmere Studio, a division of Hawick Knitwear, combines nearly 140 years of knitwear tradition and heritage with modern textures and fashionable designs.
Clan Douglas Cashmere Studio uses the finest cashmere, blends with linen and other luxury yarns and the new collection plays, not only with the high quality and luxurious texture of these components, but also with style and design suitable for the season. "With light waterfall cardigans, sweeping bolero-shawls, pretty short dresses and frilly French knickers, the new collection offers a variety of beautiful, light weight options for a Spring/Summer wardrobe," Clan Douglas says.
Clan Douglas points out that every piece in the collection has been given the name of a Scottish loch and each garment is pre-washed in Scottish waters, evoking a natural softness, whilst hand finishing techniques remain. "It is for these reasons why Cashmere, Made in Scotland, is widely regarded as the finest available anywhere in the world," a Clan Douglas representative said.
"Clan Douglas Cashmere Studio is proud to claim its heritage, design and production as exclusively Scottish. Once again, the collection's creator is designer Alex Feechan, an award-winning designer with a 1st class honours degree and an MA from the Royal College of Art, London."
This article is also appears in...