12th February 2014, Paris
C.L.A.S.S. and Newlife promote sustainability at Première Vision
Following the success of its joint open forum discussion with Première Vision at the September 2013 salon, C.L.A.S.S. joins the mainstream floor at the February 2014 edition with a new selection of premier quality responsible materials in its eco-textile library.
Newlife will also be featured in the eco-textile library, where it will present its new revolutionary achievements: the collaboration with Max Mara Group, the Dailywear knitwear collection, sustainable crepe Jersey, its debut in menswear and the first accessories collection. The exhibition will take place from 18-20 February in Nord-Villepinte, Paris.
Eco-business with C.L.A.S.S.
C.L.A.S.S. will be the ambassador for new eco-business ideas at the show, and with this selection of its partner's product ranges, this debut booth will be a comprehensive reference point for the best responsible fashion material solutions for designers to choose better, and now easily within the context of the mainstream marketplace.
Principle, founder and owner, Giusy Bettoni will be present at the C.L.A.S.S. booth, to help facilitate better eco-design connections, selections and service. Fabric qualities from participating C.L.A.S.S. partners will include:
Natural and Organics: Textiles made from wool, silk cashmere, cotton, linen, hemp, and others.
Repurposed and Recycled: Fabrics made from selected recycled polyester (Newlife), cashmere, cotton, denim and wool, created to reduce your carbon footprint.
Innovative Renewables: New biopolymers (Ingeo), paper, milk protein, soy, seaweed, regenerated cellulosics, renewable Monocel and others.
Newlife products
Saluzzo Yarns, part of Sinterama Group, will present new products by Newlife, once again demonstrating the breadth and importance of its offer in the sphere of innovative yarns for clothing.
The innovative sustainable platform Newlife, launched in 2011, keeps on obtaining important achievements, the company reports. The Newlife yarns are produced completely in Italy, fully traceable and 100% produced from the processing of PET bottles post-consumer.
Newlife and Weekend Max Mara
Newlife was chosen to create a special hi-tech fabric made from a production line that is totally made in Italy. This fabric has been used to produce the four models (trench, jacket, T-shirt and skirt) that enhance the 2014 Spring/Summer collection of the Weekend Max Mara line.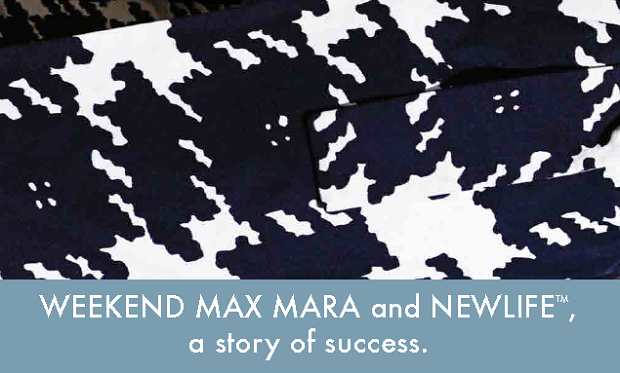 These creations feature jacquard designs and enshrine an important collaboration between Saluzzo Yarns and Max Mara Group, under the banner of attention to fashion, quality and sustainability at the cutting edge.
"Newlife is a new material, but it also represents a new philosophy," declared the Business Unit Director of the Saluzzo Yarns division of Sinterama Group, Stefano Cochis. "At the moment there is still the perception that when something sustainable is created it means compromising on quality and aesthetics: we are here to prove that the exact opposite is true."
This article is also appears in...