17th September 2018, Uxbridge
Coats among best companies to work for in Vietnam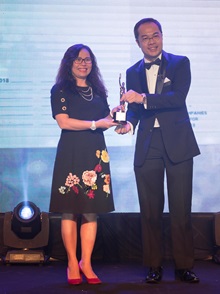 Coats, a leading industrial thread manufacturer, has been named one of the best companies to work for in Vietnam by HR Asia, the leading regional HR publication. The announcement was made at a gala dinner and awards ceremony held at the Gem Centre, Ho Chi Minh, Vietnam, on 14 September. The award was accepted on behalf of Coats Phong Phu, Vietnam, by Quyen Le, HR Business Partner, Vietnam Cluster.
"We are extremely proud to receive this recognition. It is a result of the values we hold as well as the way that we respect all of our employees in the business. Every person in the Vietnam business knows that they have the power to make positive changes at any time, and this freedom to operate helps us to make the business successful, and people feel proud to work here," commented Bill Watson, Managing Director, Vietnam Cluster, Coats.
The award criteria are based on three main categories: heart, mind and soul, which then determine the satisfaction of an individual within their organisation. It is measured using two techniques. Firstly, an Employee Input Survey assesses employee engagement, workplace culture, and advancement and development opportunities. Secondly, a Workplace and Employee Engagement Survey uses a five-point scale to measure engagement and motivation. Coats Phong Phu's survey scores were higher than the industry average across all three main categories.
The award for Coats Vietnam follows the announcement in August that Coats was included in the unrelated Best 80 Companies to Work for in Brazil by Great Place to Work, a global research and training consultancy. Meanwhile, in June, Coats Indonesia was awarded Best Company in Bogor by the Mayor of Bogor.
Previous awards for Coats Vietnam include: Outstanding Achievement in Business 2016 and the People Empowerment Category at the Vietnam Supply Chain awards 2014. Bill Watson, Managing Director, Vietnam Cluster, was personally honoured by the Prime Minster of Vietnam with the Certificate of Merit in 2014.
Quyen Le, Cluster HR Business Partner, Vietnam and Indonesia was awarded Human Resources Professional of the Year 2014 by Tower Watson. Tram Anh Tran, previously Supply Chain Director, Vietnam, was awarded Supply Chain Professional of the Year 2013 by Vietnam Supply Chain Association.
This article is also appears in...