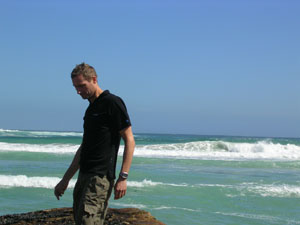 30 November 2010, Sevelen - A cotton polo shirt incorporating 'coldblack' technology from Schoeller Technologies has been put through its paces by soq.de a leading German online magazine for the specialty sports products and retail trade. soq.de is said to have its finger on the pulse with its own successful biking and running team and Editor in Chief, Tom Tittmann, asked soq.de team athlete Sven Meier to put the polo shirt to the test.
 "I was able to thoroughly test the polo shirt which was part of our soq.de endurance team kit in the heat during a three-week trip to South Africa. I wore it to many functions and on short trips in my leisure time. The light, black fabric feels very pleasant against the skin. At first glance, you can see the high-quality workmanship and sporty elegance of the coldblack shirt," said Meier.
"The reflective effect and cooling properties are clearly felt in the sunshine. I never noticed that I was wearing a black garment although I was sitting right under the African sun. Only when asked how I could wear black in that heat did I become aware of this fact," added Meier.
"The polo shirt still looked wrinkle-free even after being packed and unpacked numerous times. I observed no static loading whatsoever while wearing it. The fabric remained odour-neutral even after repeated wear at high temperatures. It can be machine-washed at 40°, but according to the manufacturer, no fabric softener should be used. In my opinion, the polo shirt does not need ironing as it looks practically wrinkle-free after air-drying. A super effect, as I can make much better use of the time I have saved. The UV protection gave me great reassurance as I am very fair-skinned and get sunburned easily," concluded Meier.
"The areas of use for this type of coldblack polo shirt with 3XDRY function is wide-ranging and can be highly recommended not only for trips to sunny regions. Whether on hiking trips, during other outdoor activities, or as sporty eveningwear the functionality is enormously convincing. It is a stalwart companion when you have to keep luggage to a minimum, for example on a trekking tour, or are not able to or inclined to wash clothes. In the sun, wearing the shirt I felt better and more energetic," Meier said.
Coldblack technology, which the inventors claim provides efficient heat management as well as protection from UV rays and has a major effect in reducing perspiration when hot, was launched two years ago and has already picked up numerous awards, including Popular Science's Best of What's New Award in the USA and the Design Preis Switzerland. "The technology has caused a furore," says Clariant's Matthias Kuhnert, Marketing Manager Apparel & Interior Textile Chemicals.
According to Schoeller Technologies, coldblack is an almost invisible but enormously advantageous piece of design work that has far-reaching practical relevance in clothing for sports, workwear and other areas where it is critical for people to keep comfortable in hot conditions. Coldblack technology is said to reflect heat rays and absorb ultraviolet (UV) radiation for any kind of colour. Said to be particularly effective when used in dark fabrics, it is increasingly used for clothing for running and cycling sports, for golf, tennis, baseball and motorcycling as well as for fashion and functional clothing. In addition coldblack is said to be ideal for textiles for outdoor use such as sun blinds or covers for garden furniture.
 Normally black textiles without coldblack absorb a large proportion of heat rays and heat up accordingly. Textiles with coldblack are said to reflect up to 80% of the heat rays and therefore stay noticeably cooler. Tests with a sweating torso at EMPA in St. Gallen are said to have shown that a person wearing clothes incorporating coldblack technology can have a skin temperature around 5°C lower and perspire about half as much as someone wearing untreated dark clothing.
This article is also appears in...