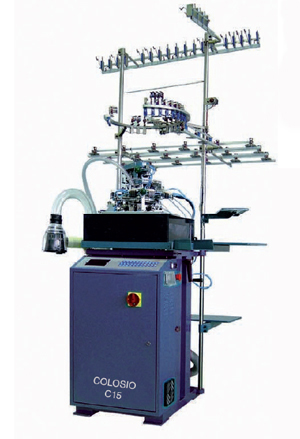 Italian sock machine builder Cesare Colosio has extended the reach of its 'C15 Terry' single feed, single cylinder machine for the production of men's, women's and children's socks with five colours per course motif. The C15 Terry, officially launched in February 2010 is now available in a wider range of diameters and needle counts for a broad range of applications.
Speaking to Knitting Industry at the time of launch, company director Fabiana Colosio told Knitting Industry: "The C15 is a machine of simple structure assembled in our company, however with all the requirements of the standard hosiery, double or single welt, true heel and toe, 5 colours per course motif, terry, filet stitch, etc, combined with Italian electronics from Deimo and optional BTSR or LGL feeders that allows the user to reach a high level of end product."
The C15 Terry is drumless machine which has fully computerised control, via a 32-bit DEIMO controller. The machine is said to work a high speed to produce around 30 dozen ankle socks per 24 hours. Pattern design is via STYLER 4 or STYLER 5 design system and the software can run under Windows 98 or XP.
The machine is fitted dial jack selection and automatic lubrication device. Top speed is said to be 240rpm depending on yarn and knitting conditions.
The C15c Terry is available in various gauges and diameters for different applications; including a 3 ½ inch diameter model for plain socks in a needle count range from 84-220.
Other variants are:
3 ½ inch diameter, 84-132 needles for children's terry socks
3 ¾ inch diameter, 84-220 needles for both terry and plain socks
4 inch diameter, 84-120 needles (24 gauge) for outdoor socks
4 inch diameter, 84-220 needles (36 gauge) for both plain and terry socks
4 ½ inch diameter, 276 needles for tights and socks.
This article is also appears in...