11th February 2010, Brescia
Colosio offers C15 low cost terry sock machine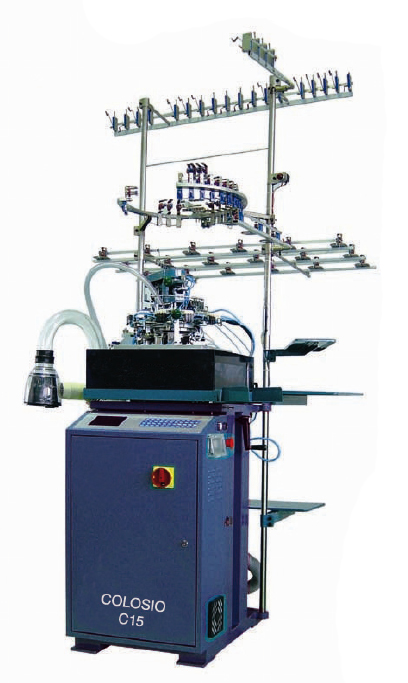 Italian sock machine builder Cesare Colosio SpA has launched a new single cylinder, single feed terry sock knitting machine for the production of mens, womens and childrens socks, designated the C15. The Rezzato based company's latest offering produces five colours per row socks with motif and terry and aims to provide the ideal solution for the so called 'low cost' market segment.
Company Director Fabiana Colosio told Knitting Industry: "The C15 is a machine of simple structure assembled in our company, however with all the requirements of the standard hosiery, double or single welt, true heel and toe, 5 colours per course motif, terry, filet stitch, etc, combined with Italian electronics from Deimo and optional BTSR or LGL feeders that allows the user to reach a high level of end product."
Ready for worldwide sale
Colosio says it completed development of the C15 last year. After a long period of testing and five months trials at the premises of several Italian customers, the company says the machine is now ready for worldwide sale. The sales price is an extremely competitive 10,000 Euros per machine.
Fabiana Colosio, stressed that although the machine had a low sales price, customers could expect Coloisio's usal high standards.
"Of course, as already anticipated, this choice comes out from the necessity of a product, marked Colosio, with a competitive price that give you the opportunity to enter the race even with very aggressive competitors." Ms Colosio said.
Technical details
The C15 is available in 3 ½ , 3 ¾ and 4 inch diameters and in needle counts from 84 up to 220. The machine is drumless with fully computerized control and Colosio says the high speed C15 can produce around 30 dozen ankle socks per 24 hours. Electronic control is via a 32 bit Deimo controller and patterns can be made using either the Styler 4 or Styler 5 design system using Windows 98/XP.
The C15 has jack selection in the dial, runs at a maximum speed of 240rpm and has automatic lubrication as standard.
This article is also appears in...