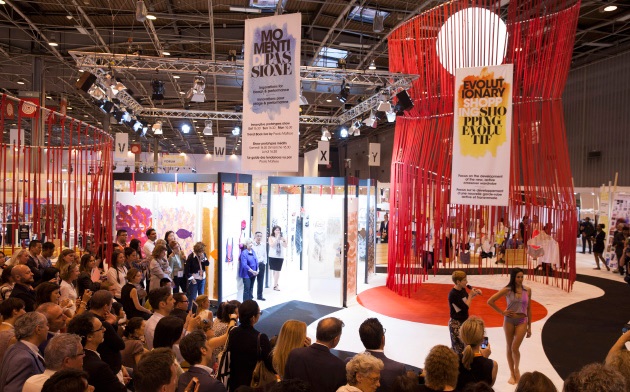 Interfilière Paris will present a preview of Autumn/Winter 2020-2021 trends from 6-8 July. © Interfilière Paris
With 260 exhibitors from all around the world, the Interfilière Paris leading trade fair for fabrics and accessories for lingerie, swimwear and activewear will present all the latest trends, including a more sporty athletic take on swimwear, from 6-8 July.
"Aware and committed against global warming issues and always looking towards the future, the Interfilière show will also present a new wave of creative young designers who have created eco-friendly collections," organisers report. "For this new edition, Interfilière Paris invites you to head out to sea from 6-8 July and step aboard its luxury cruise launching from Pavilion 3 at Paris Expo Porte de Versailles."
This year's theme is All on board! Visitors are invited on board to discover a comprehensive offer of international suppliers, including 260 swimwear, sport and lingerie market specialists presenting a preview of Autumn/Winter 2020-2021 trends
"We're now ready to assist you on your voyage, keeping you on course," organisers continue. "The trends call for collections bursting with positive, sustainable energy reflecting the urgency of real needs."
New learning space
The show will provide a new space to learn about the latest technical innovations from expert manufacturers and discover student projects or start-ups inspired by uses and functions that are essential to water sports. It will develop over three spaces:
The Technical Zone will reveal expertise and test exhibitors on "rare" water sports. The challenge is to define the ideal sport swimsuit using criteria such as hand-feel, comfort, and look.
The Fast-Forward Zone will offer visitors a future-focused vision of the swimwear and sport markets by presenting new raw materials, new processes (connected or 3D), new tools, and more.
The Development Zone is dedicated to organic economy. The show continues its commitment to supporting all initiatives that contribute to sustainable development in the textiles industry. The focus of the eco-fabrics on display is on key principles Rethink, Recycle, Reuse.
General trend forum
A point of reference worldwide, displaying collections on the horizon, and an essential stop on any visit to the show, the General Forum will bring together over a thousand fabric and textile accessory samples, selected to reflect the trends of the season.
Around twenty exhibitors have been selected to participate in a specialised swimwear fashion show that will bring their most beautiful collections to life and make iconic garments out from them. The theme is the perfect wardrobe for elegance at sea, from morning through to evening.
"All on board is an invitation to head in the same direction," organisers conclude. "We're all affected by fluctuations and developments in the global textiles industry, and we all need to get involved in the indispensable organic economy."
This article is also appears in...