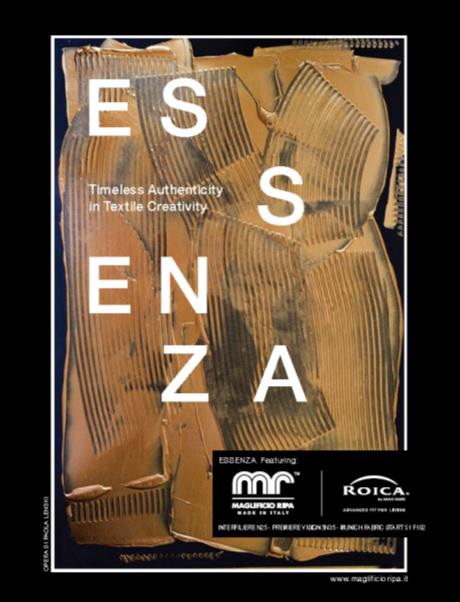 Maglificio Ripa, a leading knitting specialist, will present ESSENZA, a new fabric range with ROICA Colour Perfect and ROICA Eco Smart yarn innovations by Asahi Kasei at the Première Vision trade show, which is taking place in Paris this week.
Timeless Authenticity in Textile Creativity is a book by Italian artist Paola Lenski, a colourist, whose work has inspired the Maglificio Ripa to use ROICA Colour Perfect and ROICA Eco Smart to transform the company's stylish fabric range of evergreen fabrics.
Innovative and authentic
"Thanks to the far-sighted vision and inbred creativity, Maglificio Ripa set up a momentous change, presenting their collections' values and parameters through innovative and authentic standards that can alter the concept of basic and continuous," the company explains.
"Such elevation of the standards is in line with new-generation values and creates a much smarter approach that stresses on sensitivity, technology, beauty, design and culture within the productive process."
Essenza
Essenza is the name of the book presenting solutions that could meet the needs of a modern consumer and representing the core of Maglificio Ripa's DNA, based on sustainable and environmentally responsible production, which respects the planet's resources. This approach has been realised thanks to the company's partners, like Asahi Kasei, which share the company's ideas.
Essenza is, therefore, the result of a synergic collaboration with ROICA by Asahi Kasei, which brought to life Maglificio Ripa's creations while guaranteeing colour quality, high performance and great resistance.
Responsible innovation for timeless authenticity: Timeless Authenticity in Textile Creativity is the slogan of this new adventure, which aims to focus attention on the essence of things. "Paola Lenski works magic with colours, overlapping, fading and aggregating them: all this creates an amazing encounter able to move materials towards a deeper space and deeper emotions, with an unmistakable and timeless style," the company explains.
Maglificio Ripa
Specialised in the production of knitted fabrics on circular and high gauge looms, Maglificio Ripa offers a variety of products for active sport, casualwear, footwear, high street fashion, homewear, jeanswear, lingerie, swimwear, and outdoorwear markets.
The company produces various materials, including natural plant fibres, such as cotton; man-made artificial fibres, such as lyocell and modal; and man-made synthetic fibres, including microfibre, polyamide, and polypropylene.
Further reading
Maglificio Ripa presents new season's eco-sustainable fabrics
This article is also appears in...