24th January 2017, Migdal Haemek
Nilit launches new Autumn/Winter 2018-2019 Trendbook
Nilit, the premium and specialty nylon fibre producer, will launch its Autumn/Winter 2018-2019 Trendbook at the ISPO Munich Sports Business Show and Tüyap Istanbul Yarn Fair next month.
The trend theme for Autumn/Winter 2018-2019 is Game Changer – a set of new attitudes and out-of-the-box thinking designed to deliver the enhanced functionality, quality and technicity desired by today's apparel consumers.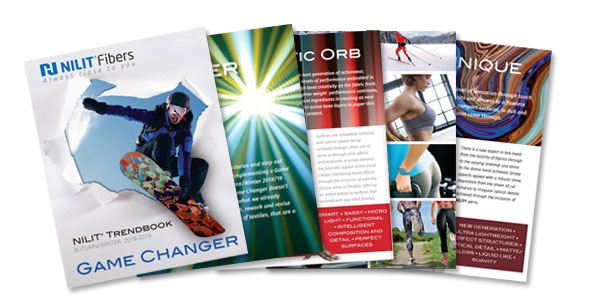 According to the manufacturer, the Trendbook, now in its 17th year, has become a highly sought-after tool for designers and merchandisers seeking the latest fabric, colour and style direction for intimate apparel, activewear, hosiery, swimwear and performance outerwear – key markets for the company's premium and specialty nylon 6.6 products.
Game-changing attitude
"We are excited to present our newest Nilit Trendbook," said Pierluigi Berardi, Global Marketing Director, Nilit Fibers. "By identifying and bringing to life these trends for Autumn/Winter 2018-2019, we help our retail and brand partners provide their increasingly savvy consumers with apparel that exceeds their expectations."
"It's time to adopt a new, game-changing attitude. We encourage anyone looking to stay at least one step ahead of their customers to visit our booths at these important upcoming shows in Munich and Istanbul to see the NILIT fibres collection and to pick up a Trendbook."
Top-class performance
Among the new Attitudes or trends presented in the book are: Spirited, active- and living-wear with luster, texture and a touch of glamour; Reactive, tough edgy garments that integrate colour and texture with the motion of the body to allow for peak performance; and Treasure Seekers, intimate fashion styles that take luminosity and shine into new structures and to a whole new level.
"It's not enough anymore to just look and feel good," commented Amy Holzer, Marketing Communication Manager at Nilit Fibers. "Consumers are looking to make their lives better. The overall mood of Game Changer reflects a rethinking of how to deliver top-class performance that won't disappoint."
Nilit
Founded in 1969 by Ennio Levi, Nilit is committed to creating innovative, customized nylon (polyamide) 6.6 solutions. With expertise in polymerization and compounding, as well as spinning and texturing, Nilit offers a comprehensive range of quality products and services for apparel and engineering thermoplastics applications.
Operating in more than 70 countries, including in Europe, USA, Turkey, Latin America, Asia Pacific and China, the company's motto is "no customer is too small, too big or too far away."
This article is also appears in...