26th July 2019, Reutlingen
Stoll technology supports young talent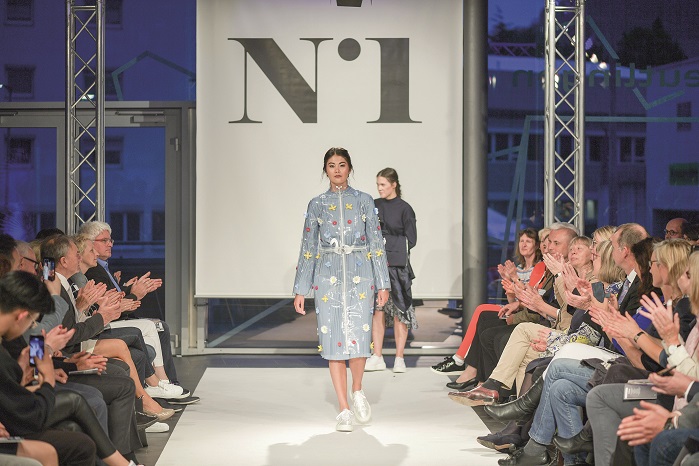 The final presentation of Fashion School in Metzingen. © Stoll
The final presentation of Fashion School in Metzingen recently took place at the Audi Center in Reutlingen. The model of Lea Stach Du Ich, which was knitted by Stoll's trainees on the ADF 530-32 W machine in gauge E 7.2, achieved a second place. Additionally, the third place was awarded to Sara Jasmin Rohlfs for her topic, Future Being. A Stoll employee also supported this project and knitted the arm protectors using the same machine.
The five-member, high-profile jury consisted of: Anna Eichmann, Ferdinand Hauber, René Lang, Association of German Fashion and Textile Designers, Walter Wählt, adidas, Richard Gihr, Marc Cain and Emanuel Seeburger, Bazlen. "Stoll is very proud of the award winners and their promising collections made possible with Stoll's world-renowned innovation and technology," the company said.
Innovative and modern
Stoll is an internationally operating manufacturer of flatbed knitting machines based in Reutlingen, Germany. The world-renowned enterprise was founded in 1873 and has about 1,000 employees worldwide. It exports to more than 50 countries all over the world and offers integrated services through affiliated companies, sales and marketing centres and numerous agencies.
The final presentation of Fashion School in Metzingen. © Stoll
The Stoll product portfolio comprises 3D knitting machines and patterning software, which are used for the production of fabrics for fashion, as well as for technical applications. With innovative technical developments and a modern production environment, Stoll enables a broad spectrum of knitting trends.
Stoll at ITMA 2019
Last month, the company presented their latest technological advances at the leading international trade fair for textile machinery ITMA 2019 in Barcelona. The company launched its new knitelligence machine generation, some new developments in the field of knit and wear, its latest Materialization knitwear collection, some new technical textiles developments and a host of other innovations.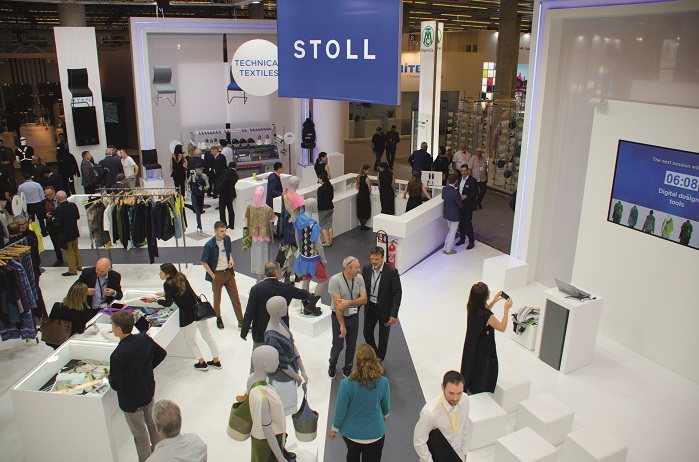 Stoll at ITMA 2019. © Stoll
"Leads and customers alike were enthusiastic about the stand concept and exhibition programme, for which a special magnet was our live showcase. In order to experience the live automated process of knitting a customised image while utilising our various stations, visitors had the opportunity to take a picture of themselves or create a graphic within our Adobe Photoshop plugin Stoll-artwork and interact with Stoll technology first-hand," the company reports. "As a key feature during the showcase, a plastic stripe was inserted within the fabric during the knitting process. Without manual intervention, a gripping arm (Stoll-knitrobotic) removed this strip from a magazine integrated in the machine and inserted it precisely between the needle beds."
"Outside this showcase, visitors were able to admire the new trend collection, Materialization. The focus of this new collection is encompassed around which new and different yarn materials can be processed and specifically knit with Stoll knitting technologies."
Further reading
This article is also appears in...