16th March 2010, Cilavegna
Comez at ITMA Asia + CITME 2010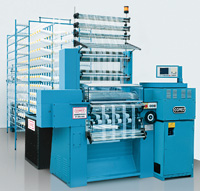 Comez, a leader in advanced narrow fabric technology which offers a complete range of crochet knitting machines and double needle bed warp knitting machines is to show four of its latest machines at the forthcoming ITMA Asia + CITME 2010 in Shanghai. Two of the machines are applicable to the warp knit and crochet sectors.
Comez says the machines feature the application of newly engineered solutions aimed at maximizing production efficiency and flexibility and highlight the excellence of its manufacturing technology, which is protected by numerous patents granted in many countries worldwide, including the P.R. of China. According to Comez, its machines feature speed and productivity at maximum levels, reduced machine start-up times with article changes, near-unlimited range of usable yarn types without difficulty and versatility, flexibility and ease-of-use.
Comeztronic CT-16B/600
The Comextronic CT-16B/600 is an electronic crochet knitting machine with 16 weft pattern bars, available in gauges 15 and 20 (needles per inch) with a 600mm working width, which is designed for the production of an extensive range of sophisticated articles for underwear, high-quality laces, bra-straps and flounces with elaborate patterns developed on very long repeats.
The machine's electronic drive is applied not only to the weft bars, but also to all the feeders (weft, warp, elastic yarns) and the finished product take-down, allowing for the possibility of different stitch density values (stitches/cm) on a single product, as well as different values for weft/warp feeding and elasticity.
The machine is fitted with the new generation Data Control Controller, managing all necessary machine functions and monitoring production data, whilst allowing for the realisation of lengthy pattern repeats. According to Comez, the number of lines for each pattern can reach a value that is just about unlimited and patterns are programmed simply and quickly by the company's exclusive software and transferred from a PC to the Data Control Controller using a compact card. Comez says that the electronics applied to the Comextronic CT-16B/600 are exclusively created and entirely designed and developed by Comez.
Comez 609/B8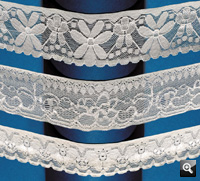 The Comez 609/B8 is a high efficiency crochet knitting machine, designed for the production of a wide range of laces, bands and ribbons featuring elaborate patterns which can be used in lingerie, undergarments, sportswear and accessories. The machine is built and designed using a modular system that allows for the easy application of a great many devices offered exclusively by Comez, completing the basic machine and providing very high versatility, the company says.
The Comez 609/B8 comes in a range of gauges with a 600mm working width and is equipped with 8 weft bars, which are controlled by a profiled chain. Comez says the machine is highly reliable and features an advanced mechanical structure and is the ultimate expression of Comez' consolidated technology for the production of narrow fabrics in large quantities, performing at maximum operating speeds while requiring machine maintenance that is reduced to a bare minimum.
This article is also appears in...