13th March 2013, Cilavegna
Comez machines on show at Techtextil
The Comez brand of knitting and crochet machines for technical applications will be on show at Techtextil this year, alongside Jakob Mueller's range of narrow fabrics machinery. Jacob Mueller acquired Comez in October 2010.
Comez will be showing a range of machines which are said to be especially suited to producing a wide range of items for technical uses: ribbons, bands, plain and tubular fabrics, 3-D fabrics, plain and tubular netting - which are employed in a variety of applications in several sectors including medical, geo-textile, building, automotive, industrial, transport, sports and leisure and furniture.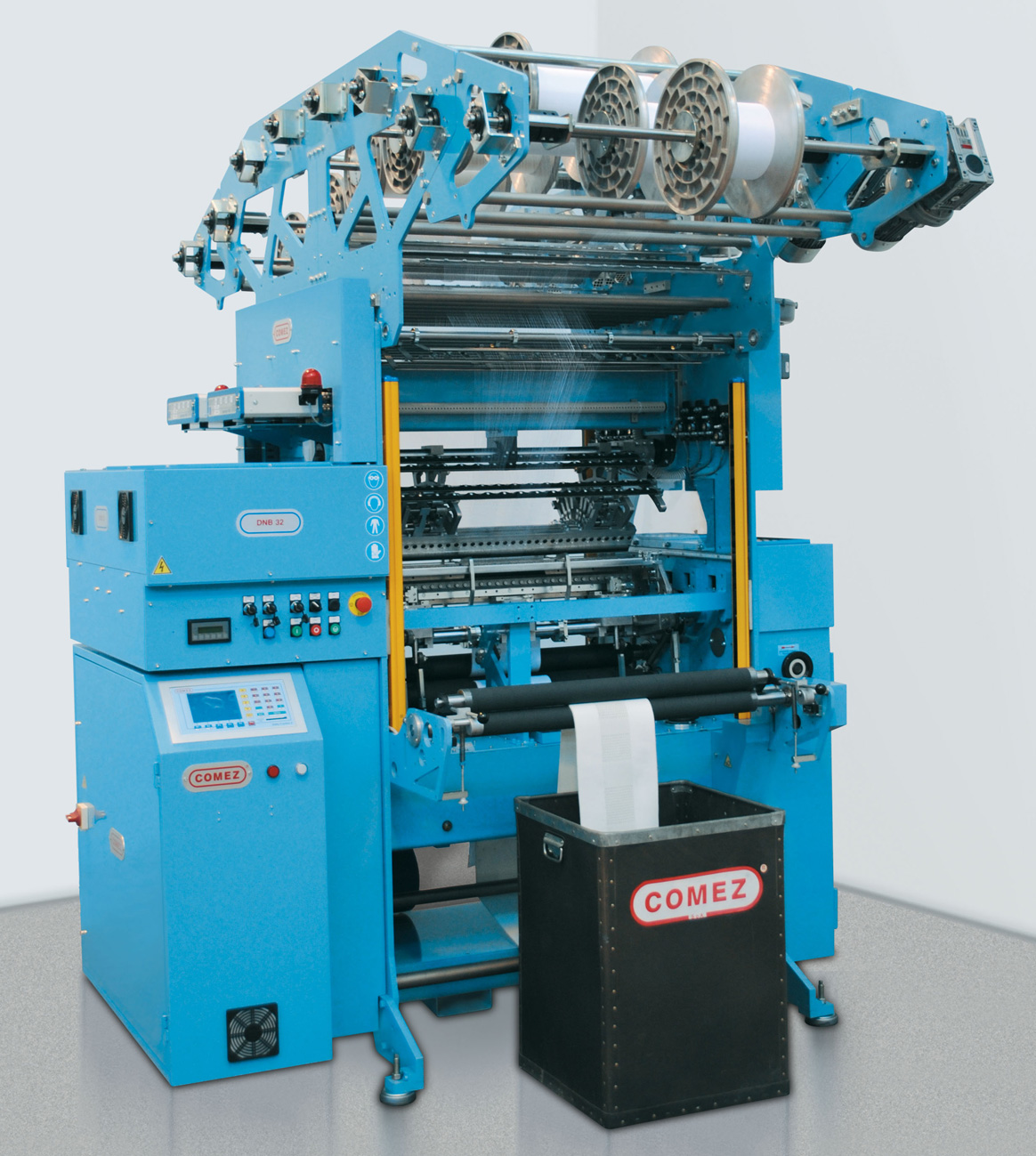 Comez says its machines have ideal characteristics for the production of technical textiles, including:
a high degree of versatility when using special yarns, which can be processed safely while maintaining high operating speeds (natural yarns such as wool and cotton, special yarns such as Kevlar, aramid and glass fibres, copper and zinc yarns, etc.)
Comez machines can produce a wide range of warp structures (such as closed knit tricot, open knit tricot, closed chaining effect, open chaining effect) which confer to the fabric excellent characteristics in dimensional stability or three-dimensional effects
thanks to the exclusive use of the Comez electronic drive system, it is possible to obtain very long and varied pattern repetitions and special effects on fabrics, guaranteeing a constant and uniform yarn feed
Comez will show its DNB/EL-32 machine at Techtextil – an electronic double needle bar warp knitting machine for the production of an extremely wide range of articles, such as:
technical uses - netting for sports equipment and the food industry, high resistance ribbons in special fibres, ribbons and fabrics for applications in the geo-textile, automotive, building and industrial sectors
medical uses - tubular elastic netting, emergency bandages and dressings, disposable underwear
footwear - spacer fabrics for uppers
Available in several gauges from 5 to 20 needles per inch, the DNB/EL-32 uses individual latch needles and is fitted with 8 guide bars with electronic control
The machine has a working width of 32 inches, allowing for quick style changes, consequently cutting down on costs. The distance between the two needle bars can be set using micrometric adjustments up to a maximum of 20 mm.
According to Comez, any type of yarn can be processed according to the machine gauge: natural yarns such as wool and cotton; synthetic yarns; special yarns such as Kevlar, glass fibres, metallic yarns, high strength polypropylene and polyester yarns, monofilament yarns, etc.
The electronically driven take-down allows for the production of different stitch density values (stitches/cm) on one single product, and the electronic drive of the yarn feeders allows for the production of different values for weft/warp feeding and elasticity.
"Thanks to the presence of 2 needle bars, and the unique evolution of the pattern guide bars, it is possible to knit "double face" articles, with alternative three-dimensional structures and flat sections: to produce articles such as knitted nettings with a flat surface or tubular form, both rigid and elastic, and 3D fabrics," Comez concludes.
This article is also appears in...