Italian crochet knitting machine builder Comez, which is now owned by Switzerland's Jacob Mueller, will be present at the forthcoming ITMA Asia + CITME in Shanghai. The company will exhibit its COMEZ ACOTRONIC 600, a high efficiency electronic crochet knitting machine using compound needles, for the production of a wide range of ribbons, laces, medical and technical textiles, both elastic and non-elastic.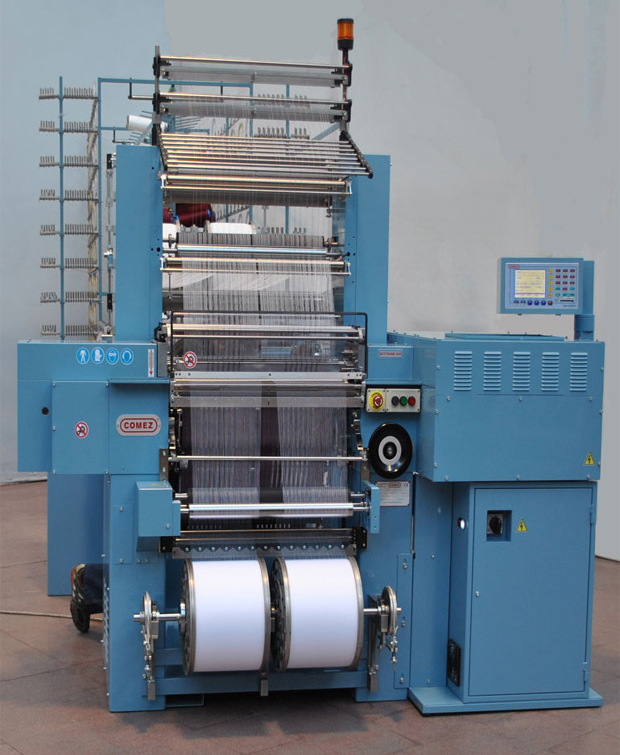 The machine comes in gauge 15 (needles per inch) with a 600 mm working width and is fitted with 11 weft bars - 10 bars with electronic control and 1 bar controlled by the weft device.
According to Comez, the compound needle renders the machine highly versatile as it allows the processing in the warp - in addition to classic synthetic yarns (polyester, polyamide) - of natural yarns (cotton, wool) and special fibres (kevlar, fibreglass, carbon) as well.
ACOTRONIC 600 is an electronic crochet knitting machine for the production of technical articles, ribbons and laces with locked stitch, with the possibility of processing natural threads in the warp with the following specification:
operating width: 600 mm
10 weft bars with electronic drive
1 weft bar controlled by the weft device
compound needles
gauges: 10 - 12 -15 - 20 n.p.i.
stitch density: 2.5 ÷ 30 stitches/cm according to the type and count of the used yarn
Comez will be found in Hall E1 at Booth B05 at ITMA Asia + CITME in Shanghai, which takes place from 16-20 June 2014.
Download Comez ACOTRONIC 600 brochure
This article is also appears in...