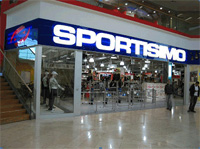 The Czech Republic's leading sports brand Sportisimo, has introduced Invista's most recent innovation, Lycra Sport fabric to its collection as part of an international retail roll-out by Invista of its innovative and performance-driven fabric.
The new collection gives Invista a valuable opportunity to gather consumer feedback post-purchase and since the launch of Lycra Sport fabric branded garments three months ago in Sportisimo retail stores, consumers have supported the new innovation by purchasing garments that showcase the new Lycra Sport fabric hangtag. Invista says the results indicate that these garments significantly outsell similarly priced and styled private-label garments.
Martina Hrdouskova, Assistant Director of Sportisimo, commented: "The Lycra Sport fabric concept is very interesting to us and we are delighted to include this fabric that meets our performance standards into selected products from our 2010 winter collection."
"Those garments have had a fantastic response with our customers and have been selling very well. The Lycra Sport fabric hangtag is a novelty for consumers and we know that the new fabric performance hangtag provides valuable information to them and enhances the garment's appeal at retail, while the Lycra fibre name is already in their mind as a hallmark of quality," Ms Hrdouskova added. Further leading sport brands featuring Lycra Sport fabric are expected to be introduced globally throughout 2010.
This article is also appears in...