11th March 2015, Manchester
Creating an awesome online knitting and hosiery industries community
Dear Friends & Colleagues
Many of you have been following us online since we launched Knitting Industry news website (www.knittingindustry.com) in 2008 - and we have had the pleasure of "Keeping you in the loop" ever since.
Thanks to you, the site has been a massive success and we have been able to help redefine they way we all get our industry news and information.
Now we want to take things a step further with the launch of a really useful and powerful online directory called Knitting Industry Finder that sits alongside our news website - where sellers can promote their goods and services and buyers can find exactly what they need quickly.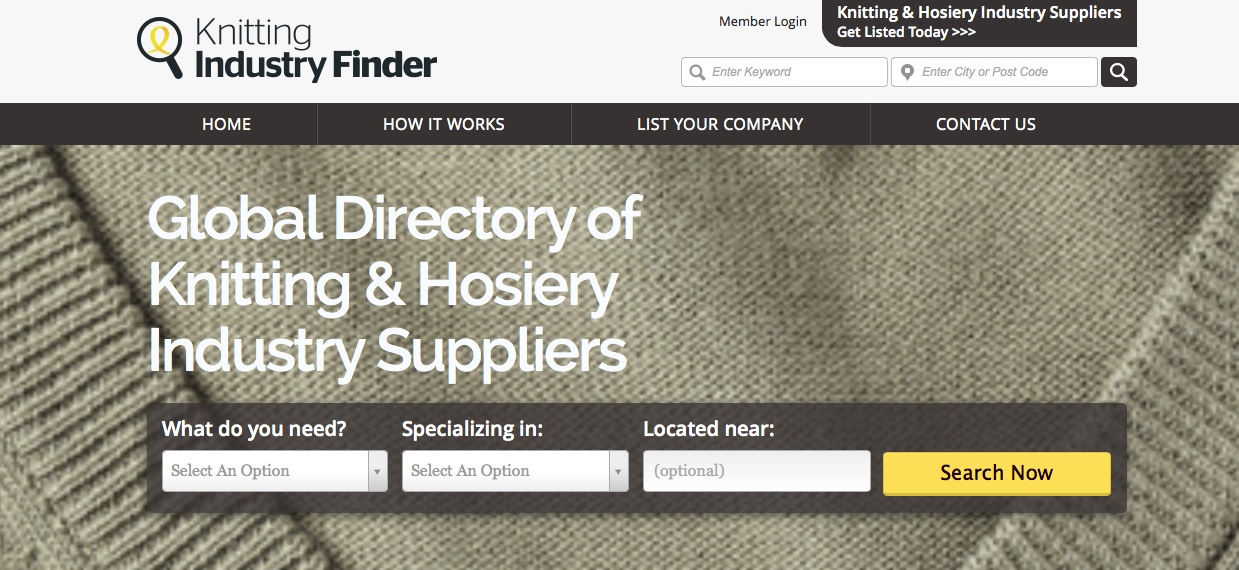 Just imagine what the combination will offer you - a really dynamic online space where you can get all the latest news about new products and services - and find suppliers of those products and services too.
How it works
Knitting Industry Finder is a highly searchable online directory that covers the complete knitting and hosiery industry supply chains - from Fibres & Yarns through Fabrics to Garments and from Raw Materials through Machinery & Equipment to Services.
Listing your company is FREE but if you want additional visibility and priority in search results there is a paid for Elite membership which in effect lets you create a mini website for your company within our site. It allows you to create an extensive profile and post job vacancies, product info, classifieds, events news, photos, videos and you can even publish your own articles.
To show you what an Elite listing looks like, I've created one for Knitting Industry which you can view here.
Connect with more customers
Buyers contact you directly and confidentially when they find your company profile.
To get your company listed in our Knitting Industry Finder online directory today and help us create an awesome online community for our industry, just follow the link to - Knitting Industry Finder.
We hope you enjoy using the site. Thanks for your continued support.

Billy Hunter
Founder & Editor
This article is also appears in...