Janet Prescott reports from Paris
Premiere Vision in Paris for 2018/19 featured a great deal of energy and exuberance. The show's Cloud of Fashionwas a good title for the soft and mousse-like effects, which permeated the offer, applying particularly to knitwear and knitted fabrics. Fabrics had extra finishes bringing traditional striped cotton jerseys into fashion and athleisure.
Groups of national knitters showed a strong identity; fabrics ranged from the jersey and lace of France Tissu Maille, which took inspiration from the richness of Venice, featuring decorative knits and embellishments. Laces by Jabouley Dentelles, Desseilles, with Leavers lace and jacquards, both rigid and stretch. Main markets for these French knitters centre around lingerie, fashion, swimwear and beachwear with a lot of technical features.
The typical French colourful striped qualities, which have come to be associated with companies like Bugis and Deveaux, were recast in hot colours. The Portuguese knitters, a substantial group, featured this season's imaginative jacquards, which ranged from stylish geometrics and floral designs to subtle marls, and dramatic colours including gold and green nodding at 1980s glamour.
There was a great deal of decoration and unusual constructions throughout the exhibition. Darquer lace had stunning examples of the Calais lacemaker's art, chiming with the air of mystery, which came through in some Game of Thrones-inspired trends, with darker colours and decoration. Similarly, British company Litmans, long-term experts in rich decorative designs and trimmings, themed metallics, nets, vintage guipure lace and foils.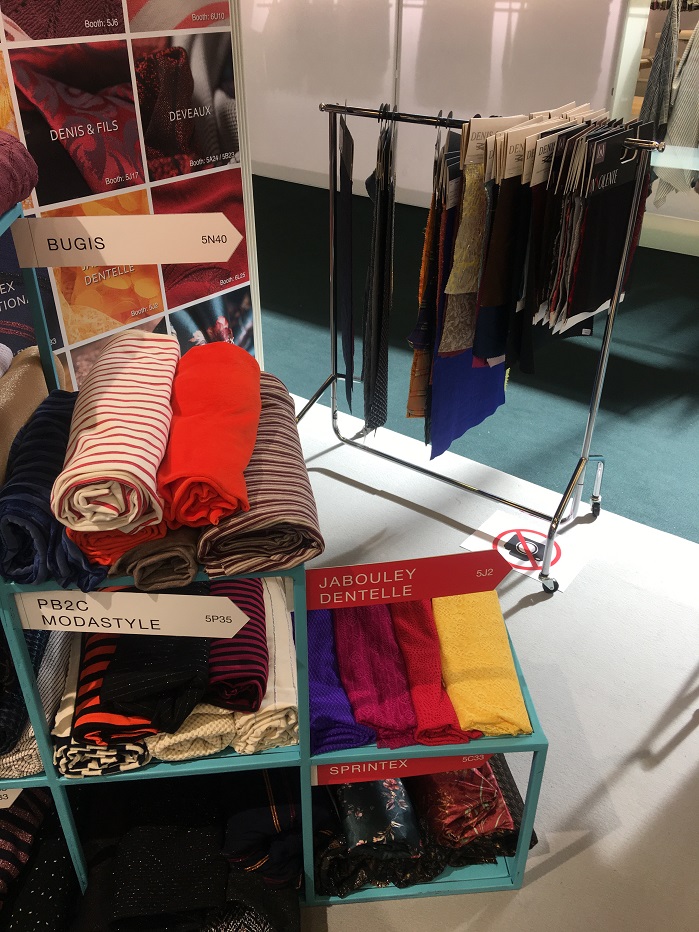 Eurojersey, Sensitive Fabrics, prides itself on cutting-edge research, innovation and environmental awareness to the extent that it could be a paradigm for responsibility on a grand scale; the latest technology is built on eco-foundation with a coherent philosophy, explained CEO Andrea Crespi.
Yearly totals of recycled materials have increased tenfold in the three years to 2016, reaching 130,000kg, he explained. Stunning examples of Marithe Girbaud designs, constructed with silver taped seam, were elegant and ultra-modern, and tailored coats resembled bespoke designs. They showed how far the appliance of science to design with synthetic yarns has moved into a different sphere, with extensive eco benefits.
2018/19 fashion enjoys making and breaking traditional patterns. This was exemplified in many places, particularly at the Knitwear Solutions concept stage. For example, expanded cables, fading from strong rope patterns to a general mix of stitches, and large loops, producing the moussey cloud-like looks leading the trend and garments. Sweaters had asymmetrical lines, fancy stitches and constructed holes.
Knit leads in the interpretation of sports and active fabrics, which have added performance attributes, were seen particularly in the Yarn area, where various stretch, finishes and recovery features for cottons and viscose, many with stretch for comfort and appearance, were applied to yarns and fabrics.
Linen yarn has become a prime fibre for knitted fabrics of many types. Used in pure form or frequently partnering with other fibres, animal or man-made, to affect the look or drape of the fabric blended with wool, silk or cashmere. The result is making linen a winter fibre, without affecting natural advantages like moisture management and strength. It can now be knitted easily, due to new technology and machinery, becoming more versatile. Colour for the season centres principally around natural varied tones of the fibre, but brighter warmer shade and dye effects were also shown from various manufacturers for winter by CELC. Masters of Linen.
Premiere Vision's latest innovation involved the setting up of Smart Square, where specific companies with cutting edge technologies and eco persuasion were brought together, many of these dedicated to responsible production. Successes for Ecotec by Marchi & Fildi have increased substantially, and now the company introduced a new quality Phoenix 50% Eco 50% polyester. Ecotec partners are increasing, including Euromaglia jersey products, and RDD, the circular knitter from Portugal, which prides itself on a sustainable focus, already using 23% organic or recycled materials.
DuPont's Sorona is a polymer comfort stretch fibre, demonstrating four different fibre types: homo filament fibres, comfort stretch filament fibres, homo staple fibres, and comfort stretch staple fibres. It adds shape memory, moisture wicking and softness to fabrics, in 10 to 20%. Forming a partner to natural fibres – cotton, wool, rayon or linen and other synthetics – Sorona, being UV and chlorine resistant, is tested to maintain colour and wicking properties.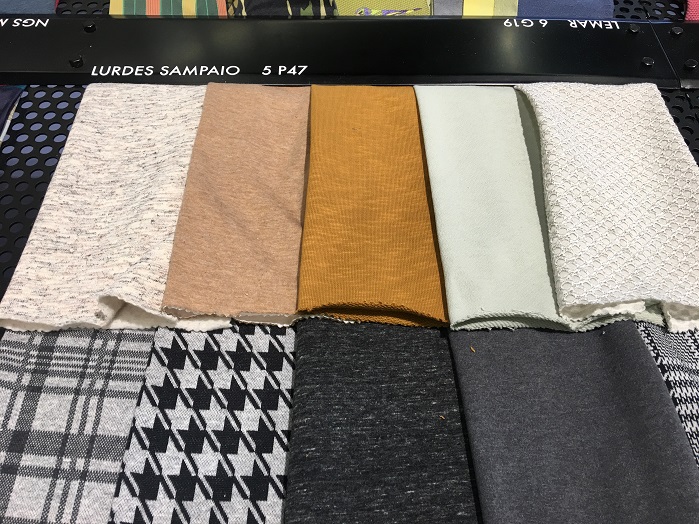 Lenzing announced its much heralded latest development named EcoVero – its name referring the need for transparency in manufacture, and high environmental standards; a need recently reinforced by recent criticism of some unmonitored producers in the textile trade worldwide. The branded viscose has state of the art identification technology by Lenzing to help stop inferior copies of its environmentally responsible yarn, produced with due regard for the environment and with a transparent supply chain. Verification technology intends to help fashion retailers and brands to identify the Lenzing viscose fibre produced under strict standards. It was called a "one of its kind solution for the fashion industry and its supply chain to respond to consumer demands".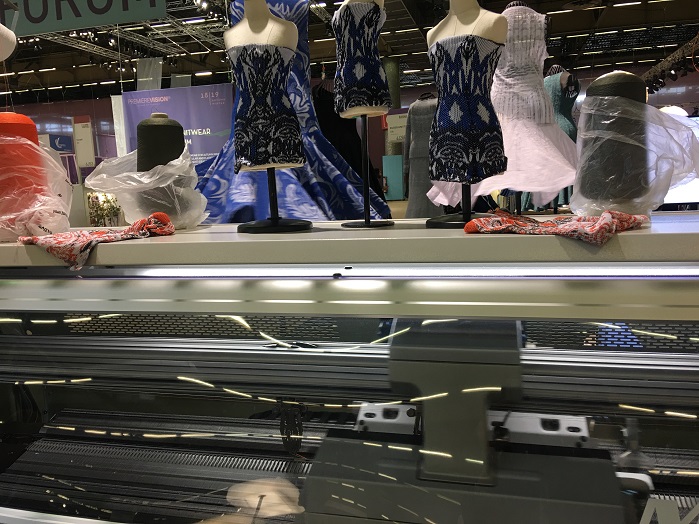 The annual Texprint Awards at Premiere Vision Design were presented this year by Japanese Designer Yuma Koshino from the famous design dynasty, who herself works with both knit and weave to produce her designs, which are a creative mix of East and West and highly acclaimed. She praised the work of the young international designers trained at a high level in the UK, and urged them to believe in their creativity shown in designs, including stunning original work with various fibres and techniques.
Flatbed knitting represented in Knitwear Solutions majored on frothy cloudy designs, also with a great deal of disrupted patterning, cables, which dissolved into a mass of loops, holes and asymmetric designs, and unexpected, chunky designs with a real elegance.
Shima Seiki showed the speed of its latest seamless machinery as it flew backwards and forwards, the speed represented by three mannequins twirling around as the thread was moved.